Molly Renshaw's impressive end-of-year form continued with another British record in the Women's 100m Breaststroke final on day five of the World Short Course Championships in Abu Dhabi.
European champion Renshaw has built towards her favoured 200m Breaststroke event throughout the meet, with those heats and final taking place on Tuesday. Everything bodes well for that contest, given the Loughborough National Centre competitor swam to a fifth-placed finish over half the distance, a time of 1:04.37 knocking 0.06 seconds off the time she set in Sunday's semis. 
As in that race, Molly progressed from lap to lap, laying a platform over the opening 50m before a final 25m surge that drew in a couple of rivals and saw her touch less than half-a-second off the podium. 
It has left the 25-year-old relishing what could come next - and the value of the work she has been putting in over sprinting distances.
"That's a little bit of an improvement on last night, so I'm really happy with that. The 100m has never really been my main strength, so to see quite a drop there, I'm quite happy," she said.
"I have the 200m tomorrow, so I'm looking forward to that now. I'm excited about that one. Having that front-end speed is always going to help. 
"My back 50m is always stronger than my 100, so hopefully I can use that in the 200m on Tuesday."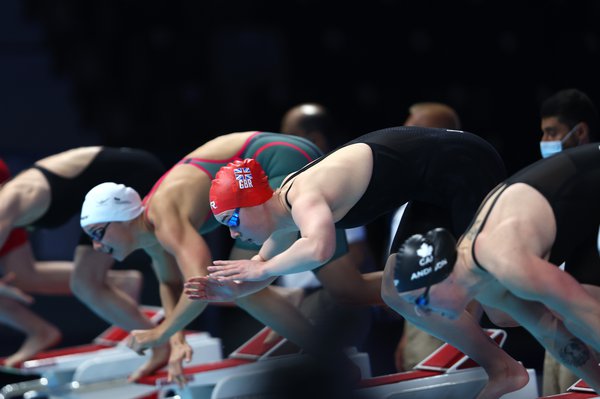 Earlier in the day, 17-year-old Katie Shanahan rounded out a meet full of valuable learnings with another promising showing, this time in the Women's 200m Individual.
The City of Glasgow Swim Team athlete placed 11th in the heats of an event that saw her claim European Junior gold over long course in the summer. She will be confident of building on this platform into a packed 2022 schedule. 
Full results from day five can be found here, with details of what's on and how to tune into the upcoming event live streams here.