Volunteers have always been at the cornerstone of running a successful event, and their support continues to be crucial in times of change imposed to ensure a COVID safe competition.
Following on from the British Swimming Invitation Meet a few weeks ago, we spoke with volunteers Ellie Bamber and Ruth Dawson to discuss why they choose to give time back to the sport and their experiences of the weekend...
"It was really good experience - it was really nice to be back at the pool and see sport happening and taking place moving forwards during COVID," were the opening remarks of Ellie Bamber, who found herself stationed in a familiar location by the diving pit, the pool where she normally coaches the Matt Walker MBE Disability Academy at COMAST. Speaking of her role in supervising the swim down area, she continued:
"I've volunteered at lots of similar events pre-COVID and I suppose the job I was doing wasn't really a job that before you'd have had tonnes of people doing - supervising the swim down pool, making sure people got in at different ends and ensuring that it's not too busy.
"Normally at meets, these pools would be absolute chaos but we had it well-structured with no more than six per lane and everyone making sure they put their bags separate. Everything was organised really well and it was clear what we were meant to be doing, the procedures put in place were really top notch."

Ruth Dawson, chair of COMAST, had also been involved in supporting the Manchester International Swim Meet the month prior, and spoke additionally on the change to usual volunteer roles in venue.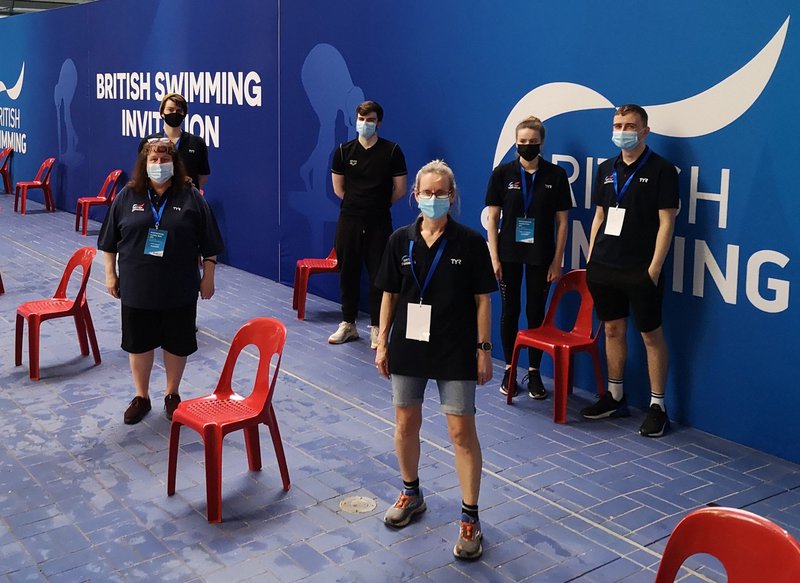 "It was different, the whole meet was very different in the fact that normally so many other things would happen in terms of giving out refreshments poolside, more movement around the venue and there'd just be loads more of us in lots of different roles.
"Initially I was a volunteer up on the balcony making sure people were following the rules of wearing masks and social distancing, then on the final day I was sanitising the blocks with my son, spraying them down between all the races.
"Some of it did take a bit of getting used to, particularly the one-way system with it being our pool and so there was no nipping in and out using our usual routes, and also there was a lot less contact with other people given there were no spectators – but it was still hot and sweaty as is any pool!"
Safety of all in attendance at the meet was of the highest priority, and Ellie, who by day works as an Occupational Therapist with disabled children was impressed with the procedures in place.
"I felt completely safe, we had the event bubble at the hotel with our COVID test done on arrival on the Thursday night, which I think provided a big relief, and then with all the PPE, hand gels and everyone wearing a mask.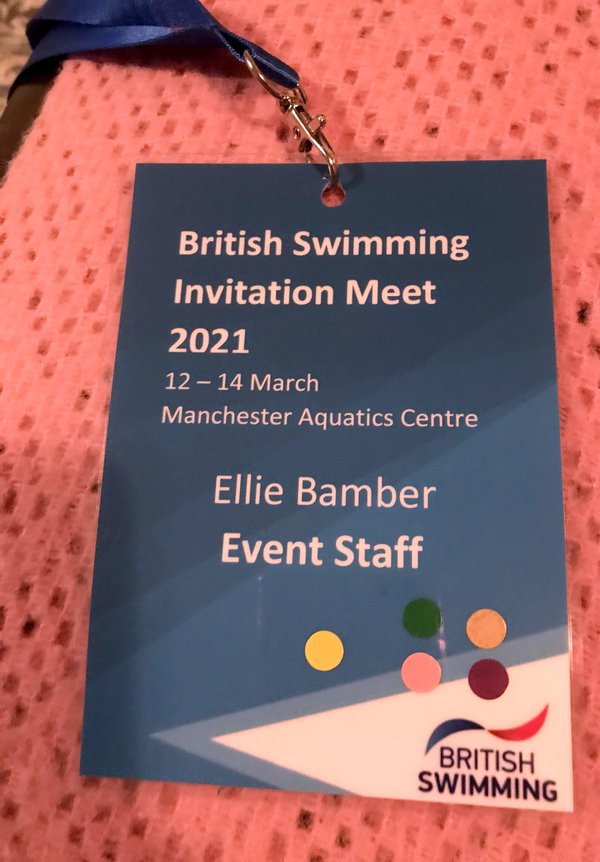 "The one-way systems at the pool worked really well as it kept contacts to a minimum and it just all seemed really COVID secure."
That was something echoed by NHS worker Ruth, who further commented:
"I think the measures were outstanding, from the hotel to the pool itself there was a good check-in system with temperature checks and bright stickers on your accreditation. The staggered start times really helped with ensuring there wasn't huge crowds and queues all the time."
Time is truly a precious commodity in modern life and when asked what drives their enthusiasm to volunteer, the pair both spoke of the benefits of swimming and creating opportunities.
"When your children have been involved you want to give something back, but also there's something about swimming that you belong to - it's a bit cliché to say it's a big family I suppose, but you just belong to it," said Ruth. 
"As a parent, when you see how much your children gain from swimming, whatever level they get to, it doesn't matter if that's county, regional, national or international, they gain so much regardless of the level they compete at in terms of discipline, camaraderie and all the little things - I see it as so beneficial to children and young adults. So to volunteer in this way, one you're supporting our elite swimmers go to Tokyo, but also you're showing the next generation what's possible even in these really difficult times."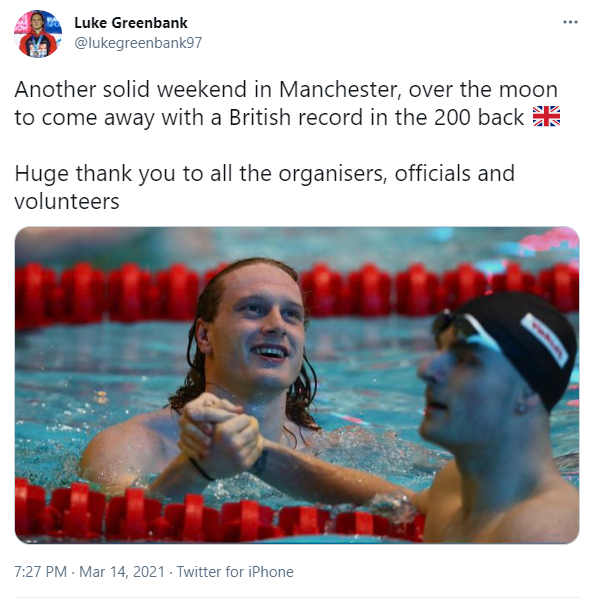 Bamber added:
"I love the sport and I love swimming, and I think it's just about making sure there are opportunities out there for everyone, and I know this event was only for elite athletes but I suppose from volunteering at that we can use it all and bring it down to the next generation coming through.
"I got a lot from swimming and going to the events and things so I guess it's just making sure we pass it through. I usually do rising stars lower level meets for little swimmers, but I think making sure these events run and move forward will mean opportunities for everyone else will follow and that's what I'm really passionate about - getting more people involved in our incredible sport."

With volunteers still vital at all levels of the sport, both Ellie and Ruth had some closing encouragement and advice for those either who have volunteered in the past or are thinking of giving it a try.
EB: "I'd just say go for it and do it because it was so safe and honestly I think I'd have been at more risk going to my local supermarket than going to the pool and everything. There's so much buzz being at a competition, watching everyone and with not being at a gala for so long I just realised how much I missed it."

RD: "I'd encourage someone to actually get in touch and ask the questions around 'what are the safety measures in place?' if they're unsure. I don't think we could have done anything more to keep people safe with the testing and protocols in place but asking those questions can give you peace of mind."
If you'd like to know more about volunteering at British Swimming events feel free to contact the team at britishevents@swimming.org