The last couple of years have been a real coming of age for James Wilby.
His first major international title came at the Commonwealth Games on the Gold Coast last spring, adding a further three medals over the next few days. Fast forward a few months and he picked up another three medals at the European Championships in Glasgow - 4x100 Medley Relay gold as well as silver medals in both the 100m and 200m Breaststroke.
2019 was World Championship year and Wilby demonstrated his ability on the biggest stage yet. Silver in the 100m Breaststroke, Wilby became the third fastest man in history for that event, before playing a key role in helping the Men's 4x100m Medley Relay team take gold and the Mixed 4x100m Medley Relay team bag bronze.
Asia proved to be a happy hunting ground for the National Centre Loughborough swimmer, which bodes will with the Olympic Games in Tokyo now drawing ever closer on the horizon. But how does he reflect on his Gwangju gongs?
"After winning the silver medal it didn't sink in and every now and then I think 'oh wow, I really achieved some really special things'. But at the same time we've got this really good momentum with the team that we've built up here in Loughborough and it's about continuing that. For a couple of years now the ultimate goal has been the Olympic Games in Tokyo, so it's just full steam ahead towards that.
"That being said the World Championships is the second biggest meet for swimming that there is, so performing well there and more importantly learning how to improve, was key."
After securing silver in the 100m Breaststroke, Wilby went on to put in two strong swims that helped two of GBR's relay teams to medals. Both of these were in the heats though, with a certain Adam Peaty drafted in on the breaststroke leg for the respective finals. For Wilby though, it's all about the whole being greater than the sum of its parts.
"It's a strange one swimming in the heat but not in the final, so the way I try and wrap my head around it is that I'm doing a job, which is helping the team progress to the final by swimming my best. That then enables others to have that extra gear to step up in the final, and say Adam to be able to rest during the heats and focus on the final. It's easy when you look at it as a team sport and I'm very proud of being able to get a team onto that podium."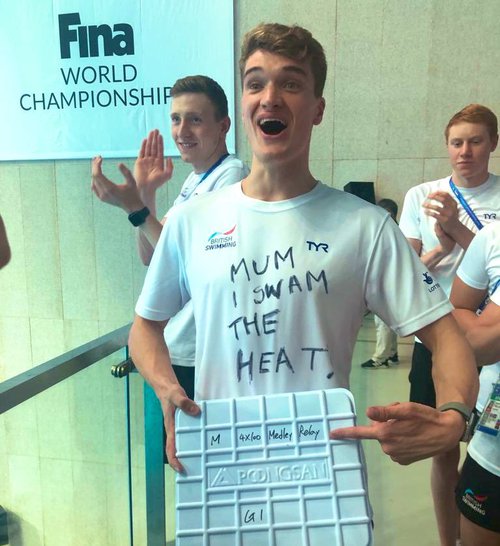 Watching on from the stands with a now infamous 'Mum I swam the heats' t-shirt on, there was one moment that stood out for Wilby.
"Duncan on that 4x100m Medley was just, wow! I stood for about two minutes, jaw on the floor, hands on my head and just in shock at that swim. The whole team pulled out something special to win that medal and win that race, but Duncan's swim, in isolation, just blew my mind!"
With Gwangju done and dusted, it was time for an end of season break, which most swimmers will tell you is imperative if you're going to get the most out of the long winter ahead.
"After all the major championships I always plan to go away and not talk about or think about swimming. So once we got back from Worlds I went away to Greece and spent some time island hopping. Day two of not thinking about or doing any swimming, I was jumping off boats and swimming in the sea, so that no swimming thing lasted a long time!!"
On a serious note though, Wilby explained:
"I turn off social media and emails and everything, and just have a proper mental switch off, which helps me refresh. Once I got back I spent a lot of time with my family, and just really refreshed, as this is the last time I'll get to do that before the Olympics. I needed to be in a place where I was ready to get back to Loughborough and get going on day one – I'm more keen than ever to get swimming and I wouldn't have been like that if I didn't get a proper break."
Speaking five weeks into winter training, Wilby was already starting to feel the burn, commenting:
"The start of the year is always an exponential ramp up in effort and this week is particularly tough as we've got four gym sessions instead of the usual three and the swimming is really tough. We're in the midst of tough cycle between now and December, but getting in the work now is pretty important, as come 2020 we'll have a good base and can refine things and get race ready."
Now up at altitude in the American town of Flagstaff, the triple World medallist is putting in the hard yards ahead of a tilt at Olympic glory next summer.
Before all that though, Wilby will form part of an 18 strong British team that will contest the European Short Course Swimming Championships in Glasgow in December. Tickets for that event, which runs from 4-8 December, are on sale here.