Paralympic bronze medallist Lewis White lowered the S9 100m Freestyle British Record on his was to taking the gold 
He swam to a new personal best time of 57.18 and secured a points score of 850.
"It feels really good to have got that time and the medal tonight," White said. "I really wasn't expecting that. I knew I was going into the final in second so I went into it to focus on the swim and see what happened. 
"I've been trying to lower the 100 for a while because the last time I did it was last season. It's a bit of a confidence booster just to get that down. I'll focus on the next event and make sure it goes well."
"It feels great to come out on top of such a world class field. It's a World Series event now so swimmers from across the world are here. It adds more of a drive to your swimming with more people to beat and race. To come out on top of all that is incredible."
Muzaffar Tursunkhujase (Uzbekistan) won the silver in a time of 53.70 and a score of 849. Stephen Clegg (S12) won the bronze after finishing in a new British Record time of 54.08 which scored 834.
Paralympic Champion Hannah Russell (S12) secured the first gold medal of the evening with a score of 933 after clocking a time of 59.77 in the 100m Freestyle.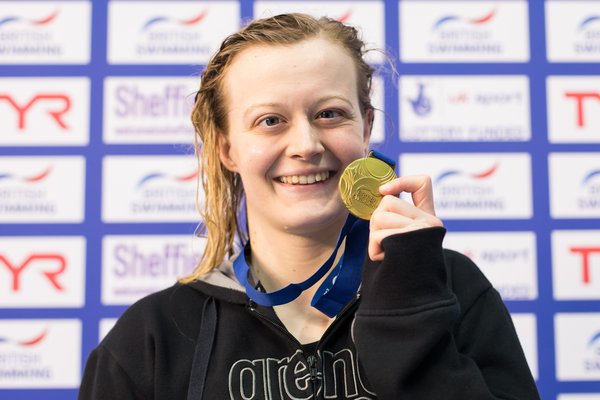 Russell swam a strong race to touch in her final first and couldn't be caught in the second final.
"I'm really pleased with that race, to under the one minute mark at this point in the season you can't really ask for much better than that," Russell said.
"If I'm honest getting back into training has been tough, coming back from Rio off such a massive high and then trying to get back to normal after a break and some relaxation was a hard process.
"I had a difficult tough start to a season but working with Mark Rose has really set me up well coming into this event. 
"It's fantastic to have international competition on home soil and it's the first time para-swimming has had a World Series event. Especially for me, there aren't that many VI swimmers in Great Britain so to be able to race against rivals at this point in the season is great."
The silver medal was won by Stephanie Millward (S8) after touching in 1:06.62 for a score of 933. The bronze went to Jessica Long (S8, USA) after she finished in 1:07.19 and scored 916. 
The 100m Breaststroke saw Conner Morrison win the gold medal after swimming to a new personal best time.
Morrison (SB14) swam a strong final that saw him touch in a time of 1:07.53 with a score of 947. 
"It feels terrific to have won," Morrison said. "I really can't explain it. It's a very good surprise to have won that gold. I didn't expect to win, I was expecting fourth or fifth. It feels amazing to swim with world class athletes. 
"I didn't expect my personal best time and I was like wow. My training has been going really well at the moment. I'm still learning though. I'm hoping to get better in my swimming this year." 
Scott Quin (SB14) touched in a time of 1:08.29 to score a total of 916 points. Wa Kit Choi (SB14, Hong Kong) swam to a time of 1:08.93 which scored 891. 
Norway's Sarah-Louise Rung (SB4) won the 100m Breaststroke ahead of Brit Maisie Summers-Newton after securing a score of 912 with a time of 1:47.07.
Summers-Newton (SB6) scored a total of 902 in a new personal best time of 1:38.24. Bronze went to Fotimakhon Amilova (SB13, Uzbekistan) in a time of 1:15.12 with a score of 897.
For full results from the British Para-Swimming International Meet click here and to watch the all the action from Sheffield on the live stream click here.