The final night of the Manchester 2023 Allianz Para Swimming World Championships saw Suzanna Hext, Ellie Challis and Poppy Maskill each take silver, with a bronze also for Bethany Firth as Great Britain closed out the meet on 38 medals.
Having won Britain's first medal of the week with gold in the S5 50m Freestyle, Suzanna Hext returned to the competition pool on Sunday with firm ambitions to feature on the podium once again over double the distance.
Having progressed as top seed out of the morning heats just three hundredths faster than S5 200m Freestyle champion, Monica Boggioni (ITA) the pair occupied the central lanes for the medal showdown.
Getting away well, Hext was quickly up into her high stroke turnover to turn almost dead level with Ukrainian Iryna Poida on her other side, and with the noise of the Manchester crowd reverberating around the pool hall the Tokyo 2020 Paralympian found herself spearheading the race for much of the return length. However, with 25m to go Boggioni came through the pack and Hext couldn't quite match the pace and ultimately settled for silver in the battle over the middling distance.
After soaking in her moment on the podium, Hext spoke of what the result meant:
"Obviously I'm over the moon with how I've swam this week just off the back of everything I've been through recently. If someone had said I'd win a gold and a silver medal a week ago I wouldn't have believed them, so yeah just to come away and have the most amazing week amongst teammates and enjoy myself has been really incredible.
"The atmosphere on the team has been incredible – team spirit has been high and I think because it's been a home championships it's elevated that and made it even more exciting. Fingers crossed now with the year moving towards Paris"
Already the most decorated British swimmer at these championships, Ellie Challis finished off her campaign in style with a superb silver medal in the Women's S3 100m Freestyle.
Qualifying second to Marta Fernadez Infante (ESP), the S3 50m Freestyle champion, Challis raced hard to stay level in the early exchanges of the race, and remained the closest challenger throughout as the Performance Centre Manchester athlete put almost 17 seconds of clear water between herself and bronze.
Her place on the second rung of the podium completes a perfect record of medalling in each of her six events, an achievement beyond the 19 year-olds expectations coming into the meet.
"I absolutely did not expect to do that this week – the most shocking result was the 150m IM the other day with a massive PB" said Challis.
"I've never had a race that close in the 100m, I was just trying to go as quick as I can on that second fifty but I had nothing more to give on that last 25m. I know I can go faster than I did tonight but it's the end of a long week and I've got that experience now of racing it this way and can learn from that - it gives me good momentum going into Paris."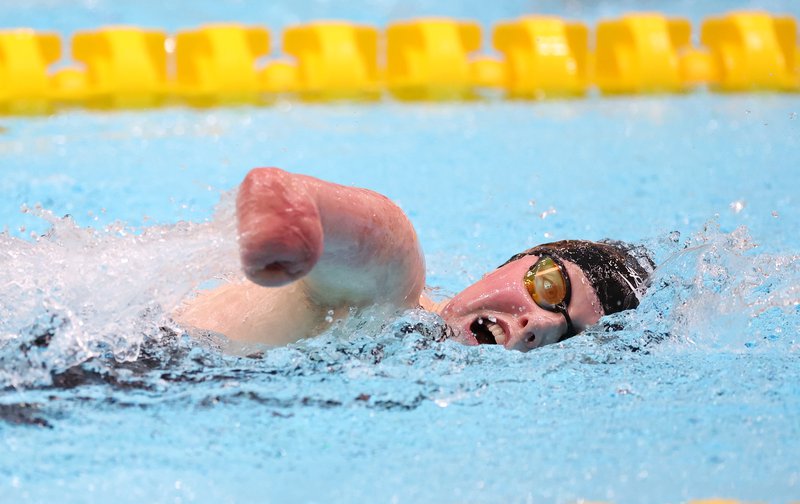 Back to back S14 100m Butterfly finals came toward the back end of the session with Poppy Maskill, Bethany Firth and Louise Fiddes all taking part in a high quality encounter in the Women's event.
A blistering first 50m saw Firth and Maskill turn within a tenth of each other in 1-2. Yui Lam Chan (HKG) was hotly on their heels, and with Maskill appearing to edge into the fore down the second length the Hong Kong, China swimmer responded to stay level. Coming into the wall Chan stole in by two hundredths to take the touch from Maskill, with Firth getting her hands in third ahead of Fiddes who had maintained fourth place throughout.
Delighted to add another world silver to her collection, Maskill commented:
"I feel really really good - I'm so happy with that. When I looked up at the board I could just think 'oh wow'.
"Being around the team has been good, they've all given me little bits of advice to help me and it'll be nice to celebrate with them tonight."
With Firth adding of her bronze:
"I so happy, this wasn't expected as it was almost just a fun one to end on. The competition shows that when you're having fun you swim really well.
"Four medals here show that even as I'm getting older I can still show up and still perform – I want to just show that there can be great longevity in this sport."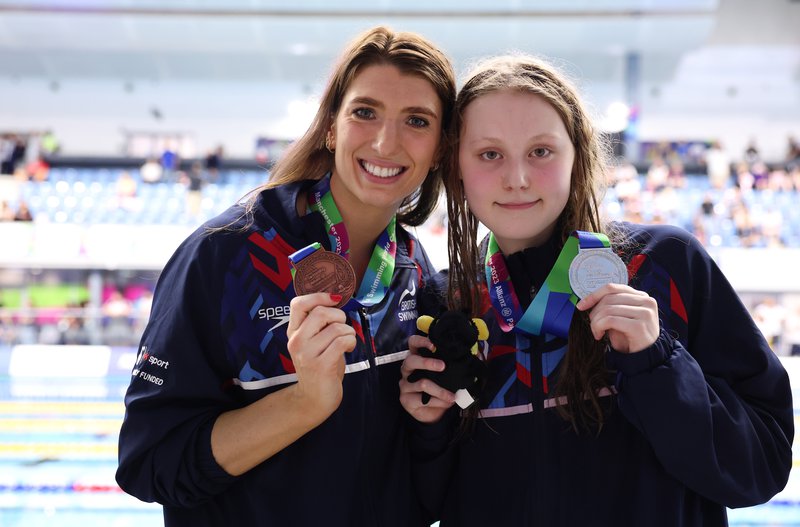 In the respective Men's event William Ellard set a big 100m Fly personal best to close out his breakthrough debut international with fourth.
Setting off well, the closing pace displayed was an impressive feature of his performance, and Ellard was delighted with how his first foray of racing on the global stage had ended:
"That was really good and I don't mind not being in the medals tonight - it's the end of a big week and I'm already looking forward to getting back in the pool.
"Racing people several years my senior has been amazing, and I can't wait until next year as well."
Cameron Vearncombe was also involved in the Men's S14 100m Butterfly qualification rounds, adding further to his experience against top tier competition and placing 13th in the competition standings.
The British interest on Sunday night was opened with Scarlett Humphrey in the Women's S11 400m Freestyle. Diving in for her fifth individual final of the week, the 18 year-old visually impaired swimmer put in a solid showing from lane one to hold close to the pace of the Mexican in the adjacent lane through the first half of the race. After a spirited swim, hitting the touchpad in sixth rounds out a week that has demonstrated remarkable progress since Scarlett's world championships debut a year ago, and closing out with a personal best of almost four seconds was a pleasing way to cap the meet.
"I was pleased with how this morning went as it's coming to the end of a busy week where I've already race four individuals and two relays, so to go quicker in the final and get a personal best I'm really happy about." said Humphrey.
"My coach tells me I often go out to fast over the first 200m so I had that in my mind to pace myself and then to keep telling myself to lengthen my stroke even as I tire – I kept focussing on that in my processes and knew I'd be pleased whatever the time."
Elsewhere, Maisie Summers-Newton lined up in the straight final of the Women's S6 50m Butterfly to round out a successful championships which has yielded two gold and one silver medal.
Seeded in lane seven, Summers-Newton got a sharp entry off the blocks and gave her all in the one length dash to touch in sixth – a result she was happy with against sprint butterfly specialists, with the event predominantly added to her Manchester 2023 programme to practice elements towards her individual medley.
"That was really fun" she said.
"I had a good laugh with the girls in the call room being alongside Nicole and the others and it just being one length it was nice to just way to finish off the week on an event with no pressure."
The curtain call final, to round out 169 medal event across seven days, featured the British quartet of Grace Harvey, Samuel Downie, Faye Rogers and Oliver Carter in the Mixed 34pts 4x100m Medley Relay.
Having secured an outside lane spot in the final, the foursome went out with a smile and combined to move on their time from the morning as they placed eighth on the world stage.
Speaking afterwards, Harvey said:
"The relay is so much fun, closing out the meet and getting to race together - it's so special. With the multi-classification you never know who's going to be in it so that makes it fun as well. I've had a great week, there's been so great racing from the team and it's just really positive heading into Paris next year.

Carter adding: 

"There's been so many 100s for me for the past few days which has been really good fun. Going in having not much pressure and just showing the world what we can do - a  rag tag team of no 100m freestylers going and having a bit of fun and making a final, and improving on from this morning too."

At the close of the Manchester 2023 Allianz Para Swimming World Championships, Great Britain finished fifth on the medal table with 38 medals – 14 gold, 14 silver and 10 bronze.
Find links to full reports from Manchester 2023 here, with full session replays available on the C4 Sport YouTube. Channel 4 will be broadcasting a one-hour championships highlights programme on Sunday 20 August at 8.30am.