Ellie Challis made it a hat-trick of gold medals for the week, storming to an emphatic victory in the Women's S3 200m Freestyle final ahead of Maisie Summer-Newton at her very best - producing a commanding performance to retain her Women's SB6 100m Breaststroke title.
The penultimate night at the Manchester 2023 Allianz Para Swimming World Championships saw Challis lining up for the Women's S3 200m Freestyle in lane five for the race, which was a straight final. The 19 year-old quickly took a huge lead down the opening length – putting five metres between her and the competition at the first turn.
She then slowly began to extend that gap to her closest challengers in the adjacent lane as the race progressed, with the gap increasing for every passing stroke by the athlete in what is her first appearance in the event at a World Championships.
Coming in to the wall, she touched with a lead of over 25 metres from Brazil's Schnarndorf who took the silver, with the result further corroborating the already-impressive week experienced by the now four-time world champion.
"That was such a special moment for me there", said Challis after her dominant performance.
"I know how ill Leanne [Smith] has been all year and to be able to tell her she got third, that she's come here and got a medal after all she's been through this year - to be able to see her reaction was special to me as we've raced against each other since 2019 and we're good friends. I couldn't have asked for a better Championships, and there's just one more event tomorrow!
"As I turned for the last length I actually saw the clock so I knew where I was at. Normally I wouldn't get that but it definitely gave me a push down the last length that I needed to keep chasing a time.
"Three golds is definitely a confidence boost going into Paris, I'll be chasing down another tomorrow and I'm excited to see what I can do on the last length of that 100m."
It was another gold medal for Maisie Summers-Newton on day six of the competition, as she produced a diligent swim in the Women's SB6 100m Breaststroke to take the victory in a race that lit up the crowd in Manchester.
Taking the lead right from the off, she put just under five metres of distance between herself and her two closest challengers in the lanes either side down the first length.
She didn't have it all her own way, though, with a stern fightback from Hong King's 13 year-old prodigy Cheuk Yan NG on the return length forced Summers-Newton to find a new gear to keep her lead – a task which she happily took on by increasing her stroke rate towards the wall and touching for the win by over a body length.
The win is a new European record for the 21 year-old, as she adds to her gold medal swim in the Women's SM6 200m Individual Medley earlier in the week.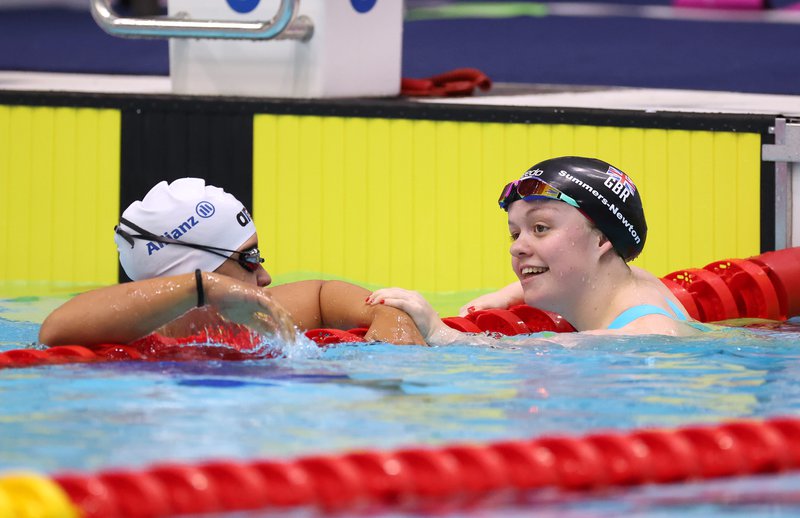 "I absolutely adore the 100m Breaststroke, I've said that plenty times before that it's my favourite so before this event I was excited and really happy - to touch the wall in a PB time and get the gold I'm chuffed!" said Summers-Newton.
"The world record mark is definitely something to aim for and to keep spurring me on because you always need a goal at the end of the day.

"I definitely wanted to win that, it was always my objective to come here and win two gold medals and I knew in myself I could do that. I'm in a really good place, coming away from this competition with PB's and season's bests I don't think I can ask for much more a year out from the Games - I definitely think that's because I've got a really good support network around me, my coach Andy Sharp has been fantastic this year, an amazing group of swimmers back at Northampton and up in the stands there, while my uni friends offer a balance to my world not being all about swimming."
The Mixed S14 4x100m Medley Relay team of Poppy Maskill, Scott Quin, William Ellard and Jessica-Jane Applegate combined to take the silver medal in the event in solid fashion in what was a brilliant race for the spectator.
Maskill, who took the silver medal in the individual S14 100m Backstroke event, led the team off in a field which was mixed with both men and women throughout all the lanes. She got her hand to the wall as the fastest female finisher – giving Quin a good platform to move the race on as he dove in for the breaststroke.
The 33 year-old maintained their third place position on the second leg, before Ellard put in an absolutely blistering swim on the butterfly to take second place and close the gap to the Australians in first – who had two female swimmers to close them out.
With a four second deficit to Mcternan in first, Applegate did manage to close the gap to the leader, but it wasn't enough as she touched to bring the team home in second and give them the silver.
Having anchored the team home, Jessica-Jane Applegate spoke proudly of 
"I feel like I'm a bit of a mum of this group and that athlete that picks everyone up when they've had a bad day. This is a result that's earned by us all it's not a reflection on any one individual, it's about how we come together as a team, and that time doesn't reflect how good we are. 

"I'm proud of everyone, and coming to the end of a long week where these guys have had a lot of swims. It's nice to be part of the team with Scott for the first time ever too. I was prettified on the anchor after being drafted into this relay, but I gave it absolutely everything."

With Scott Quin adding:
"Getting the chance to swim this last year with the guys and this year is amazing. The time isn't my best but swimming with this team is great. It's not a Paralympic event but it's one we are looking to progress. 
"It's the first time I've raced with Jess [Applegate] and we're the veterans, and I'm proud of Will and proud of Poppy too - she's come on so much this year. 

"Being on a relay team means a lot. As the oldest I just want to enjoy it. I'm a big kid and I just love this sport. Hopefully in the future I can become and coach and be part of teams as I know how much it means to athletes."
Matthew and Rebecca Redfern, Scarlett Humphrey and Stephen Clegg rounded off the night's action in the pool by taking fourth place in the final of the Mixed 49 Pts 4x100m Freestyle Relay.
Matthew led off the race for Great Britain in emphatic fashion – putting over a body length between him and his nearest opponents in the lanes to his inside on the first leg – handing over to his sister Rebecca with the team in a healthy position.
Although she was taken by the Brazilians, who put two men in their first two legs, she did manage to touch only inches behind second place to keep the team in the medals at the halfway stage.
Humphrey had a spectacular battle with Ukraine's Stetsenko down the third leg of the race, in which she had to succumb to the pressure and hand over to Clegg with the team in fourth.
It was Clegg who looked to be one of the fastest swimmers in the pool on the final leg, though, as he made up several metres on those in-front of him, but it wasn't enough to get the team back into the medals as they finished in fourth overall.
Also going well on the penultimate day after having a consistently impressive week was Faye Rogers, with the newly-crowned S10 100m Butterfly champion taking seventh place in the Women's S10 100m Freestyle final.
Going in lane one from the outside lane of the pool, she missed out on making progress down the first length of the pool as she touched in eighth – albeit less than a body length ahead of the leaders.
Although she wasn't able to get back towards the medals down the final 50 metres, she did manage to claw back a place and make significantly more progress as the race came to a close, as she touched in  a lifetime best for seventh place.
Scarlett Humphrey continued her consistent showing of progression into finals as she recorded an eighth place finish in the Women's S11 100m Backstroke showdown to open the night from a British perspective.
Going in the event from lane eight following a solid stint in the heats, the 18 year-old dropped over a second on her time from earlier in the day – swimming her own race and never letting those in the inside lanes get ahead enough to take her out of the race as she came in to touch in a new personal best time.
It's a marked improvement on her time from last year's World Championships in Madeira – signifying her intention to kick-on with every passing meet ahead of a move towards a potential appearance at what could be her first Paralympic Games next year in Paris.
Being a visually impaired athlete herself, she gave some interesting insight into how important it is to have familiar surroundings when competing on the international stage, whilst expressing her support for those who have come to support her on home turf.
"It's really exciting and the atmosphere is amazing, my parents are here and I can hear my teammates up there cheering.
"I think being a home meet it takes the pressure away from me because I'm familiar with the environments in Manchester and the pool so I feel I can relax more at this competition and swim as me."
Meanwhile the morning heats also saw Oliver Carter swim in the Men's S10 100m Freestyle, swimming from an outside lane the University of Stirling based swimmer ranked 12th in the world standings.