Ellie Challis took her second world title of the Manchester 2023 Allianz Para Swimming World Championships, with the night closed out by Great Britain's S14 quartet securing gold in the Mixed 4x100m Freestyle relay.
With the crowd at the Manchester Aquatics Centre behind Challis all the way on the fourth night of competition, she never looked like she was going to be on any step of the Women's SB3 50m Backstroke podium other than the top, thanks to a determined swim.
With two Brazilians to her left and one to her right, Monday's SB2 50m Breaststroke champion showed no signs of succumbing to the occasion, with her superior speed never faltering down the course of the length a she took a five second victory over the next best finisher.
Training at the British Swimming Performance Centre Manchester, Challis was extremely happy with her performance at the place she calls home – expressing her appreciation towards those who help her to perform at the highest level when it matters.
"I haven't put in a personal best in that since Tokyo which had really frustrated me and I hadn't expected to do that time today so I'm over the moon.
"The heat this morning was good but it was my split in the medley the other day which had given me great confidence coming into this.
"I'm massively enjoying these world champs, it's so nice having my family here once again. Things are going really well this year and it's all about carrying that on into Paris. Having a really great team around me of athletes and staff is making my life easy around this busy program and I'm just loving racing."
The Mixed S14 4x100m Freestyle Relay quartet of William Ellard, Jessica-Jane Applegate, Poppy Maskill and Jordan Catchpole stormed to victory to take Great Britain's first relay medal of the competition.
William Ellard led the team out for the final race of the night – having the best start of the field to put a body-length between him and the chasing Australian team as he handed over to 200m Freestyle champion, Jessica-Jane Applegate.
Although being taken by Hong Kong as they reached the halfway stage after the team opened with two male swimmers, Applegate did well to keep within five metres of the group as she touched with the team still in second place.
With two female athletes now leading the race, Poppy Maskill re-claimed the lead in emphatic style after blitzing down both lengths of the pool, to give Jordan Catchpole a two second lead on the anchor leg.
With clear water in-front of him, he never looked like relinquishing his lead for the British team – touching in first place to maintain Britain's hold on the title for a third successive world championship.
"I'm absolutely ecstatic to do this with the team, seeing Jordan close it out with an insane leg is incredible", said Applegate, who more than played her part in the team's victory.
"I was a bit petrified about going out second as traditionally that's been a male leg in our lineup, so I feel I got a bit excited, went out a bit quick and the last 50m was excruciating but we carried each other as a team which was great."
Catchpole added to the team's thoughts, after he recorded his first medal of the week so far.
"I know what I'm capable of so I had confidence in myself diving in on that last leg that we'd get gold. I knew there'd be some strong anchor legs chasing me down but I knew we had it after the team put me in such a good position."
Maisie Summers-Newton took her second medal in as many days in style as she went in the Women's S6 400m Freestyle against a strong field with a passionate home crowd behind her.
Tasked with defending her title from last year's competition in Madeira, she returned to the pool following her spectacular victory in the Women's SM6 200m Individual Medley final yesterday.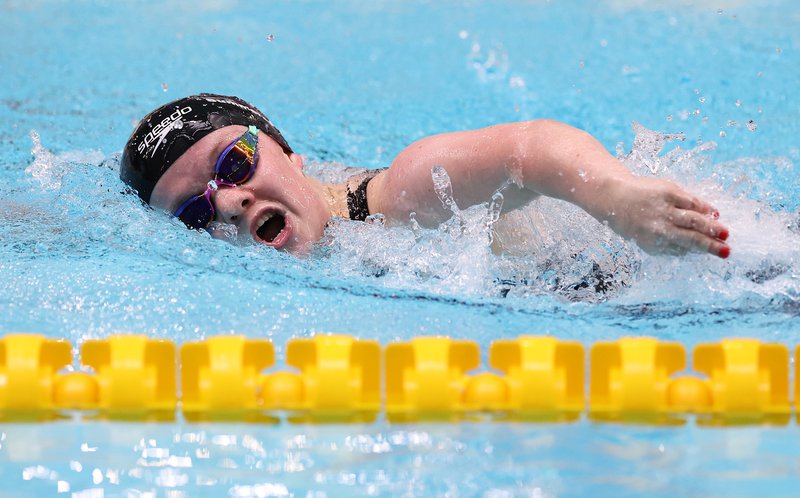 With China's Yuyan Jiang putting a healthy lead between her and the chasing pack, the Brit was involved in one of the picks of the night as far as entertaining racing is concerned – getting the better of Nora Meister, after the Swiss athlete was slowly reeled in with every passing length.
The silver medal is Summers-Newton's eighth medal at a World Championships – an achievement which she stressed her proudness of when giving her thoughts following the race.
"Very pleased, that's about a four and a half seconds PB - it was about time as I set my last one a number of years ago now. To produce that time and come second, I'm really happy with that.
"It's really important we have a good level of competition, and you know last year Jiang (CHN) wasn't there and I took the gold [in Madeira] but throughout this race me and Nora [Meister (SUI)] were really close and that makes it fun to race in and hopefully really entertaining for those watching.
"I could feel the noise rising and could see my coach waving their arms from the coaching pen so knew so I needed to push it on a little bit. I had a really good race plan going into it and after the back of last night was feeling really positive - being a relaxed and a happy swimmer really helps you swim fast and I've done that tonight."
Following her gold in the Women's S8 100m Backstroke earlier in the week, Alice Tai returned to the podium with a bronze medal-winning performance in the Women's S8 100m Freestyle.
Allowing the Brazilian in lane four to move into the lead down the first length, Tai turned level for second with one to go. Despite the distance between her and the leader, the crowd did not waiver in their support for the athlete – spurring her on to close that gap as the race progressed.
It was a task which she attacked with intent – making ground towards that lead with each passing stroke – finishing in a solid third position after just missing out on the silver following a battle with Italy's Palazzo.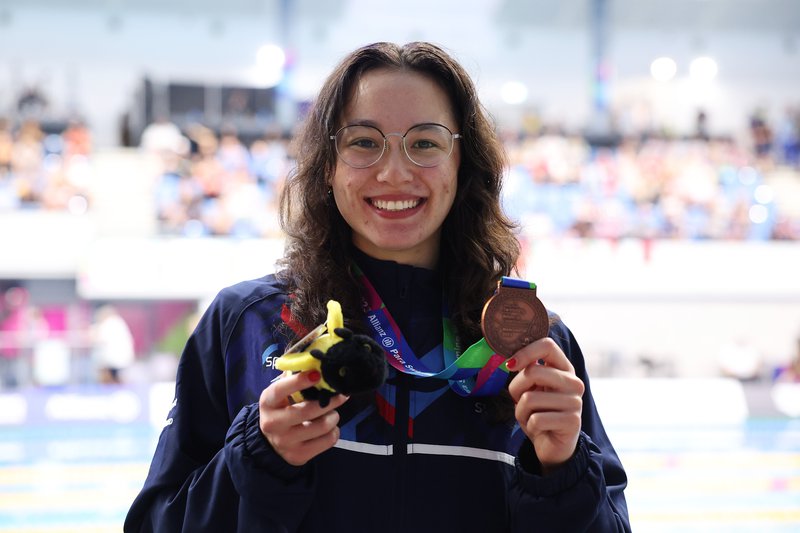 "It was always going to be close for medals on that one and to put down a seasons best as well that's everything I wanted and more tonight.", said Tai.
"I'm a born racer, I love having someone alongside pushing me and I was trying so hard to catch the Brazilian girl on the way back - that spurred me on right into the wall."
Scarlett Humphrey, Rebecca Redfern, Stephen Clegg and Matthew Redfern set a new British record time on their way to fourth place in the final of the Mixed 4x100m 49 Pts Relay.
After already going in an individual on the same night, Scarlett Humphrey went again from lane three to lead the team out – touching in fourth place after going up against male athletes on the backstroke.
Handing over to Rebecca Redfern for the breaststroke leg, she was tasked with negating the deficit faced by going up against male athletes towards the halfway stage, which she did by handing the baton to Clegg to chase down the leaders on the butterfly.
Despite both Clegg and Redfern on the freestyle leg throwing everything at them, they ultimately came up just short – touching six seconds behind the medals in a new British record time of 4:34.57.
Clegg was happy with the group's performance, saying: "We've got young talent with Scarlett [Humphrey] coming through and Matt [Redfern] coming back into swimming. Both me and Becky [Redfern] have been to Rio and Tokyo, and I like to think that our calmness helps those guys a little bit.
"Scarlett and Matt are both doing great on their own, even in such a short space of time from last year - the two have them have moved it on a lot. Hopefully that stands us in good stead going forward."
Matt, who swam an excellent anchor leg added: "These experiences push me on in training. The fact that I know that we are a potentially medal prospect for Paris, so that end goal is really pushing me. I know what I want to achieve with this team and it may only be our second relay together but the experience we are getting is in valuable. Building towards Paris I think we are in really good shape."
Going well in her own individual event was SM11 athlete Scarlett Humphrey, with the British record holder in the Women's SM11 200m Individual Medley lowering her own mark in the event following a solid showing.
After those to both sides of her either dropped off or pushed ahead, she was left with little reference on her standing throughout all four strokes, which made her new personal best all the more impressive as she powered on diligently – attacking each length whilst keeping her wits about her as the race unfolded.
Although she ultimately touched the wall outside the medals, her improvement in the event will be cause for encouragement as she continues on in what is her second World Championships.
Earlier in the day Matt Redfern competed in his first individual event at a world championships, placing 9th overall in the Men's S13 100m Backstroke.