Stephen Clegg came agonisingly close to making it two world-record finales in as many British Para-Swimming Meets after flying to a sensational Men's MC 100m Butterfly gold at the Para Swimming World Series competition in Aberdeen. 
The Edinburgh University man brought the curtain down on the 2021 meet by smashing the S12 world best - and 10 months on, he was a mere 0.05 seconds off repeating that feat, the three-time Paralympic medallist going out strong and holding on fiercely for a 56.80 that earned him the World Series gold medal and which was, unsurprisingly, well inside the World Championship qualification mark. The time was also well clear of Iceland S14 competitor Robert Isak Jonsson for silver on 765 and S10 Loughborough University man James Hollis, who claimed a fine bronze on 740. 
This early in the season, it was a statement performance from Clegg - who also won 100m Backstroke gold and 100m Freestyle silver across the meet - in his favoured event. It is no surprise, then, that he feels it is a promising performance to build on in a busy 2022 and at the start of the next Paralympic cycle to Paris.
"I'm absolutely thrilled with that. I've been saying all the way through that I've not done that much training going into this meet, it's been more about the mental preparation and mental wellbeing after Tokyo," said Stephen, who trains under coach Chris Jones.
"But to still do swims like that after Tokyo, with only a reasonable amount of training - nowhere near the pre-Tokyo intensity - I'm really pleased and it's a really good base mark for the next two-and-a-half years.
"I think that's a bit of redemption for me to be honest. After Tokyo, I was very disappointed with the results I got. I broke the world record a few months out from the Games but I was quite a bit off it on the day in the final and was pretty gutted. That's where a lot of the last six months have been focused, getting me and my headspace ready and in a place where I'm ready to race again - and I'm just getting back to the core enjoyment of training, it's sparked a new love for swimming again and it's showing in the results and my times. 
"Hopefully a few of the boys I race against will see that tonight and think my world record last year wasn't a fluke. For me, it's about the bigger picture, it's not about this season, this season is just a warm-up for what will be a short three-year Paralympic cycle. But it's still very important to get the fundamentals right." 
The Women's MC 100m Butterfly was a much closer contest than Clegg's surge to victory - and it was Alsager SC's Poppy Maskill who narrowly got the better of University of Stirling athlete Toni Shaw at the end of a brilliant race. 
S14 Maskill powered down the opening 50m lap to build a lead over S9 Shaw, before the Tokyo Paralympian produced a fine turn and good pacing down the home straight to touch narrowly ahead. However, it was Maskill who claimed the World Series by virtue of her 767 points total, just ahead of Shaw's 761 - although Shaw's time of 1:08.41 also saw her inside the S9 World Championship selection time. Brock Whiston (S8) swam her way to bronze for an all-British podium.
Speaking on her swim, Maskill said: "I'm really happy with that. Beforehand, it was a bit of a mixture of both excitement and nerves. Racing against athletes from around the world has been really cool this week." 
Fittingly, the other events on a fast-paced final night at Aberdeen Sports Village were the Men's and Women's MC 50m Freestyle. 
Both brought new British records, with Ellie Challis bettering her own best mark for the S3 classification twice - lowering it first in the heats and then sprinting well under that time to touch in 51.91 in the GB final. 
In the World Series final, Hannah Russell ended her meet with another medal, the S12 competitor claiming silver behind Germany S4 swimmer Tanja Scholz. Russell was looking forward to facing off with another German, Maike Naomi Schwarz, who shares her classification - and Russell's pacey time of 28.19 was enough for a big 851 points, nearly 100 ahead of Schwarz. 
As for Challis, how did she reflect on ending the four-day competition with another new British record to her name after being a late addition to the national final?
"It was really good! I didn't expect to swim this afternoon, I just came here to watch my friends swim and then got put into a final! It all went well, I'm really happy with it, and not just the British record," she said.
"I haven't been too pleased because I haven't been able to progress heat to final, like we normally aim to do, and I was able to do that in this race. So it's been a good end to the event, and I can't wait to race again. 
"It's only February - my 100m Freestyle the other day, I was so shocked with the result, especially in the heat, and then to go near-on the same time in the final, I'm definitely pleased with it all. But it's only February. We've got Worlds in June, so we've got a couple of months yet!"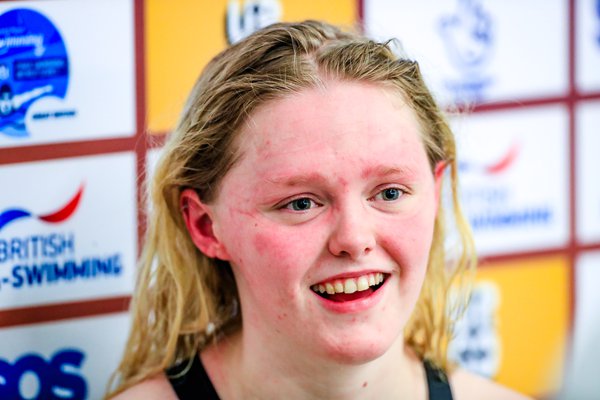 The men's 'splash and dash', meanwhile, brought maiden World Series medals for Kieran Williams of Newquay Cormorants and Northampton Swimming Club's Will Perry. S10 athlete Williams swam brilliantly to claim silver with a points tally of 676. 
As for Perry, he went a new personal best of 32.27 in the morning in a brilliant contest with Leo McCrea - and while fellow S6 man McCrea got the better in the heat, it was Perry who outsprinted him in the final.
"I'm very pleased. That is my first World Series medal - I'm very happy after a long four days. For mid-February, I'm really happy with my performances and everything that has gone here," said Will, who is coached by Andy Sharp.
"The main target was to achieve the Commonwealth Games time for the 50m Freestyle. It was my personal best, which was 32.85 - I had a cracking race with Leo where he was 0.01 ahead of me, but we smashed that time. That was the main goal, I've done it, I've got a new British record in the 50m Breaststroke, a big personal best in the 100m Breaststroke, so there's nothing I can complain about. 
"It's a very busy year, I'm still pretty new to this international scene, I've done it for less than a year. I love the action, I love racing. Our coach at Northampton always tells us about racing at any time, anywhere with anyone, and this is a good demonstration of that. We've got to step up and qualify, which I've done, I know Maisie smashed it, the twins (Scarlett and Eliza Humphrey) have absolutely smashed it, Bruce Dee has smashed it. It's set me up for a good year." 
Earlier in the day, Lyndon Longhorne had rounded out his packed schedule by setting a new British record for the S4 50m Freestyle of 43.76 - another new best for the Derwentside ASC man. 
For all the results from the four days of action at Aberdeen Sports Village, and to watch the livestream videos back, visit our full #Aberdeen2022 lowdown page here.