Maisie Summers-Newton and Jordan Catchpole were among the British Paralympic champions to show glimpses of their Tokyo form with standout displays on the opening day of the Para Swimming World Series inc. British Para-Swimming Meet in Aberdeen. 
Summers-Newton dropped an eye-catching sub-three-minute swim on her way to World Series gold in the Women's MC 200m Individual Medley, while Team Waveney's Catchpole got the better of some fellow Paralympians in a thrilling Men's MC 100m Freestyle. Ellie Challis, meanwhile, had earlier got the day off to a flying start with a new S3 British record in the Women's 100m Freestyle.
The first finals session of this Aberdeen Sports Village meet provided plenty of entertainment, with that 100m Freestyle showpiece for the men among the highlights, Catchpole touching out friend and compatriot Stephen Clegg. 
A tight finish in the morning heats had hinted at what was to come in a packed showpiece - and at the 50m turn of the final, a mere 0.06 seconds separated the centre-lane pair, with Louis Lawlor in contention too. 
That trio matched each other stroke for stroke down the final 50m, with Team Waveney man Catchpole ultimately coming out on top for the World Series gold medal, his 872 points just edging Clegg - whose time of 54.00 seconds was inside the S12 World Championship selection consideration time and was worth 837 - to silver. Lawlor (City of Glasgow) won bronze with 835 - the World Series events decided on a points tally worked out by each individual's performance in relation to their own classification. 
Both the result and the racing experience had S14 competitor Catchpole buzzing again as a busy 2022 kicks off. 
"That was really good. I've been out for a few months after Tokyo with a shoulder injury, and to come back and only be a second off my personal best, I can't complain with that!" he said.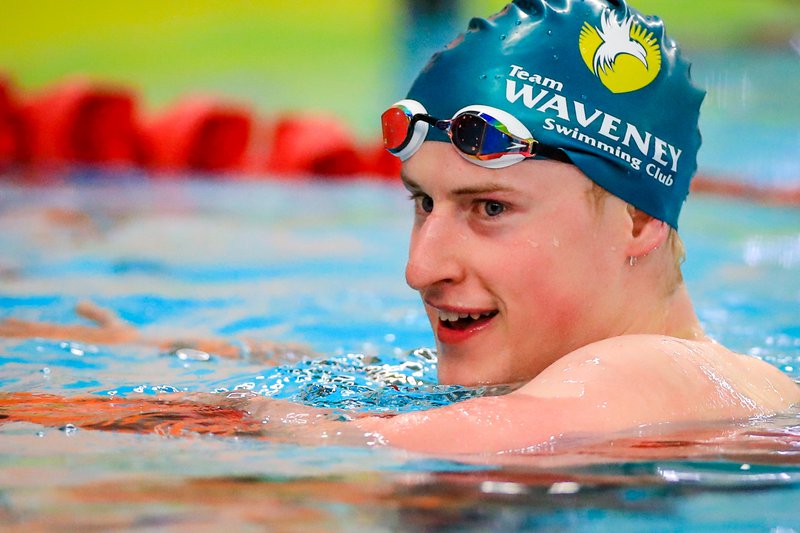 "I knew Cleggy was going to try to beat me at the touch, because he did it this morning and we had a bit of banter about it afterwards in the swim down pool, so I thought, 'I can't let you have this again'.
"It's amazing being back competing with these guys. I've missed the feeling, I've missed the adrenaline. It's just not the same after Tokyo, you go through that little blue stage where you're feeling a bit down, but to see all the guys again, it's just great. I'm really happy. This is my first proper meet of the year, so it's nice to see where I'm at. I'm very happy with where I am at right now." 
Moments later, the Women's 200m Individual Medley served up a statement swim from Paralympic gold medallist and world record holder Summers-Newton. The Northampton Swimming Club competitor - who trains under Jacquie Marshall and Andy Sharp - put together four fine legs of medley swimming, including a characteristically fast 50m of breaststroke, to finish in 2:59.75. 
That time was worth 949 points and the World Series title for Aberdeen, ahead of Bethany Firth on 825 points and Ireland's Roisin Ni Riain, who took the bronze with 804 points. Both Summers-Newton and Firth were well inside their classification's respective selection time for the event. 
Speaking about what was a landmark performance at this stage of the season for her, Summers-Newton said: "I'm really, really pleased. For me, being at the first World Series of the year, I wanted to do quite well for myself, and coming off the Paralympic Games, I wanted to go as close to my PB as I could with the circumstances of my training, university and everything.
"So to go sub three minutes, I was so happy with that. I've never gone sub three minutes other than getting a PB, so I think it shows I'm in a really, really good place at the moment. 
"On top of that, just seeing all my other teammates from Tokyo here, it's great. I remember seeing them all yesterday, we all just chatted, and today in the swim down. They are the main things about racing, having that social side, that I really like. It's great being here. Aberdeen is such a great pool as well, so it's all good!"
Hannah Russell built on a strong morning heats swim to secure herself World Series silver in the Women's MC 100m Freestyle, as her programme in Aberdeen began in promising fashion. 
The S12 National Performance Centre athlete went more than half-a-second quicker in the final, pushing to the wall well to secure 842 points in a time that saw her within her classification's selection mark for the event. That result saw her finish narrowly ahead of S9 competitor Toni Shaw (University of Stirling), who closed on 833 points at the end of her first of two finals for the night.
The World Series gold was won by Germany's Tanja Scholz, who set a new S4 world record for the event, subject to ratification. Russell, meanwhile, was able to reflect on a positive start to her meet as she gets back up to competitive speed following a hugely successful Paralympics last summer.
"It's really nice to be here in Aberdeen, it's great to be able to get to a new location, get used to a new pool - and to put in such a strong performance in the final, I'm really pleased," she said.
"Training has been going really well. I took a little bit of a break after Tokyo - I went on holiday, enjoyed some time with family. Going back into training, of course it's going to take a little bit of time, but since Christmas, I've had a good block of training and that's showing in the water. 
"It's great to have the 100m Freestyle at the start of the competition. I've got the 100m Backstroke tomorrow, which is classed as my main event, so I'm looking forward to seeing how I perform in that - then I have a rest day and then the 50m Freestyle, which is an event I'm very much looking forward to. I've hopefully got the Commonwealth Games this summer, and it's the first time a visually impaired event has been included. To hopefully get that opportunity would be absolutely brilliant - I've competed at Paralympics, World Championships, Europeans - there's just one missing."
Shaw - who is back at her hometown pool in the Aberdeen Sports Village - added to that 100m Freestyle bronze with a fifth-placed finish in the 200m Individual Medley. So how does the S9 athlete reflect on the first day of this important meet?
"I'm quite happy with my swims today and hopefully they'll get faster as the year goes on. But for the first big competition of the year, I'm happy with my performances there," said Toni.
"Having two big international meets this year is really exciting. We all train to race so having two big opportunities to race is fantastic and obviously the Commonwealth Games is extra special as I get to race for Scotland."
The Men's 200m Individual Medley title was won by Iceland's Robert Isak Jonsson on 817 points, just ahead of a busy Louis Lawlor. The S14 City of Glasgow man claimed his second World Series medal of the night by following up the 100m Freestyle bronze with silver in this event, thanks to a tally of 790 points. 
The finals were rounded out by the 150m Individual Medley races - and the men's contest provided a fittingly close finale to the day, as Derwentside ASC's Lyndon Longhorne got the better of Paralympic legend Javier Torres and fellow S4 swimmer Javier Torres in a sprint finish down the freestyle leg. 
Longhorne took the World Series win with 526 points, Torres claiming 522 points and Harvey Phillips rounding things out, the youngster from Louth Dolphins gaining valuable race experience against the pair ahead of him. 
Among other standouts from Thursday's action was Amber Haycock of Rushden ASC, who secured the British junior golds in both the Women's 100m Freestyle and 200m Individual Medleys.
Another youngster, 17-year-old Ellie Challis, laid down her marker as early as she could by breaking her own British S3 100m Freestyle record in the day's very first heat. 
Challis - who was Paralympics GB's youngest medallist in Tokyo last summer - clocked 1:49.52 to knock more than three seconds off her personal best. That time is inside the World Championship selection time. 
For all the results from Thursday's action, and to watch the livestream videos back, visit our full #Aberdeen2022 lowdown page here.