Bethany Firth and Reece Dunn were the headline grabbers for Britain's swimmers on day nine of Tokyo 2020, as Firth claimed a third successive Paralympic title in the Women's S14 100m Backstroke, moments after Dunn's bronze in the men's event took him to five medals for the Games.
As well as Firth's piece of history and Dunn becoming Paralympics GB's most decorated athlete in Tokyo, there was a bronze for Jessica-Jane Applegate, also in the backstroke, while there was a trio of fourth-placed finishes involving Brits at the Tokyo Aquatics Centre, as the GB swimmers continue to show the products of their training, commitment and perseverance. 
It is a symbol of Firth's class in the Women's S14 100m Backstroke that, despite having already won one relay gold and two individual silvers at Tokyo 2020, this was the event she had been targeting throughout the Games.
Within the opening 15m of a strong final, the reason for that was clear. The Ards SC athlete, who works under coach Nelson Lindsay, came up in front of the field after a well-judged start, and she never looked back from there, turning nearly a second up on nearest rival Valeriia Shabalina and then bringing it home down the back 50m with impressive intensity to touch in 1:05.92, retaining the title she initially won at London 2012 and then defended for a first instance at Rio 2016.
Firth's teammate Applegate wrapped up her third medal of the Games with a brilliant second 50m of her own, pulling clear of those chasing a podium place to repeat her own Rio result in the event. Cue brilliant scenes of the friends hugging over the lane rope, with Firth delighted at delivering on her ultimate Tokyo target.
"I spoke to my psychologist before and we talked about me grounding myself, realising why I'm here, looking to my cross and keeping the faith. I really wanted that race so badly – I got it in London, I got it in Rio and that was the one I'd been waiting all week for," said Firth, who has maintained an incredible record of winning medals from every Paralympic and World Championship final she has ever contested.
"I'm so glad I could come out and do it. I just wish the family and support system were here to do it with me, because I wouldn't be here without them. Swimming is my happy place. When that got taken away during lockdown, I really struggled and I needed my family, my church and my coach. They all bailed me out from the bottom, so just to be here and to show them all their hard work, I can't wait to see them.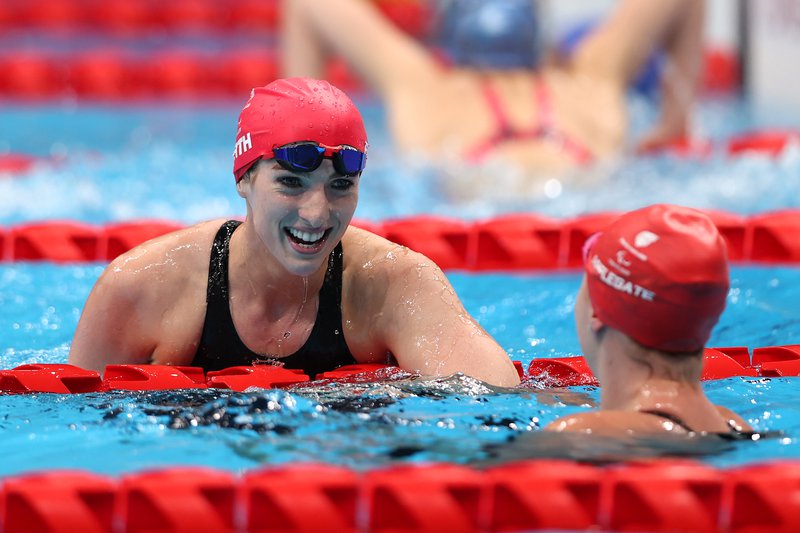 "Coming here, I just wanted to show everyone what you can do, even though the year has been bad and things haven't gone your way, you can still come out and you can still fight. It's so much more than winning a medal, it's enjoying it.
"In sport, it's so hard. People can only care about getting gold and silver – everyone here has made a Paralympics and they should be so proud about being a Paralympian, doing it in front of their country, in front of the world."
Firth was Paralympics GB's most decorated athlete five years ago in Rio – and that mantle has been handed across to another swimmer this time around, as Plymouth Leander man Dunn secured his fifth medal of the Games by taking bronze in the Men's S14 100m Backstroke, moments before the British gold-bronze combo in the women's event.
The race was led from start to finish by Australia's Benjamin Hance, who broke the Paralympic record. Dunn, though, stuck well in the battle for the podium across a frenetic contest, especially given his exertions across a busy meet. He turned second before placing third overall.
Behind him, the strength in depth of Britain's S14 backstroke ranks was made clear by the sight of two other Brits in the final. Jordan Catchpole roared down the back 50m, after turning eighth, to finish fourth, a single place off the medals, while Louis Lawlor's long-awaited Paralympic debut, on day nine, saw him touch eighth.
Dunn, meanwhile, was left shocked by the news that his haul of three golds (S14 200m Freestyle, SM14 200m Individual Medley, Mixed S14 4x100m Freestyle Relay), one silver (S14 100m Freestyle) and one bronze leaves him top of the Paralympics GB pile in Tokyo.
"That's awesome! I didn't know that, that's amazing. I'm very pleased with this race, I think that equalled my personal best as well. It's been a long couple of weeks, so I was a bit tired going into it – but it was a solid swim," he said.
"I couldn't really see how close it was, staring at the ceiling the whole race. I'm glad to have finished it and got the medal. It's my birthday, it's my girlfriend's birthday in two weeks, so it'll be a celebration of everything when I get home!"
Another eye-catching finish from Toni Shaw saw her come close to the podium yet again, as she finished fourth in the Women's S9 100m Butterfly.
The University of Aberdeen swimmer – a bronze medallist from the S9 400m Freestyle, before placing fourth in the 100m Freestyle event – was closing on the medal places with every stroke in the final 25m of this one. She overtook early leader Sophie Pascoe of New Zealand as the wall approached, but she would have required an extra metre or two to get past Spain's Sarai Gascon, who claimed bronze.
Still, it was another promising display from the 18-year-old on her Paralympic debut, with Paris 2024 less than three years away – and there was another glance to the future with a new-look team in the Women's 34pt 4x100m Medley Relay.
The quartet of the experienced Stephanie Millward on backstroke, Maisie Summers-Newton on breaststroke, Shaw on butterfly and Zara Mullooly on the anchor, freestyle leg – which saw her charging down her two lengths at fine speed – combined to record another fourth-placed finish for GB.
"To finish on a high, finish fourth in the whole, wide world, with this amazing group of people is wonderful. We were close to a medal," said four-time Paralympian Millward.
"These girls will go on and win more medals, more, more, more. They're an inspiration to everyone. We need to be proud of the fourth."
Shaw added: "Relays are my favourite, especially with these guys! As long as I can be in the relay, I'll be happy." 
Mullooly said: "It's been a hard week, it would've been nice finish on a high. Everyone pulled their weight and tried their hardest, we couldn't really have asked for more."
A busy finals session for Britain's swimmers at the Tokyo Aquatics Centre began with three involved in the Women's S6 400m Freestyle contest. Summers-Newton and Grace Harvey headed into the finale with Tokyo 2020 medals already in the bag – in Maisie's case, a couple of golds – while Simmonds has eight to her name from three previous Games.
Those previous successes could not quite close the gap in what was a race of stunning pace, China's Jiang Yuyan taking things out from the start and going on to smash the previous world record by more than eight seconds.
Summers-Newton paced herself well amid that frantic speed to come in fourth, while fellow Paralympic debutant Harvey – who picked up SB5 100m Breaststroke silver earlier in the meet – touched the wall seventh. In between them, Simmonds finished fifth. 
She was initially disqualified, but after a successful protest from British Swimming, she was reinstated in fifth to round out  the fourth Games of a genuine Paralympic legend, and she was quick to pay tribute to every one of her friends, family and the swimming family who has helped in her journey from Beijing to Tokyo.
"I don't know what happened with the disqualification. You've seen this Games how people have moved forward, it's been difficult for me to move forward with them. It's been amazing, though, it's an incredible pool. I've had an amazing time, an amazing Games – now I'm looking forward to going home and seeing my family, friends and loved ones," said Simmonds.
"I think this has been my last Games, but I'm going to go away and evaluate. I can't thank everyone enough for their support – my coach, Billy Pye, my parents, my sister, Andy and Adam and everyone at Camden Swiss Cottage, everyone for getting me here to these Games and also for helping me to get to four Paralympics. There's no words, I love the Paralympics, I love absolutely everyone on the team, it has just been incredible. 
"One thing about these Games is you don't have your family in the crowd. For me, they are my comfort blanket, having them in the crowd is a big thing for me, so I'm looking forward to going home. Billy, my coach, has been at the end of the phone – he is my rock, he's not just my coach, he's my best friend. That's been hard for me.
"But the support of British Swimming has been amazing, Rob Aubry (Head Coach) has been amazing at this competition for me, he has helped me. Being with Maisie has been amazing, Steph Millward – I could be standing here for hours naming all the people who have helped. It's been an amazing part to play, inspiring those next generations, I'm honoured and it makes me emotional to think about Maisie, all those girls and guys that have been inspired by watching me at 2012. And now, they are inspiring that next generation. It's not just me out there racing, it's everyone behind me and I'm so thankful for that."
Earlier in the day, the busy Lyndon Longhorne was in action again in the Men's S4 50m Freestyle heats. He placed 16th overall, just outside his own British record time, with now just the 50m Backstroke event to come to round out a non-stop programme for the Derwentside ASC man that has served as a valuable learning curve on the sport's biggest stage.
"I'm feeling pretty fatigued at the minute, that race isn't where I wanted to be, but I've had some good swims already so I won't let that get me down. We've trained more for the 100m and 200m – I do feel a bit tired, but I'm still happy to be here and get that done," he said.
"It's great to do so many events, but as you get older, your body starts to fatigue quicker. So it's now just a case of trying to work out what we do next time. Anyone who tells you you know everything, it's impossible to know everything in a sport and it's important to develop yourself every single time. It doesn't matter how many sessions you do, you've got to develop yourself, it's the best way to learn."
Meanwhile, 17-year-old Ellie Challis' debut Paralympics drew to a close with her adding yet another British record to her ever-increasing tally.
Competing a classification up in the S4 50m Freestyle, Challis – a silver medallist from the S3 50m Backstroke – clocked a 54.94 to set a new S3 British best mark. Within moments of setting that record, the Clacton-born athlete was already looking ahead to what comes next.
"That was a good swim. The season is over for me now – it feels like it's been a 2019-2021 season, it's been like one long season, two joined together. It's been such a great experience being here in Tokyo, everyone has been so nice, so helpful. I'm so thankful to my family at home and I can't wait to see them when I get back," said Challis.
"The silver in the backstroke was probably the highlight for me. To not even equal but better what I did at World Championships in 2019, I was really pleased with that. I'm so excited now – we've got Worlds next year and then it's not long until 2024, it's going to be a good cycle. I can't wait!"
Stay on track of all the action across the Tokyo 2020 Paralympic Games by visiting our 'What's On?' page.