Faye Rogers took her first ever World Championship title in a new Women's S10 100m Butterfly European record time on a spectacular fifth day of racing, whilst Bethany Firth featured on top of the Women's S14 200m Individual Medley podium as a total of nine British medals were recorded on Friday night at the Manchester 2023 Allianz Para Swimming World Championships.
After qualifying fastest for the event following the heats, Rogers touched in second place at the turn after being unable to break the deadlock between her and those to her left and right after they all had lightning-fast starts.
It was the return length where she made her intentions of locking out the top step of the podium known, though – with a noticeable increase in pace with 25 metres to go to drop her competition and leave them a body-length behind at the finish to make her own history at her maiden World Championships - stopping the clock in a new European record time of 1:05.48.
"I'm really excited, I've worked really hard to get them at first 50m moving a bit faster and to PB again I'm so happy", was the opening line from Rogers – a statement that could be corroborated by anyone in attendance by the nature of her celebrations when her gold medal was confirmed.
"My training background in the 200 Fly has definitely helped the back end of my 100m. It's been quite hard to convert down the distance as I was always more of an endurance swimmer before, but I've worked really hard on getting myself out that bit faster and it's obviously paying off."
Bethany Firth and Poppy Maskill took respective gold and bronze for Great Britain in the Women's SM14 200m Individual Medley final, as Louise Fiddes came home for fourth in an electric final with drama from all angles.
It was a British 1-2-3 after the first length, with Maskill from Fiddes from Firth all looking strong with three to go.
Firth and Maskill kept the pace going with strong backstroke legs to see them move into first and second respectively at halfway, before a late charge from Japan's Kinoshita brought her level with both athletes with one length to go.
Moving away from Maskill, who would eventually take bronze, on the freestyle leg, Firth and her Japanese challenger went stroke for stroke into the wall, with Firth coming off the better and taking yet another gold medal for her long-list of accolades. Fiddes also went well in the race - coming home in fourth.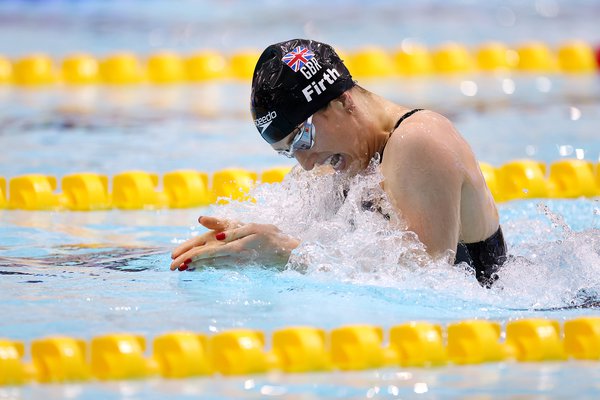 It was clearly a result that was of the upmost importance to Firth – a sentiment she eluded to when speaking after the race.
"This gold medal means so much, a lot of people don't always see the work that goes on behind the scenes and I just want to thank all my support from back home, my coach, my family and my church.
"I really had to dig deep that last length and I think it makes the sport just so exciting when it's like that but I'm just so happy I touched first. We're working on a two-year program and this was a stepping stone on the journey so I've got a lot more to give come Paris next year."
Alice Tai continued her impressive form from this week with a hard-fought silver medal in the final of the Women's S8 50m Freestyle.
After being behind at the breakout, with Tai still adapting her starts technique post-amputation, she quickly moved up alongside the leaders as the halfway stage hit. Both her and Cecelia Jeronimo De Araujo of Brazil moved away from the chasing pack to battle it out for the gold medal with the wall in sight.
It was towards the touch where the Brazilian made her move in the gold – having the better finish of the two and leaving Tai to touch for silver.
It's the first time since 2019 that Tai has made it onto a world podium in the event – an achievement which she was happy to speak about when giving her thoughts on her performance following the race.
"That was super close, everyone swam really well on the heats and everyone's come on leaps and bounds - this has been announced as a Paralympic event so more people are training it, even the non-sprinters.
"It's a season's best time, I've moved it on from this morning so medals are a bonus. I'm tired but happy! I want to keep racing, it's so much fun and I've missed it.
"My starts are probably my biggest flaw for my 50, I dive in and I'm behind the leader already so that's a huge thing for me to work on further in the gym with some movements and get it as quick as possible - there is gains to be had there and it's given me a lot of optimism for next season."
Grace Harvey opened the night for Great Britain with a great display in the Women's SB5 100m Breaststroke final, with the defending champion in the event adding to her ever-expanding list of accolades by taking the silver medal in the event this time round.
The 24 year-old worked herself into the race moving her way up through the field down the first length – touching in third place.
It was a three-way shootout for the medals with 25 metres to go, as Harvey went with Germany's Verena Schott and Ukraine's Anna Hontar as they broke towards the wall. With Hontar the athlete dropping behind, coming in to the touch, Schott had the pace to hold Harvey at bay on this occasion, as she claimed the silver medal with a solid performance of her own.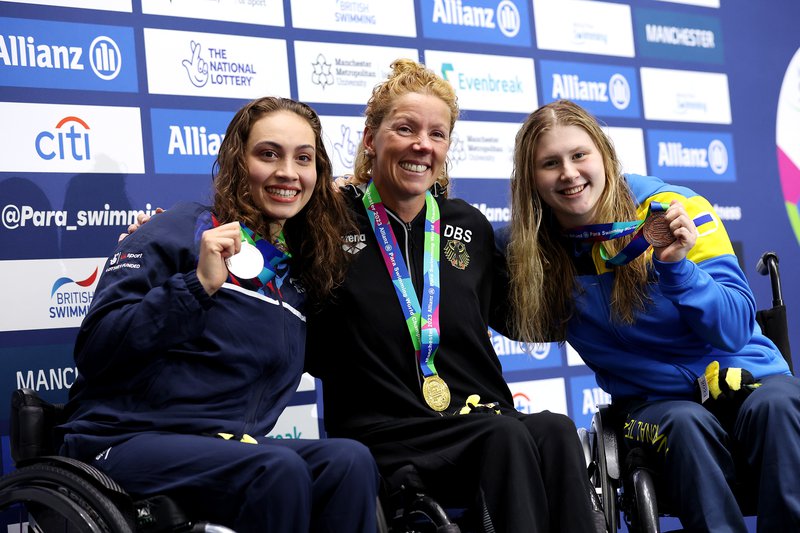 "I definitely finished with a smile on my face", said Harvey after the battle with Schott.
"I'm really happy with a silver medal. My first swim tutor from when I was ten has come all this way to watch me swim, she taught me breaststroke and seeing her up there with my year six math teacher, my parents and my sisters it means so much ahead of getting on that podium.
"Down that last 25m I'm not thinking about anything other than keeping my head down and finishing my race plan - you can't control what anybody else in that pool does. I've been training with Verena [Schott] and I'm made up for her as she had a cracking swim and this field of SB5 Breaststroke is improving year on year which is great for our sport."
Rhys Darbey took a sensational silver medal in the Men's S14 200m Individual Medley final, with compatriots Cameron Vearncombe and William Ellard both also going well in what was an entertaining race for the sold-out crowd on the busiest day of competition for the British team so far.
Vearncombe, Ellard and Darbey lined up in lanes one, two and three respectively, and they all went together down the butterfly and backstroke legs to make up the pack that were chasing the medal positions.
Vearncombe made his move on the breaststroke to put himself as the prime-Brit to challenge for a place on that podium, as he snuck into second with one length to go with Darbey not far behind.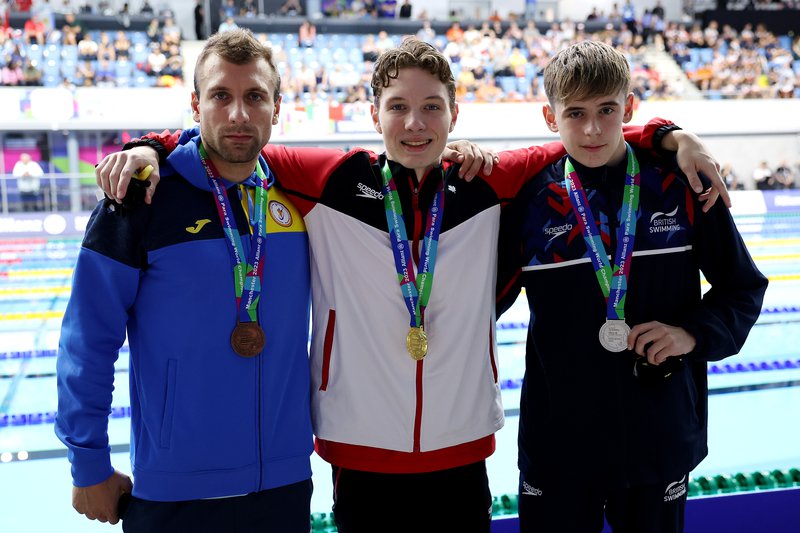 It was all-change again on the freestyle leg, though, as Darbey absolutely flew through the field on the freestyle to claim the silver medal from what seemed like nowhere two lengths prior – taking his first medal on the world stage on his World Championship debut. Ellard and Vearncombe placed fifth and seventh respectively.
Following the race, Darbey shared a few words on how the week has been for him as he experienced his first taste of international action at a major championships.
"I've been sitting around the team all week as this is my first race and I've enjoyed the atmosphere quite a lot. I'm please to have finally got out there, it was a good race and to get the silver is great.
"I'm really looking forward to what I can do next year. Paris is the goal, to make a final there and maybe medal too would be incredible."
Stephen Clegg continued his fruitful week by taking the silver medal in the Men's S12 100m Freestyle in what was a stacked field in-front of a passionate crowd.
Coming up level with the leaders at the 15 metre mark, he fell slightly behind the swimmers to his either side as he turned third at the halfway stage.
With Ukraine's Veranska fading down the back half of the race, Clegg and his long-time rival Raman Salei both came into the finish with an equal chance of claiming the gold. However, Salei got his hand to the wall in first, with Clegg taking his third medal of an already-impressive week so far with silver.
With that swim being his last bit of individual action for the week, Clegg gave a short reflection on how he thinks he performed, whilst showing a healthy level of optimism for that all important Paralympic year next year.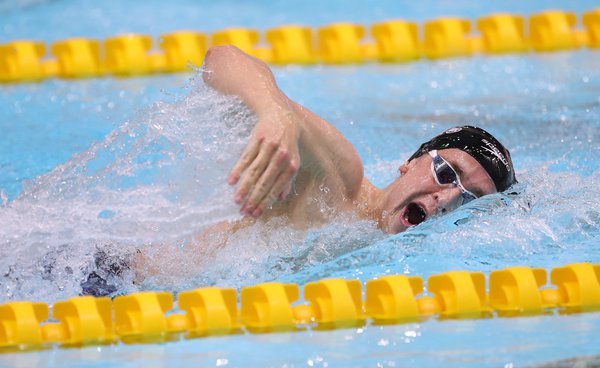 "Overall it's been a bit of a rollercoaster of a week, with some disappointments on the fly, but it's really good to end my individual swims on that high there. That's a season's best and the second fastest I've ever been so I can't ask for too much more than that. The boys I was racing were fantastic, you've got the world record holder and the Paralympic champion.
"It was a great race and I tried to approach it a bit more tactically, keep the powder dry that first 50 and then let the legs go on the second 50, try and claw them back as much as I could. Raman was just a bit too good for me today but hopefully next year I can go a bit quicker."
Ellie Challis put in another impressive performance in the Women's S3 50m Freestyle to come home for the silver medal in a strong field – taking a British record in the process.
After getting a solid start from the blocks, with everyone else starting from the water due to their impairments, the 19 year-old repeated her feat from last year's World Championships in similar style – getting herself up to the leaders before just coming up short and hitting the wall in what was ultimately a solid second place.
The result is her fourth medal so far this week and her ninth medal at a World Championships overall.
"It's always been one I've struggled with a bit more and would split a faster 100, but not today, not today – I finally broke that curse", said Challis.
"That race was so much better than I expected it to be. I've had an epic week so far with a couple of medals and I've really enjoyed watching our team race and do so well."
Toni Shaw added to her impressive list of medals from World Championships as she took bronze in the Women's S9 400m Freestyle final, with Brock Whiston also in action in the same event.
The pair lined up in lanes six and two respectively for the longest race of the programme for their classification – keeping their seeded positions down the first half of the race by keeping on the toes of those in the middle lanes – with Shaw keeping in and around those medal positions at the 200 metre marker in fourth place, with Whiston in eighth.
Shaw then moved into the medal places as the race went towards 300 metres, although she was facing challenges on her position from all angles with two lengths to go. With pressure applied, she pulled it out of the bag where it mattered, with the 19 year-old even gaining on Croatia's Emma Mecic towards the end of the race.
Although not being able to move up a position, she did maintain her grip on the bronze medal to touch the wall and return to the podium in the event after taking the title in Madeira last year. Whiston closed out her individual programme for the week, ultimately placing eighth place in the final.
"I'm absolutely buzzing", said Shaw following the race.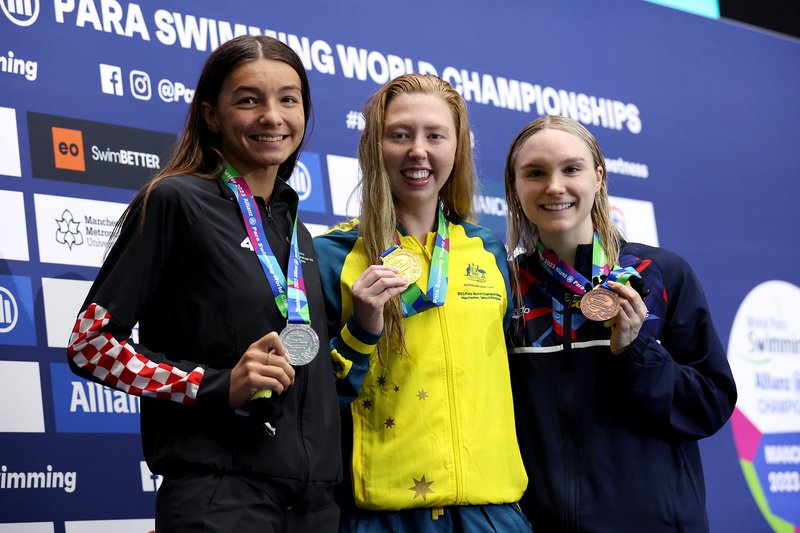 "I've obviously been out for a lot of this season, I wasn't sure if I would make it to these championships so to even just be here is really special. There's been so many people who have supported me through this, my family, my friends, coaches and support staff. My mum and dad are in the crowd tonight and my sister is back home watching, so it's really special."
Scarlett Humphrey took seventh place in the Women's S11 100m Freestyle to continue what has been a busy week for the athlete, with more still to come.
After taking eighth in the event at Madeira's World Championships last year, she went one better – lowering her time by a massive six seconds from last years performance on the world stage as she went with the athlete to her outside, with the rest of the field putting in impressive performances to move ahead.
Sam Downie, Maisie Summers-Newton, Faye Rogers and Oliver Carter all combined in emphatic fashion on the final race of the night – taking sixth in the Mixed 34 Pts 4x100m Medley Relay final.
It was Downie who took the backstroke leg out for Great Britain, alongside a majority-male field. Going well against a host of athletes with different impairments, he touched the wall to hand over to Summers-Newton with the team in fourth place.
Tasked with swimming against many athletes with a less-impaired classification to her, Summers-Newton did well to hand over to Rogers with the team in eighth place and a minimal deficit to those ahead at the halfway stage.
The 100m Butterfly champion from earlier in the day managed to pull a place back before the final hand-over – giving Carter seventh place to work with ahead of the final 100 metres.
He then continued in similar fashion to his heats performance, with a scintillating swim to close the gap to the leaders, although ultimately only being able to recover one more pace as the team finished in sixth.
Earlier in the day, Rebecca Redfern finished ninth in the Women's S13 50m Freestyle - just missing out on progression through to the final by just four hundredths of a second.