Grace Harvey produced one of the standout swims on day one of the British Para-Swimming International Meet in Sheffield, as a host of athletes went under their Paralympic consideration times thanks to impressive swims.
As elite global competition and the World Para Swimming World Series made its return in the familiar surrounds of Ponds Forge, the SM6 trio of Harvey, Maisie Summers-Newton and Ellie Simmonds all swam well enough to get inside their Paralympic qualification consideration time in the Women's MC 200m Individual Medley. 
It was Hoddesdon's Grace Harvey who finished strongest on the freestyle leg to edge past Summers-Newton just before the wall and claim the British and overall World Series event win in a time of 3:01.01, amassing some 938 points.
And there was no hiding Harvey's joy as her primary event brought such success on the opening day, especially given who she could share the result with straight afterwards.
"I am completely over the moon with that swim, it was more than I wanted! I just wanted to go out there, enjoy the swim – which I did – so then to look up and see that time was everything," she said.
"The British field in the SM6 is phenomenal, with Maisie and Ellie. I love racing against those girls – and now I can hopefully do it on the world stage, I'm very excited. It's exhilarating. This event is like my baby. At one point, I was told to stop racing it, but I was like, 'no, I love it, I do it because I enjoy it'. So to actually hit the qualifying time in it, it shows that hard work does pay off, really.
"I love racing here, it's one of my favourite pools. My mum and my sister are helping out on poolside, so it was so nice for them to actually be here to see my swim rather than watching on the livestream where I couldn't hear them or see them. I feel quite privileged that they're on the team helping out, actually."
Summers-Newton – a world champion in this contest from 2019 – was a mere 0.35 seconds behind to notch 933 points, while Simmonds' 3:05.56 was worth 871. Young duo Abby Kane and Katie Crowhurst also fared well in a competitive field.
The Women's MC 100m Freestyle acted as the curtain-raiser on the opening evening of finals at Ponds Forge, with double Paralympic champion Hannah Russell (S12) staying strong after a solid opening 50m to claim victory with a points tally of 861. Russell's time of 1:01.39 was enough to see her under the consideration time as she looks to book her place at a third Paralympic Games.
Toni Shaw, meanwhile, is aiming for a Paralympic debut in Tokyo, and she also went faster than the required S9 time by touching in 1:03.71, enough for 826 points and second place. Louise Fiddes (S14) rounded out the podium, nudging ahead of Russell in the final five metres, but amassing 794 points in her classification.
Tully Kearney did not line up in the final, but she had already caught the eye in the heats, where she qualified top with 866 points, the Graeme Smith-coached swimmer going under the S5 consideration time.
Russell was pleased about her own performance and the high standard set by her teammates across the evening.
"A lot of my teammates today on day one have done really well, quite a few athletes have gone under consideration times so the buzz around the pool is so big, so high with everyone supporting each other which is a really nice atmosphere," she said.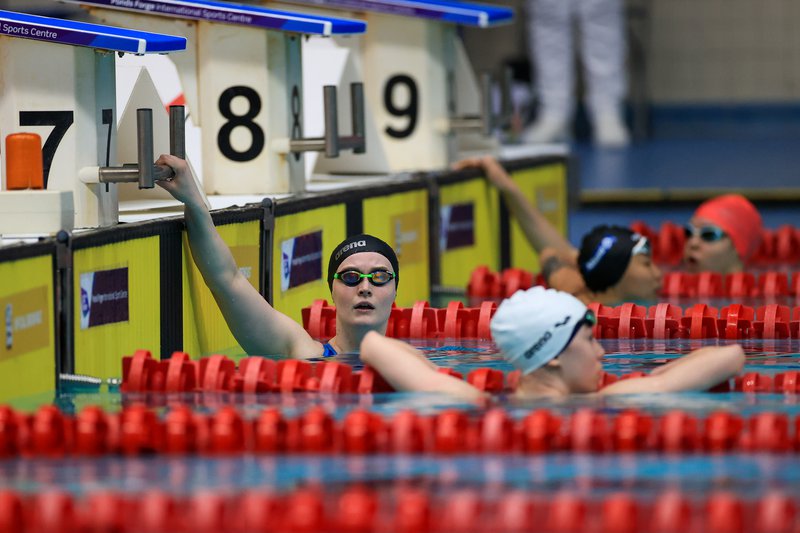 "Being part of that going into my race I was really wanting to go under my consideration time – it was in the back of my mind thinking I went a 1:02 in Manchester, it was an aim for me and I'm really happy I managed to do that tonight."
Another British athlete to clock the time they needed for Paralympic consideration on day one was Stephen Clegg, the S12's 53.72 seeing him under his target time by 0.12 seconds and recording a British record in the process.
In a strong field, S14 Jordan Catchpole and Clegg matched each other stroke for stroke right to the wall, with the latter just edging the win on time – but Catchpole's World Series points score of 878 was enough to be top Brit, ahead of Clegg and Louis Lawlor (S14), who both tallied 851. 
The event's overall winner was Ami Omer Dadaon from Israel, the S4 athlete notching 889 points. His compatriot Mark Malyar was third – behind Dadaon and Catchpole – on 877.
On his swim, Clegg said: "I'm pretty pleased with that. It's not a main event for me so to secure a qualification standard on one of my secondary events is a good indication of the shape I'm in for my 100 Butterfly later in the week and it's positive reflection on the training I've been doing so far this season."
"All my focus and training has been geared towards the 100 fly. There's a lot more pressure on that one because it's my main event but this is a good start and a good indicator that the type of training I've been doing has been working for me."
In the Men's MC 200m Individual Medley, Rhys Davies (S14) was close to a personal best on his way to finishing as the best-placed Brit, courtesy of 779 points in 2:19.25. Fellow S14 competitor Dylan Broom was right behind him on 745 in 2:21.31.
The overall win went the way of Malyar of Israel (S7), who notched up an impressive 879 points, whilst France's Portal (S13 – 863 points) and Spain's Martinez Fernandez (S8 – 784) rounded out the top three.
Rounding out day one was the Men's and Women's MC 150m Individual Medleys, where Lyndon Longhorne - who broke the S4 British record in the 100m Freestyle earlier in the day - placed third in the men's 150m IM event, behind Israeli duo Iyad Shalabi (SM1 – 1036) and Dagaon (SM4 – 775). Shalabi enjoyed a memorable day, having smashed his own world record by clocking a 4:57.21 in the morning heats. The women's event, meanwhile, was a one-woman affair, Jonne Moleman of the Netherlands (SM4) producing a brilliant performance to go under her classification's world record for the second time in the day.
The BPSIM action continues tomorrow, with more athletes hoping to stake a claim for Paralympic qualification and valuable World Series points.
For full results from day one, click HERE - and you can rewatch the action over on the British Swimming YouTube channel.