Fresh from World Championship selection, James Hollis discusses the motivations that instigated his return from competitive retirement.
When Hollis hung up his cap and goggles at the end of 2018, he was closing time on an accomplished career that had seen him represent Great Britain in the pool at Paralympic, world and European level – and with his studies at Loughborough University complete, the S10 swimmer began embarking on a new journey as a performance sport practitioner.
With a pandemic to contend with just as his post-athlete career was taking shape, Hollis explains how he was tempted back into the pool by an opportunity that had not been available in his earlier career: "It's a really strange one to be honest, because obviously I'd sort of walked away and started off my career, then Covid came along and put the brakes on everything. It was then they announced that Birmingham 2022 was going to have an S10 event in it, and I'd never swam at a Commonwealth Games so I was like 'oh, do you know what, I feel I'm giving that a go!'
"There were lots of other things going on with my condition, I get a bit of pain and so I needed to get back to training something because that helps manage my condition. I had this target for the Commonwealth Games, and I'd recently just got more hours at a job in Loughborough so it felt like it was all just coming together, I might as well be in Loughborough and if I'm in Loughborough I might as well train.
"I sat down with the Paralympic Swimming Coach Lead at the university, and working with him I said 'let's give it a shot, let's see what we can do' – I came back and swam fairly quickly in December [at the British Para-Swimming Winter National Meet] and suddenly not only was Commonwealth Games potentially on the table but World Championships were as well, so it all quickly got really exciting as it all sort of happened all at once."
Continuing a fine return to competition, Hollis picked up a mixed-classification bronze in the Men's 100m Butterfly at February's Para Swimming World Series competition in Aberdeen – a performance that earned his place among 30 swimmers headed for Madeira in June.
Coached by Gareth McNarry at Loughborough University, James hopes to be further selected to Team England for the Men's S10 100m Butterfly at Birmingham 2022 later this year, which comes a decade after his London 2012 Paralympic experience on home turf.
"London was really special for me because it was only 20 minutes from where I grew up, and having my friends and family there among the 17,500 in the crowd made the home Games a really special thing to be a part of," added Hollis.
"The Commonwealth Games is obviously a little bit further up the road from home, but with a home crowd those feelings will get relived. It's going to be an amazing competition for this country because it's going to be one of the first major competitions that's going to have full crowds, so to have that as a home Games is something that's really exciting to me."
After completing his Masters Degree at Loughborough University, Hollis moved up to the Manchester National Centre in the year prior to his 2018 retirement. While in the North-West, he took up a strength and conditioning internship student placement with the English Institute of Sport (EIS), before later returning to Loughborough to start his role as a performance lifestyle advisor.
"My career and all those things were starting to take off when Covid hit and everything shut down which was obviously really difficult to handle, but then I was fortunate enough to get a temporary role this time last year with ParalympicsGB in performance services, working on the preparation camp mainly for Tokyo, which was a really cool job and I enjoyed that," he said.
The aforementioned return to Loughborough, and subsequent training, has been largely positive for the London 2012 Paralympian. A steady build back up to the consistency of increased swim session intensity had to be carefully managed due to the sensitivity to training loads of his Osteogenesis Imperfecta condition. However, reading his body's signals to such fatigue is an area Hollis is fairly well-experienced in.
Now combining his previous years of practice in-between the lane ropes, with learnings from his time away from swimming, he explains how the balance of experiences now give him a wider appreciation of the athlete he wants to be.
"We talk about having different hats on, so sometimes I have my swimming hat on, my friends and family hat on, or my practitioner hat on - it's just about being really clear on who I need to be in those environments to be the most effective I can be," explained Hollis.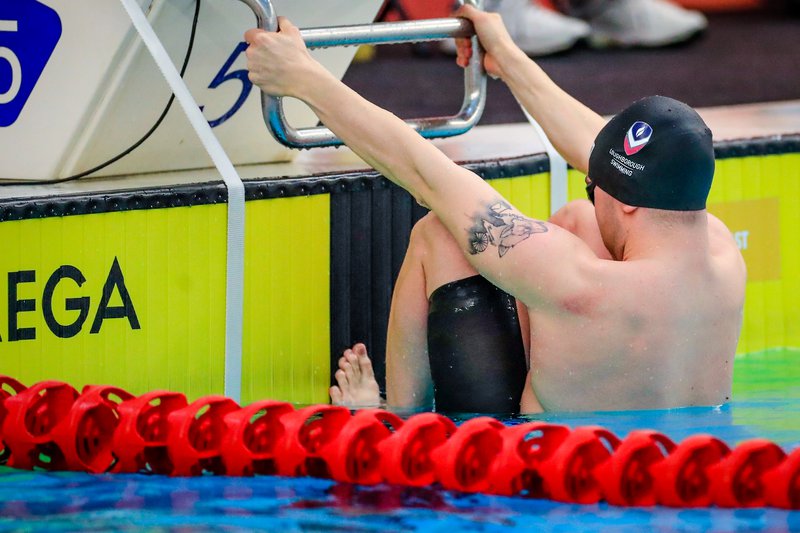 "Using skills and experiences from all the other sports I've had a privilege to be a part of in the last few years, those learnings are there to help manage what I'm trying to achieve in my own swimming. It's sort of enabled me to have a lot more clarity that when things aren't going as I hoped or if things have gone really well, I understand a little bit more behind the scenes, so that I don't rush to make a decision or have an emotional reaction to something."
The team Hollis will be heading out to the World Championships with in June contains two pairs of siblings in Rebecca and Matthew Redfern, and Scarlett and Eliza Humphrey – and this unique family experience is one James himself has shared with his sister, Emma, on the international para-swimming stage.
"We were just really, really competitive - we just wanted to be better than each other! There was absolutely a sibling rivalry, but I think it drove us and added to that passion to be even better," he said.
"It also just gave you that little bit of safety, whether you were having a hard time or needed a bit of support from your family, as your sibling is sat there on the other side of the dinner table at a major competition which really doesn't happen for many people. That support bubble as well as the competition meant we could go on and achieve.
"It's a massive thing for their families as well, I know my family were very much full of emotion just to see myself and Emma compete on the same day or over the course of a week. They found it a really great experience and the Redferns and Humphreys will certainly enjoy that!"
The personal focus for Hollis in the pool in 2022 remains on his individual 100m Butterfly, but with a shake up to the para-swimming relay formats meaning the Mixed 34pt 4x100m Medley Relay event features at both the World Championships and Commonwealth Games, there is a chance he could play a role for those quartets as he targets renewed ambitions on his return to competition.
"As I've mentioned, there are certain things like the Commonwealth Games I haven't done before, and there seems to be a little bit of unfinished business with my swimming career that I didn't leave the sport in a place where I felt like I'd done myself justice - I'm really just looking to see where I can get to.
"I would absolutely be lying if I said there wasn't thoughts of medals and things like that in my head, as they are sort of the things my swimming career was maybe missing a bit of last time round, but obviously three years out of the sport makes it very difficult to look at PBs because I'm a completely different person to what I was back in 2017/18. The ambition is just trying to keep moving forward and put myself in a position where come worlds and Birmingham I can turn up and do a really good job on the day and hopefully bring back a bit of silverware."
Read more about the British Para-Swimming team headed to Madeira, Portugal for June's World Para Swimming Championships here.