Tully Kearney achieved her third Madeira 2022 gold in record breaking fashion, as Great Britain finish fourth on the World Para Swimming Championships medal table with 38 medals.
On the closing night of action at the Penteada Swimming Pool Complex Ellie Challis, Jessica-Jane Applegate and Reece Dunn closed out their campaigns with silvers, as Poppy Maskill joined Applegate on the podium for bronze.
The standout performance however came from Tully Kearney, who by triumphing in the S5 100m Freestyle completed a full house on the reclaiming the three titles she won at London 2019. Her world record set in becoming Paralympic Champion less than 12 months ago fell too, with Kearney stopping the clock at 1:13.34 for the new leading mark.
"It's completely unreal, I don't think anyone was expecting that so I'm kind of speechless but extremely happy." said Tully
"Spending some time in Loughborough temporarily five weeks before worlds was a tough decision but it's made a massive difference and a happy swimmer is always going to swim fast so it gives me a lot to think about going forward."
The next defence of her world titles will take place at a pool the National Performance Centre athlete knows very well next year, with Kearney excited for the atmosphere a home world championships in Manchester will bring.
"I've been training in Manchester for seven years now, I know that pool, and I went to University in Manchester so it's really exciting to have a home championships there next year. Hopefully it's a really energetic atmosphere for all the young ones coming up at their first worlds to enjoy the experience."
Meanwhile Ellie Challis recorded a record breaking swim of her own as she lowered the S3 100m Freestyle British mark to 1:48.42 on her way to silver and a fourth podium of the meet.
Understandably Challis was delighted to close out her busy schedule of racing in such fashion, commenting: "I'm so exhausted after this week, it's been a long one for me as I've never raced this much at a major before but a great swim to end it on and I really seen from this competition that my freestyle has progressed massively.
"I knew I was ranking well in all my events but you never know who is going to turn up, who is newly classified and how tired you'd get through the week so I've managed it well but I'll be glad of a rest now it's over."
Britain's further three medals of the final night came in the S14 100m Butterfly races, firstly with Jessica-Jane Applegate and Poppy Maskill sharing the podium in the women's event.
Applegate was the only swimmer to keep on the pace of the rampant Paige Leonhardt down the first length, but couldn't quite match the Australian's closing speed. The silver felt bittersweet for the Alex Pinniger-coached swimmer, who felt she could have performed better.
"I'm always tough on myself and I know just what I've got to work on now." said Applegate
"It's faster than Tokyo but not as fast as I hoped. In the morning everything went right and then tonight it felt like everything that could go wrong went wrong so I'm a bit disappointed. I've just got to look forward to going back to training and getting the hard work done for commies and then the journey into Paris [2024]".
Maskill produced a personal best swim to her achieve her bronze medal, and it means she leaves Madeira with one of each colour. The Alsager SC swimmer described her whole maiden world championship experience as 'really cool' and is looking forward to finding somewhere special to hang her medals at home. Louise Fiddes additionally went close to her lifetime best to finish fifth in the final.
Reece Dunn followed with a silver of his own in the men's equivalent. The triple Tokyo Paralympic gold medallist finishing his individual programme on a high note, having been buoyed by his involvement in two relay wins in recent days.
Reflecting on his performance, Dunn said:
"I know I wasn't fit enough maybe to get a medal in the 200m free or the medley but I know on the 100's I've got that early speed and efficiency to try and hang on to it, so I was really happy with that one.
"I've had a tough year with medical issues and then being in a race to get fit. I wanted a 56 at least so I got that and I'm really pleased."
Adding on his targets moving forward:
"The goals are not short term right now, we're thinking about next year really for a home world championships in Manchester, but I am looking forward to being involved in the relay at the Commonwealth Games in July"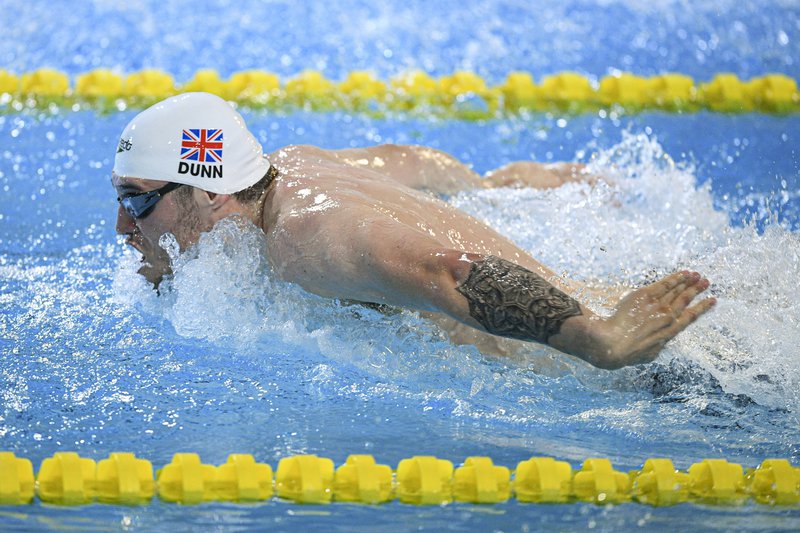 The night closed out with a Great Britain narrowly missing out on the podium places in the Mixed 4x100m Freestyle 34pts relay. Kearney and Toni Shaw stepped into the British quartet for the final, the former setting off first for her third 100m freestyle sprint of the day, with James Hollis picking up the mantle to hand over Shaw before Oliver Carter provided the anchor leg.
Together the team shaved seven seconds off from their heats time to place fourth overall, with Hollis immensely proud of their efforts:
"I'm really happy that I gave it everything I could, but for me the biggest thing that I'm taking away from this is every single person in this team has had ups and downs, whether it's this week or the last few weeks, and I've never seen so much heart and soul left in the pool – for me that's more than a medal"
The mixed formats have been a hit with spectators this week, with Shaw referencing the nature of such encounters going down to the wire:
"You never know how it's going to go until literally the last 15m so I know everyone in this team gave it one hundred percent and that's all we can do. Hopefully I can race in this team again and we can step it up from what we did today."
Carter, who was selected for his debut international under relay criteria added:
"I really did give it everything I could, I felt I redeemed myself a bit more from yesterday's [individual] swim. It was great to be part of the team, this [racing on the world stage] is addictive and I want to be back for lots more and I'm sure I will be as I'll be doing everything I can to be an asset to these relays and hopefully win some medals which would be a real achievement."
Saturday night additionally included finals for Eliza Humphrey in the S11 400m Freestyle and Lyndon Longhorne in the S4 200m Freestyle.
Humphrey touched home in eighth in her event but was pleased to have improved her time from heats to final and had enjoyed bettering her sister's result in the event as part of their ongoing friendly sibling rivalry.
Of her world championship experience the Northampton SC swimmer said "I want to keep learning, because there's so much you can learn from other people whether that's teammates or coaches - all that information will help me improve my times and confidence."
Longhorne meanwhile concluded with a seventh place finish, and took confidence from his closing sprint to the touch:
"I saw the guy coming up on me the last length and I was like 'I am not having this', so I thought I don't care what happens just as long as you don't get beat and come eighth. To move it up another place in the world [in the final] it's brilliant and pushes me on to worlds next year, then Paris in 2024 with that ultimate aim to get on the podium after a few more solid years of work."
At the end of the seven days of scintillating racing, Great Britain finished fourth on the World Para Swimming Championships medal table with 17 gold, 13 silver and 8 bronze medals.
Find full from Madeira 2022 here, with full session replays available on the Paralympic Games YouTube, whilst Channel 4 are broadcasting a one-hour highlights programme on Sunday 26 June at 8.30am.