Poppy Maskill, Stephen Clegg and Maisie Summers-Newton all took to the top step of the podium on a night filled with drama and quality.
The Women's MC 100m Backstroke kicked off the evening, as seven Brits took to the pool across the three finals from which the first World Series gold of the night would be decided. In the third of those races it was Maskill who claimed the top step of the podium following an extremely close fight with compatriot Bethany Firth, who took the silver.
The field was level in the third final down the first 50 metres, before Maskill's superior stroke rate saw her pull slightly ahead of Firth as the athletes headed towards the 75 metre stage - the Alsager athlete surging into the wall over the closing yards to take the victory on a total of 946 points, with Firth just behind on 925.
It continues a solid start for the Brits in what is the third round of the World Series tour, with Jessica-Jane Applegate and Georgia Sheffield joining the pair as four athletes finished under the consideration time for the summer's Para Swimming World Championships in Manchester.
Speaking on what is her first gold medal of the of the competition, Maskill was content with how she performed.
"It feels really good, I'm delighted to make the consideration time and get a spot on the world series podium too. My focus was to try and get a PB which I did - I've been working on my closing pace with Aled and it felt good to finish so strongly."
Stephen Clegg continued his form from this morning as he took the gold in the World Series Final of the Men's MC 100m Backstroke with a commanding performance.
Despite charges from William Ellard and France's Florent Marais as the field drove off the halfway turn, Clegg was able to use his superior back-end speed to come back on a near negative split to take the gold with a total score of 990 points – over 60 points ahead of his nearest competitor. 
The result also sees Clegg comfortably under the consideration time for the World Championships, as he will look to build on the bronze medal that he won in the event at Tokyo's Paralympic Games.
The S12 athlete spoke confidently after the race, as he kept an open mind ahead of the World Championships, as well as praising the volunteers who help the event to run smoothly.
"I would have of liked to go just under 60 point and break that minute barrier but that wasn't to happen tonight. I was pretty happy with the way I swam it, I think I controlled it well and there's more opportunities to come to have a crack at it.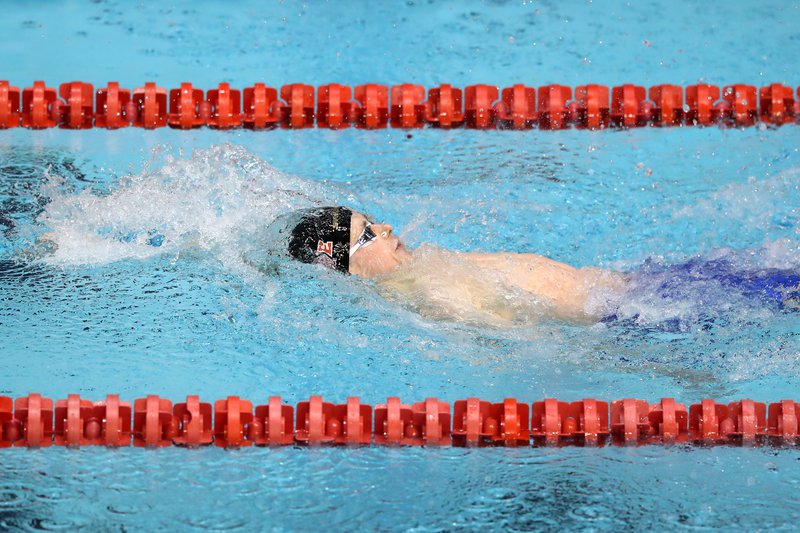 "Manchester is a target to push that forward and be really world class leading in that event. I have the world record in the 100m Fly and the 100m Back has got to be the next target to get that record as well - there's a lot of work to be done and definitely some areas to improve but I think being consistently knocking on the door is a good start and I'm looking forward to the next 18 months going into Paris.
"It's critical for the volunteers to be here, without them the meet simply wouldn't go ahead. They do a great job, they give up their time and their weekends - it's not always an easy job by any means and we're really grateful for everything they do and that they give up for us to do an amazing job."
Maisie Summers-Newton returned to the top of the podium for the second day in a row as she topped the points scores in the Worlds Series Final of the Women's MC 100m Breaststroke.
In what has become a trademark performance from the athlete, she made the most of her seeded lane – swimming her own race from lane 5 to come within touching distance of her own European record with a score of 987.
Summers-Newton was in good spirits after the race – and she gave some profound words about the venue for the competition, which has hosted countless aquatics events in the past.
"I've always loved Breaststroke so when it comes to the race, it's all about having fun and I think that definitely helps. I'm really happy with that swim, I was faster from heat to final which is what we want to be able to produce.
"Ponds Forge is literally my favourite place. My mum and my Grandad have a picture of me from when I was twelve stood in lane seven and it reminds me of my younger club teammates that are coming through - it's such a special pool."
Also collecting a medal in the event was Paralympic silver medallist Rebecca Redfern. The SB13 athlete went in the third final – engaging in a fierce battle with Brazil's Santiago which lasted the whole way through the race, before she ultimately touched just behind with a score of 943.
Summers-Newton and Redfern were also both comfortably inside their respective consideration time for Manchester, which promises to provide them with serious opportunities for them to add to their already lucrative international accolades.
Redfern was equally as ecstatic after the race concluded – but she was already looking ahead to her other events later in the schedule.
"Overall it's been a pretty good day, hasn't it! Training's been going really well so I'm just really happy that it's paid off today. I've got the 50m Free on Sunday, a bit of splash and dash fun so we'll see how that goes.
"To stand on that podium again with a home crowd in Manchester would be incredible, so after this meet it's about getting my head down in the gym and the pool and working really hard."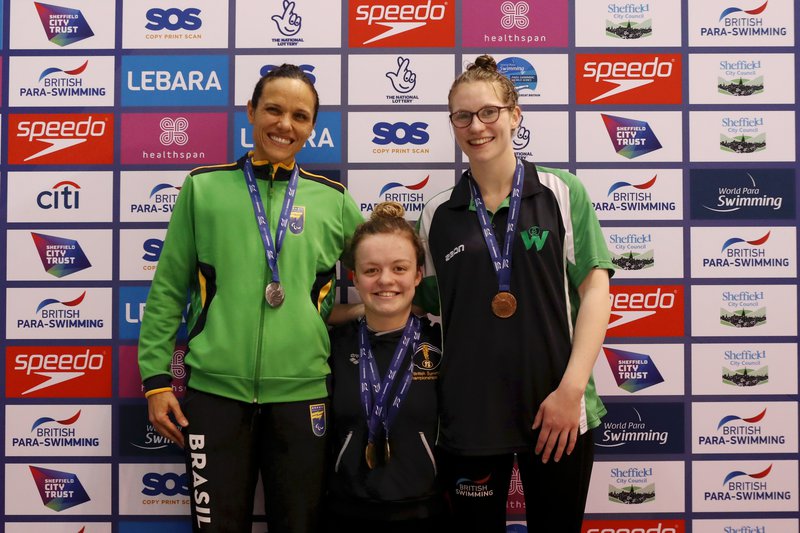 Also collecting a medal on day 2 was SB6 athlete Will Perry. With the athlete having already broken his own record in the heats this morning, he continued his form to take World Series silver with a swim meriting 837 points.
It was a stunning performance from the 22 year-old, as he kept his nerve in a race with multiple classifications – maintaining a high stroke rate right the way through to the finish, to a warm reception from the crowd in Sheffield.
"I think that's my first proper World Series medal and my first time doing 50m Breaststroke here." Said Perry. "It's really cool that they've opened it up to all classes as it's one of my favourite events and to lower my British record twice here in one day - I can't complain with that. I'm very, very happy.
"I'm really happy with where I am with my speed and we'll now be doing a bit more work on developing that into the 100m for more racing opportunities as the season progresses."
Ellie Challis built on her points tally from the heats of the Women's MC 50m Breaststroke, but the Performance Centre Manchester athlete's efforts saw her just miss out on a medal as she took fourth with 770 points in a high-quality World Series Final, which included a score of 1009 from Brazil's M Gomes Santiago.
The 18 year-old also went in the World Series Final of the Women's MC 50m Backstroke, which was an event packed with talent. Despite this, Challis continued to make inroads as she went through the race – shaving over a second off her heats time to finish in seventh place with 693 points.
The Men's MC 100m Breaststroke World Series Final was another event which saw vast British involvement, but it was Paralympic medallist Scott Quin who was the top British finisher.
Having qualified for the final in fourth place, he produced a similarly strong swim amidst fierce competition from a number of his fellow S14 competitors, which ultimately saw him come up just short of the medals in fifth – scoring 842 points.
Luke Batty went in the final race of the day – the Men's MC 50m Backstroke. In a race which included a world record swim from Portugal's Marco Meneses, the S9 athlete did well to keep with the midfield to touch with a time worthy of 655 points and thirteenth place overall.
For full results, ticket info and links to the British Swimming livestream, head over to our What's On? page.