Reece Dunn completed a Paralympic gold and world record hat-trick as Britain's swimmers won five medals in a wonderful, whirlwind half-hour on day seven of competition at Tokyo 2020. 
Dunn's stunning performance to claim the Men's SM14 200m Individual Medley title was the standout result of that bonkers 30 minutes at the Tokyo Aquatics Centre early in Tuesday's finals session, after Stephen Clegg and Hannah Russell opened it up with a bronze apiece across the Men's and Women's S12 100m Freestyle.
There was also a British 2-3-4 in the Women's SM14 200m Individual Medley, with Bethany Firth claiming her second silver of the Games and Louise Fiddes showing admirable resilience after initially being disqualified after her morning heat to bounce back and take bronze. Jessica-Jane Applegate was just behind in fourth, while Toni Shaw came agonisingly close to her second medal of the Games, placing fourth by a tiny margin in the Women's S9 100m Freestyle.
The medley triumph for Dunn was built on four outstanding legs of swimming across all four strokes. The Plymouth Leander man, who trains under coach Robin Armayan, gave himself the lead he wanted after the butterfly and backstroke lengths – but arguably the most important 50m came over breaststroke, his weakest stroke.
A strong effort there kept the S14 200m Freestyle champion right in contention before that anchor leg on freestyle, which saw him power clear to claim the gold and go under the previous world record, touching in a pacey 2:08.02, outdoing even his own expectations.
"Did I break the world record?! I didn't even see what time I went! I knew I was turning quite high up the field, but I had to try to get some lead before the breaststroke," he said.
"I've no idea where I was. I had to max every single length, the first 100m was strong, it felt good. The breaststroke felt the best it has felt for a long time, but I was in agony that last 50m.
"I knew I could get two golds here, one in the butterfly or the freestyle and then maybe one in the Mixed S14 4x100m Freestyle Relay. I didn't expect to get gold in this one!"
Jordan Catchpole was the other Brit in Men's SM14 200m Individual Medley action. He put together a solid swim to place third in his heat - but such was the strength of the field, he just missed out on the final, placing ninth overall.
On another evening of drama for Paralympics GB's aquatics stars, Hatfield athlete Fiddes had arguably the most dramatic of the lot. After winning the opening heat of the Women's SM14 200m Individual Medley, she was disqualified for a technical infringement.
The British team put in an appeal to that disqualification – and when that appeal was successful, it meant a trio of Brits lined up in the final, with Fiddes joined by Applegate and Firth.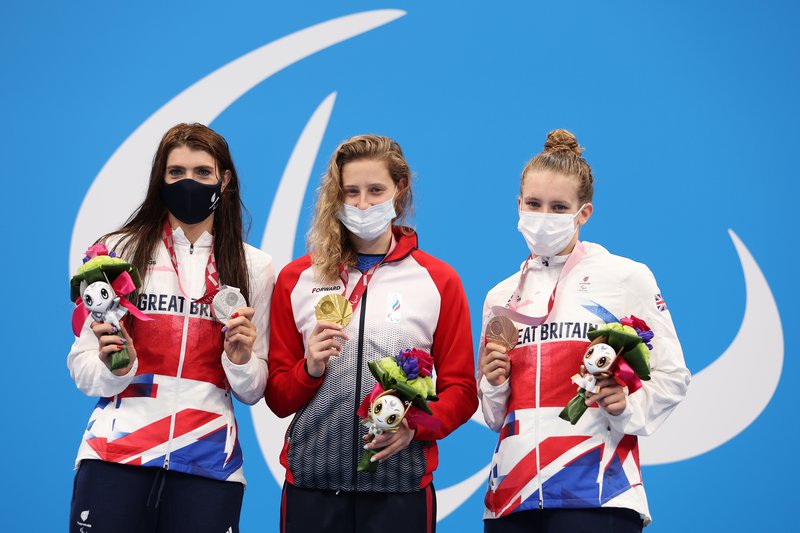 It was Ards SC swimmer Firth who quickly put herself into contention for the gold, as solid efforts across the butterfly and backstroke placed her just behind world champion Valeriia Shabalina. She could not quite overhaul her on the breaststroke section, and the gap stayed as it was to the wall over the freestyle – but this was still an outstanding performance by Firth, earning her a second silver of the Games.
Behind her, Applegate and Fiddes fought it out for the bronze. The crucial leg came over breaststroke, with Fiddes – a medallist in the SB14 100m Breaststroke event – overtaking her compatriot and then building an advantage that was insurmountable down the final 50m, capping a remarkable turnaround over the space of the day.
On her silver, Firth said: "Valeriia's medley is one of her strongest events and I haven't really trained it, so to come out with silver and to see Louise get a bronze was great. Now I'm just looking forward to Thursday and the 100m Backstroke. I'm over the moon here, in an event I haven't really trained very much, it makes it even better.
"Louise is one to watch in the future, she really brings a lot to the team – to see her lovely face brings a lot!"
Fiddes herself added: "I totally counted myself out, I was disappointed to not be in the final. But the British Swimming team put in an appeal and I was in the final – it's absolutely incredible, I can't believe I get to take home two medals to my family.
"It feels absolutely incredible. I really wasn't expecting it, I was so shocked when I turned round and saw the board! There was some confusion around the disqualification, but luckily they appealed it and I was allowed to swim the final. I literally can't believe it! Thanks to all the support staff, bringing me back together to this race."
Fiddes' was one of three bronze medals on day seven for the Paralympics GB swimmers.
The first of those went to Clegg, who is still building up to his primary event, the Men's S12 100m Butterfly in which he is the world record holder.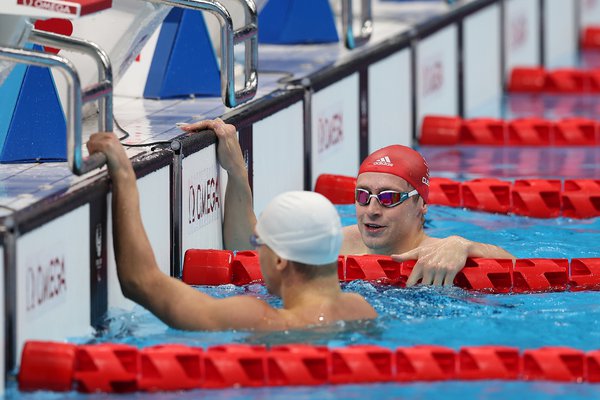 In the final of the S12 100m Freestyle, the Chris Jones-coached man enjoyed a solid start and then put in some crucial underwater work on the turn to come up in a medal position. He was not going to be overhauled from there, and while Raman Salei of Azerbaijan and Maksym Veraksa of Ukraine kept him at bay for gold and silver respectively, Clegg finished at pace to touch in 53.43, well inside his own British record to seal a second bronze for the meet.
"That one was pretty unexpected. I knew it was going to be a tough race with a lot of fast guys around me in that event. I said this morning I wanted to take it out hard and see where I could improve in the final, I got a bit more out of it so I'm really pleased. It's a PB, so you can't ask for more than that," he said.
"This whole meet has been about the fly, everything else is a bonus for me. Two PBs in two events so far, that is setting me up well for Friday night and I'm really looking forward to facing these guys again then, they're amazing competitors and I'm loving this whole experience."
Shortly afterwards, Hannah Russell took to the blocks for the Women's S12 100m Freestyle finale. Victory in the 100m Backstroke earlier in the competition means Russell had already been on the Tokyo Aquatics Centre podium – and this presented another opportunity to get back there.
Just as in her backstroke win, Hannah got into the race well, and just like Clegg before her, a brilliant turn and underwater work over the opening metres of the second length kept her ahead of those chasing for a medal. The stroke rate never dropped off, Russell ultimately getting to the wall third in 1:00.25, under her heats swim and clinching bronze behind Maria Carolina Gomes Santiago (Brazil) for gold and Daria Pikalova (RPC).
"Overall, I'm really happy with that race, I went so much quicker than this morning. To get a bronze medal is incredible," she said afterwards.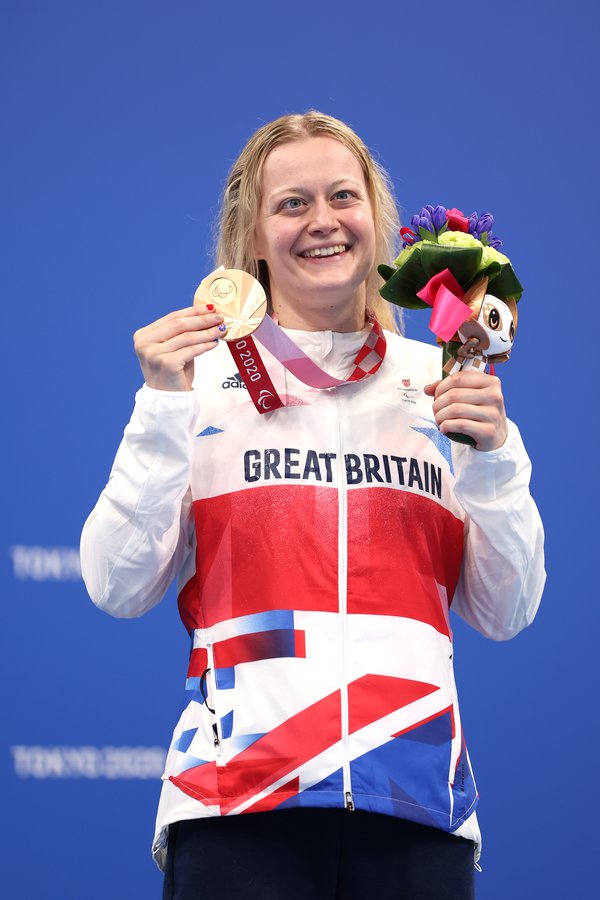 "I don't know where people are in the race peripherally, so it was literally me against the clock. I tried my absolute hardest to stay under the water, do a really strong turn and that helped me get a bronze medal, so I'm really happy."
The final British involvement on day seven came in the Women's S9 100m Freestyle final, with Toni Shaw going in lane five.
The University of Aberdeen athlete opened up Paralympics GB's medal account with 400m Freestyle bronze back on Wednesday, and the endurance needed for that event was clear to see in the way Shaw came back as this race went on.
Turning seventh, the 18-year-old moved through the field over the second 50m with impressive technique. Ultimately, the race proved a metre too short, as Shaw placed fourth in 1:03.42, an agonising three-hundredths off Mariana Ribeiro of Brazil in the bronze medal position, an athlete she was chasing down with every stroke.
In her post-race interview, teenager Shaw showed impressive perspective after coming so close to a second Paralympic medal.
"Nobody likes to come fourth but it's such a competitive race with loads of heats in the morning. To make it to the final and finish fourth in that final, I'm still happy – a bit disappointed but it is what it is," she said.
"It was quite a good time. I've been mostly training for the 400m, so I knew after that it'd be hard to go down to the sprint event here."
Earlier in the day, 10-time Paralympic medallist Stephanie Millward also went in the S9 100m Freestyle heats, finishing 16th overall before quickly turning her attentions to the Women's 34pt 4x100m Medley Relay later in the meet.
Ellie Challis narrowly missed out on a place in the Women's SB3 50m Breaststroke final, despite competing a classification up – but that did not stop her from setting a new Paralympic record for her SB2 classification.
The youngest member of Paralympics GB already made Tokyo 2020 history with her S3 50m Backstroke history. Her time of 1:10.37 in the breaststroke heats was just another moment to savour for the Clacton-born competitor, going inside the previous best Paralympic mark for her category.
Stay on track of all the action across the Tokyo 2020 Paralympic Games by visiting our 'What's On?' page.