Rio 2016 Champion Stephanie Slater has taken the decision to retire because the degeneration of her conditions could potentially cause further injury if she continues.
The 27-year-old  said: "I have thought long and hard and explored all options with my medical and support teams about this hard decision but at the end of the day I have to think about my health and well-being long-term.
"It came down to the fact that just one wrong dive or turn could cause a life-changing injury. "It is heartbreaking for me because I felt potentially I had more to give. I have sadly been battling for the last 3 years with a decline in my health and this must be my number one priority now."
Preston based Slater has had an eventful career in the pool – after a promising youth career as an able-bodied swimmer, she moved to train at the National Performance Centre in Swansea. During a normal training session after a dive into the pool, she sustained an injury to her arm which was diagnosed as nerve damage to her brachial plexus and ended her able-bodied swimming career.
Undeterred, she volunteered as a GamesMaker at the London 2012 Paralympics in the Aquatics Centre which inspired her to get back in the pool as a para-swimmer. Just a year later she picked up two individual silver medals and a gold medal as part of the 4x100m medley relay team at the IPC World Championships in Montreal, Canada.
In 2014 she won a silver medal in a European record time in the S8 100m freestyle at the Commonwealth Games held in Glasgow. A week later Stephanie then went to the European Championships in Eindhoven and won five individual gold medals and two relay gold medals also breaking her first world record in the S8 100m butterfly. She went on to win a Paralympic gold and silver medal at the Paralympic Games in Rio in 2016. Following this, she was awarded a MBE in the Queen's New Year's Honours list.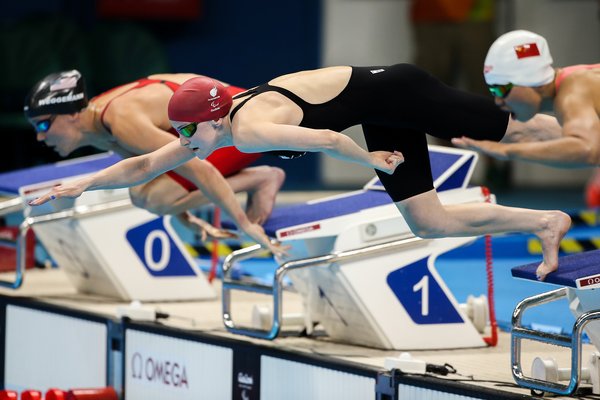 Chris Furber, National Performance Director for British Para-Swimming said: "Stephanie has been a great ambassador for our programme and I know that this has been a really challenging decision to make.
"Steph has been on an incredible journey from being a games maker at London 2012 to being a gold medallist in Rio in 2016. My personal highlight was seeing her pick up seven golds at the Europeans in Eindhoven in 2014.
"Everyone at British Para-Swimming would like to thank Steph for her passion, dedication and professionalism and hope that she will be a part of guiding and supporting the next generation of para-swimmers."
Stephanie now hopes to continue to be involved in para-sport in inspiring the next generation but is also planning on exploring what other career opportunities there are for her. She added: "I'm really looking forward to embarking on a new challenge in my life – but think it might be a while for it to fully sink in that I'm retired!
Swimming has enriched my life and taught me invaluable life skills. I have travelled the world and met so many influential people and inspirational athletes. Most of all I have made lifelong friends."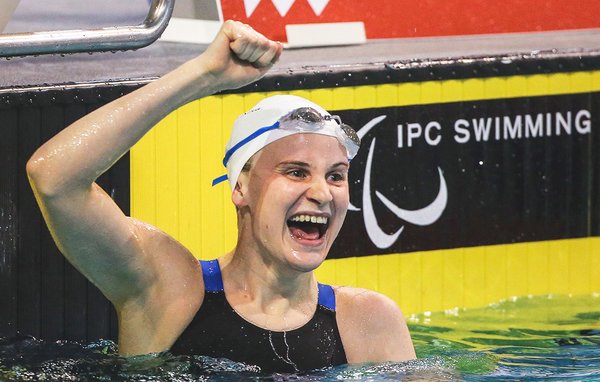 There are so many people I would like to thank who have been such a big part of my swimming career.  I would like to thank UK Sport for their continued support, the staff and athletes at British Para-Swimming especially at the National Performance Centre, Manchester and the staff at the English Institute of Sport. Without all of their help, support and friendship I would never have achieved my goals.
Thank you to Preston Swimming Club for supporting me since the age of 4 and coach Steve Heaps for always going above and beyond. Thank you to my family for all the sacrifices they have made and all the opportunities and encouragement they have given me. Finally, to my friends and supporters for their amazing continued support over the years.