Day two heats of the London 2019 World Para Swimming Allianz Championships were full of action for GBR, including a British record swim for Stephen Clegg, as all 14 athletes progress through to the evening finals.

Stephen Clegg showed no fatigue after last night's 100m Backstroke final, breaking the British Record for the Men's S12 100m Butterfly and qualifying fastest for tonight's final.
The 23-year old, who has most recently been training at the National Performance Centre in Manchester, said of his performance:
"That was a solid heat swim and it was nice to get a PB. The last 15m hurt a lot more than I was hoping, but tonight I'll take the first 50 a bit easier and have enough to come back strong. I feel I've more to come tonight."
Tully Kearney and Suzanna Hext, the gold and silver medallists from yesterday's Women's S5 50m Freestyle, will be looking to add to their medals later, as both progressed through to the final of the S5 200m Freestyle. Kearney was just shy of her season's best with 2:53.51, while Hext was left shocked at an 8.5 second PB, touching home in 3:02.50.
Hext said of her race:
"I said if I got through to the final it would be a miracle. I'm pretty tired after yesterday, I didn't have a great night but I'm really pleased and that was a massive PB for me. I really didn't expect that as 200m is not my distance, I'm much more of a sprinter. I've probably only done about three long course 200m so it's a learning curve every time I do it. And to do it in front of a home crowd is just really special, I'm absolutely over the moon."
The Men's S14 100m Backstroke saw three British athletes in action, Jordan Catchpole and World Championships newcomers, Rhys Davies and Louis Lawlor.
Catchpole, who won bronze in last night's Men's S14 200m Freestyle final, showed his intent qualifying fastest for the final in a time of 1:00.90, while Lawlor and Davies didn't show any nerves, both progressing to the final in 1:01.57 and 1:02.55 respectively.
Speaking about his plans for the final, Catchpole said:
"I'm very pleased with that. Thinking about the race I just thought go in there, make the final and do what I needed to do. Between now and the final I'll go back and get some rest and get some good food. Then tonight, I'll come back and do the same again and maybe win. I held a lot back, especially in the first 50 so feel I've a lot more to give."
Alice Tai is also on course to add to the gold medal she won last night in the Women's S8 100m Freestyle, with another dominant performance, this time in the heats of the Women's S8 100m Backstroke. The World Record Holder and Paralympic bronze medallist for the event is fastest qualifier for the final having posted a heat time of 1:11.72. She will be joined by team-mate Megan Richter who touched the wall first in her heat in 1:18.18.
Tai said of her busy race schedule:
"After my swim down last night I just switched off and was able to refocus on the next day. I'm racing every day this week so controlling my emotions is a pretty sensible thing to do.
"I definitely pulled back a lot on the last 25 metres although I saw the New Zealand girl next to me and I actually got a bit scared she was catching me up as I slowed down, so I sped up a bit more then backed off towards the end. I feel I've got a lot more in the tank for later."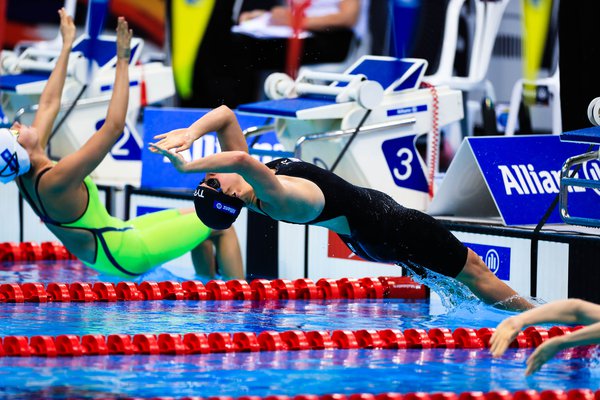 Richter commented on her performance and said:
"It's not the time I was after but I think I can go faster tonight and I have things to work on to make that happen. This event is definitely a step up from the Europeans last year. I'm really excited and tonight I'd like to go close to my PB."
Bethany Firth and Jessica-Jane Applegate lead the British charge in the heats of the Women's S14 100m Backstroke, qualifying first (1:06.77) and second (1:09.97) fastest respectively.
Firth spoke about her own race and said:
"In my head I thought I was being more controlled but I think I was just catching the water. "I'm really happy and I love having Jess there beside me too."
Applegate said of their friendship and rivalry:
"We really enjoy racing each other and get on well, but when the gun goes we obviously want to beat each other; I'm not going to lie about that."
Another final to feature two British athletes will be the Women's S6 100m Freestyle after Maisie Summers-Newton and Ellie Robinson cruised into the final. Swimming in adjacent lanes and swimming stroke for stroke it was Summers-Newton who touched home first in 1:14.98, just ahead of Robinson in 1:15.07.
Summers-Newton said of the event:
"I really like the 100m Freestyle, it's a relaxed race for me. I know I can go out and enjoy it without any pressure."
Robinson was pleased to get her competition going and said:
"I'm really glad to get the meet underway and actually have my first swim. It is nice having Maisie next to me as we go a similar time. In training and competition we push each other along which is good. Tonight's final could go anyway. We know how fast Mereshko (UKR) is but there's a new Chinese girl in the mix so the medals could go anywhere.
Mikey Jones also got his World Championships underway in the heats of the Men's S7 400m Freestyle.  His time of 4:50.90 got him the last place in the final and Jones said of his performance:
"That was hard! It was a fast heat, which is kind of what I expected but it was tough. I had hoped for a faster time but my technique wasn't the best, it was a bit sloppy. I'm just glad to get the first race of my meet done.
Speaking about the venue Jones continued:
"It is great to see a packed out arena and all the school kids here having a great time. It makes all the difference and reminds me of London back in 2012."
Steph Millward also echoed those sentiments and spoke about the crowd after securing her place in the Women's S9 100m Backstroke final. She said:
"It was a good swim, I loved it. Racing in front of a home crowd is incredible. It is the crowd who make the event. They are so good and they'll be even better tonight. I can't wait."
Live results and the event schedule can be found 
here
 and you can catch all the action on Channel 4 
here
.