A strong start to day three of the London 2019 World Para-Swimming Allianz Championships saw the Brits set two Championship Records, with all nine swimmers progressing to their respective finals. 
A strong start to day three of the London 2019 World Para-Swimming Allianz Championships saw the Brits set two Championship Records, with all nine swimmers progressing to their respective finals.
Scott Quin and Louise Fiddes led the British charge, setting those CBPs in their respective S14 100m Breaststroke heats. Edinburgh based Quin came back strongly in the second 50m to take the touch in 1:05.38, just 0.1 off his own World Record. Afterwards Quin said of his race:
"It's not easy. It's all about getting my process right and focusing on myself. You get a bit stressed with nerves, but I am happy with how I'm feeling. I always know there are upcoming youngsters and some guys who are new on the scene; there's pressure on me coming into this meet, so I just need to try and focus on myself."
Louise Fiddes was delighted with her performance and said of her 1:14.43 time:
"It's brilliant to know I'm capable of that time in a heat. I didn't know how good a time it was, but the fact it was so comfortable is even more exciting."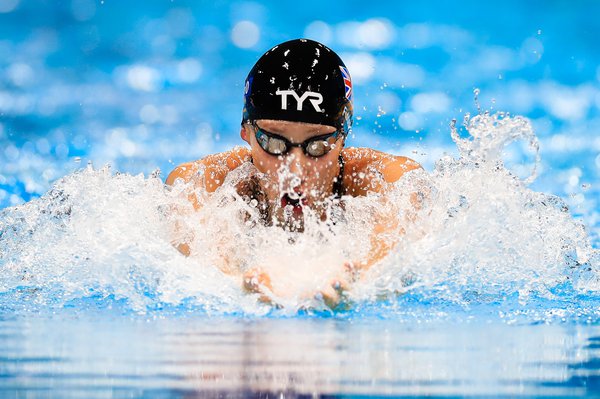 Fiddes will go up against Paralympic gold medallist and World Record Holder for the event, Michelle Alonso Morales (ESP), in what is gearing up to be a thrilling final.
Alice Tai set up another head to head against Jessica Long (USA) in the final of the S8 100m Butterfly. Tai finished in 1:11.31 but admitted it wasn't as easy as it may have looked. She said:
"I'm not sure that 100m fly was easy, it really hurt. I tried to swim it easy but butterfly is a hard one for that, it just doesn't work. Hopefully there's a little bit left for later."
Speaking about her current blistering form, Tai continued:
"I've swum faster than my times from the other day, so I'm not sure I'm quite at top form yet. I moved programme last year so I think I spent a few months adapting to that, so hopefully going into Tokyo next season I don't need to adapt and can just get on with my work."
Maisie Newton-Summers and Ellie Simmonds both eased into the final of the SM6 200m Individual Medley and both were satisfied with their morning's work. While it may not be her main event, Simmonds said of her performance:
"It felt alright. I've been training for the 400m freestyle, so this morning was just about feeling it, just go out there and race. I'm into the final so that's the main thing."
Newton-Summers, who is the World Record Holder for the event, added:
"It felt pretty strong. It was the sort of time I was looking for to be honest. A 3:01 is a solid heat time and hopefully I can go a bit faster and go closer to my PB tonight."
Ellie Challis made her World Championships debut with a solid swim in the SM4 150m Individual Medley. The 15-year old, who is the youngest member of the GBR team, secured her place in the final with a time of 3:34.52. She said of her experience so far:
"To make the team and be here is amazing, but then to swim four races this week will be really good. I'm very proud to represent Great Britain and its even better that it's in London, home of the 2012 Games.
"The race felt really good and I feel like I can do a bit better in the final tonight. It's not about medals here at these Championships. It's all about next year for me and building on the really good season I've had from the start to the end."
Despite not getting a good night's sleep after his medal winning performance yesterday, Stephen Clegg put in a solid performance in the S12 50m Freestyle heats, securing his place in the final with a time of 25.09. He said of his race:
"I didn't really have a great night's sleep last night, obviously after the buzz from yesterday. I wasn't expecting too much but I'm slightly disappointed not to have dipped below the 25 mark. I'll get back, get some rest and hopefully do a bit more tonight."
Toni Shaw is fully aware of just how tough an ask it will be in the S9 100m Butterfly final. A solid swim from the Aberdeen-based athlete saw her just off her PB with a time of 1:08.19, but Shaw acknowledges her main rival and said:
"I think Sophie Pascoe is guaranteed to win. It will be very cool to race beside her but I'm not sure how much of a race it will be. I'd love to win a medal. "
The final will also see the Rio 2016 gold and silver medallists from the event in action and Shaw said of her race plans:
"I wanted to go as hard as I could in the heats and then hopefully a bit quicker again tonight. There are more countries competing than were at the Europeans and there are a lot of strong swimmers. I'll just see how I go."
Zara Mullooly took almost five seconds off her PB in the heats of the S10 400m Freestyle, the birthday girl (17 today) touching in 4:37.87. Afterwards she said:
"It's a big surprise to have gone that time, I'm really, really happy with it. I don't consider the 400m Freestyle to be one of my main events so to be going into the final second fastest is amazing! I've not had the best of seasons, but this meet is definitely going to be a highlight."
Live results and the event schedule can be found 
here
 and you can catch all the action on Channel 4 
here
.