Scott Quin powered to a pacey breaststroke victory and Hannah Russell was part of a tie for World Series gold as the Para Swimming World Series inc. British Para-Swimming Meet 2022 continued in Aberdeen. 
Brits won six of the eight titles on day two at Aberdeen Sports Village, with double Paralympic medallist Quin among the highlights in his favourite event. 
The Edinburgh University man ducked well inside the World Championship selection time in both the heats and finals of the Men's MC 100m Breaststroke - and his love for racing was clear for all to see as he took it out strong across the first 50m of the showpiece, turning and maintaining his lead to claim the gold in 1:06.04, which earned him a round 900 points for his SB14 classification. 
For Quin - who was followed home for silver by University of Aberdeen competitor Conner Morrison - being back in the arena was as much of a boost as the performance itself. 
"I'm really happy with that swim tonight. This morning was a 66.7, so I was quite happy with that, and then I came in tonight and thought, 'I've hit that qualifying time, so I'll just enjoy myself and do something different'," he said.
"You don't get the opportunity to just enjoy racing at meets like this - I've done plenty of these World Series meets, so I've been around here a while!
"It's just nice to have that competitive edge to everything again. It's a shame we don't have spectators again and more athletes from around the world coming over - but for me, I'm 31 and I just enjoy racing. You have to embrace the situation we're in. I think I'm becoming a wiser man, I'm learning to enjoy myself as well and not get uptight about everything."
Earlier in a fast-paced finals session, National Performance Centre racer Russell backed up a silver in the 100m Freestyle on Thursday by claiming gold in the Women's 100m Backstroke, her primary event. However, the top step of the podium was to be shared, as the three-time S12 Paralympian tied on 854 points with Roisin Ni Riain from the Republic of Ireland.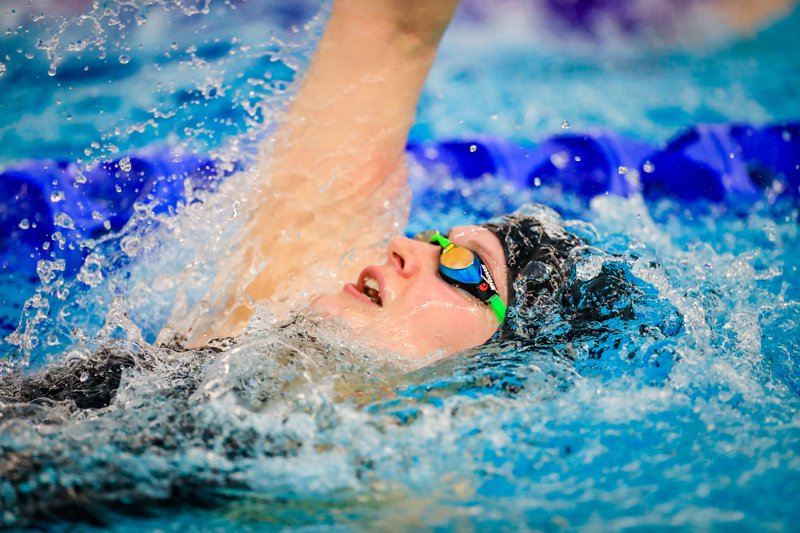 Russell dropped a big chunk from her heats time on her way to the triumph as her promising meet continues with another World Championship selection time met. 
"I'm really happy with how the meet has gone so far. Having the 100m Freestyle up first was a great warm-up event, and now coming back into the backstroke, which is my main event, I was really pleased that I managed to duck under the 1:10 mark. It's really exciting," she said. 
"With the backstroke and the freestyle, I've managed to get under the World Championships qualifying times for those events, so that's two in the bag, which is really promising. As far as the confidence is going into the 50m Freestyle on Sunday, I cannot wait for the event. There are a good few heats and I'm really looking forward to racing with the other girls. I've got Naomi Schwartz from Germany, it's great to have her here at the World Series - she's one of my competitors in my classification, so it's great to have her to race against."
That Women's 100m Backstroke event also included a new S11 British record for Northampton Swimming Club's Scarlett Humphrey, who broke the previous mark - set by Janice Burton way back in Atlanta 1996 - in the heats, before bettering it again to go 1:27.31 in the final. 
In the men's backstroke event, S12 Stephen Clegg looked in fine form on his way to the gold. He was involved in a close contest with S14 duo Jordan Catchpole and Louis Lawlor in Thursday's 100m Freestyle. 
This time, though, it was the Edinburgh University athlete who came out on top, a smooth two legs of backstroke seeing him tally a healthy 887 points, ahead of Spain's Inigo Llopis Sanz (S8 - 784) in second and Lawlor of the City of Glasgow (769) in third. 
Speaking of the result, Clegg - who trains under coach Chris Jones - said: "I'm pretty pleased. I was hoping for a little bit quicker, I noticed some technical errors this morning that I tried to fix and got some of them, but I was still out a bit too slow this afternoon.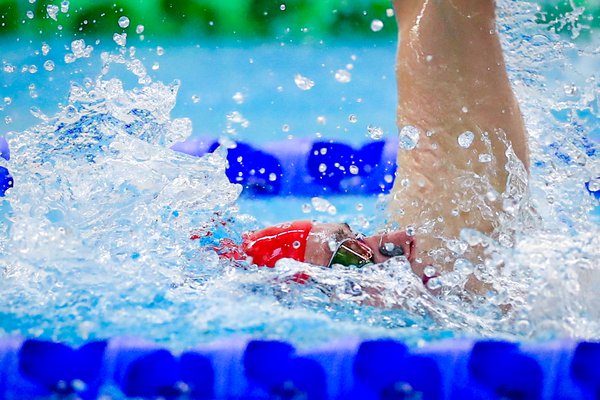 "There's still some work to be done there, but it's not the main focus for me, so all in all, I'm pretty pleased. The 100m Butterfly is always my main event, that's where most of my focus in training goes. I'm always excited to race that, it's good fun and there's some competitive swimming going on this week, so hopefully there's more to come in that on Sunday." 
An intriguing battle is emerging between Lyndon Longhorne and Spanish Paralympic legend Javier Torres at this Aberdeen competition. Friday brought with it two close tussles in the Men's MC 50m Backstroke and 50m Breaststroke finals - with a victory apiece for the two S4/SB3 swimmers. 
First up, it was Derwentside ASC competitor Longhorne who touched first in the breaststroke event, lowering his heats time to a 58.01 for 514 points - narrowly ahead of Torres' 505. The bronze went to Harvey Phillips of Louth Dolphins. Later in the night, the roles were reversed, as Longhorne had to settle for silver in the backstroke event by a narrow margin. 
Ellie Challis had another busy day in the pool, the Clacton-born athlete contesting both the Women's 50m Breaststroke and Backstroke finals. The first of those was a solo race that provided some important race and training experience, before she pushed Germany's Gina Boettcher all the way in the backstroke, ultimately taking silver with a tally of 573 in an event that brought her a Paralympic medal of the same colour in Tokyo. 
The other British World Series winner of the night was Maisie Summers-Newton, who is enjoying a stunning early-season meet thus far. The Andy Sharp-coached swimmer set herself a target of going under 1:35 in the final of the Women's 100m Breaststroke - and she duly delivered, looking easy in the water throughout across her favourite stroke to touch in 1:34.70 for 854 points. 
That result saw her well clear of fellow Paralympic medallists Rebecca Redfern - the SB13 swimmer also putting in a strong performance for 713 points and silver - and Grace Harvey (SB5), whose first swim of this week earned her World Series bronze on 707 points. Both Summers-Newton and Redfern were inside their classification's World Championship selection time. 
Maisie said: "I'm really happy with that. This morning, it was a season's best so I couldn't ask for much more - but I really wanted to break the 1:35, and to go 1:34 is really good. The past two days have been amazing, I'm so happy, I couldn't have asked for any more."
Among the top junior performers of the night was Sam Downie of East Lothian Swim Team in the Men's 100m Backstroke, Amber Haycock (Rushden ASC) in the Women's 100m Backstroke and Fern Sneddon (RTW Monson) in the Women's 100m Breaststroke. 
For all the results from Friday's action, and to watch the livestream videos back, visit our full #Aberdeen2022 lowdown page here.