Rebecca Redfern produced one of Paralympics GB's moments of the Games in the Tokyo Aquatics Centre pool with a sensational silver in the Women's SB13 100m Breaststroke in Wednesday's finals.
Barely a year ago, Redfern became a mother for the first time when she gave birth to son Patrick in July 2020. Fourteen months on, and the 2019 world champion is relishing the chance to show her new Paralympic medal to her son when she gets back to the UK.
Redfern made her intentions clear over an explosive opening 50m that saw her charge past the fast-starting Elena Krawzow to turn more than a second ahead of her German rival. That pacey start put Redfern in leading contention for the title, although Krawzow began to claw back that advantage heading into the final 25m.
It became a two-woman race to the wall, with Krawzow ultimately edging past Redfern in the final strokes to claim gold – meaning a second successive Paralympic silver in this event for the Brit, following a second-placed finish at Rio 2016.
Remarkably, the time of 1:14.10 means this swim was Redfern's fastest over the distance since that Rio silver – and there was no hiding the delight and emotion for the Worcester SC athlete as she came to terms with her performance and the result.
"I'm getting really emotional. I'm just so proud of myself. Tokyo was always the goal, and then when I got pregnant, it wasn't the goal any more. Now it's my dream and it has come true – and I'm just really happy!" she said.
"It's been a really tough couple of years. Mentally and physically, I have put myself through so much. I can't thank my family enough, my little boy, my coaches – my coach at home (Mark Stowe) and the coaches here, I couldn't have got here without them. They have just been so supportive and I am so grateful to be standing here.
"I just want to give Patrick a cuddle. I have missed him so much, it's been so hard being away but I know he's proud of me. I can't put it into words. The support I've had to get here, people getting up at 3am to watch, all the messages of support – it is just amazing. I know I've done myself proud today, and I hope everyone else is proud of me too.
"My plan was to go out hard and stay as close as I could. It's the fastest I've been since Rio, so to do that after coming back from having a baby, it's kind of blowing my mind a little bit!
"I've done all of this to make my little boy proud. It's been three very long weeks away from him, I can't wait to get home and give him a massive cuddle.
"I thought that when I found out I was pregnant, that was it, that was my journey over. I hope that I've proved to a lot of people that, just because you're a mum, it doesn't stop you from achieving your dreams, you can still get them. It might take a little bit of extra work, but you can still get there."
Earlier in Wednesday's finals session, Zara Mullooly's individual programme on her Paralympic debut came to a close in the Women's S10 400m Freestyle, finishing fourth.
In a race that saw Canada's Aurelie Rivard obliterate the previous world record by five seconds, Mullooly went out well over the opening 100m, staying on Rivard's shoulder in the lane alongside her.
As the pace intensified, Mullooly dropped back from Rivard and then the two swimmers behind, battling for silver and bronze, meaning she finished the race largely in a race of her own, some distance clear of the other two competitors in the final.
A busy meet for Mullooly – which has already featured races in the S10 50m and 100m Freestyle contests, as well as a part in the Women's 34pt 4x100m Freestyle Relay – will conclude with the exciting Women's 34pt 4x100m Medley Relay on Thursday.
That event is one Mullooly is particularly looking forward to, especially after her result in the 400m Freestyle and a challenging build-up to her maiden Games. 
"I always go out quite fast on a 400m Free, so I wasn't looking at Rivard alongside me. I went out in a pace that felt comfortable, but I just couldn't hold on at all," she said.
"I'm not really happy with any of my swims this week, to be honest. I had a tough lead-in to the competition. I think Scott Quin has already mentioned it, but myself and him had to isolate in our rooms during the holding camp. That probably affected my 400m more than it affected my 50m and 100m, because we were just sat in our rooms for a whole week, which meant it was obviously hard physically getting back into the pool – but mentally, I'd say it was harder to get over what had happened.
"We've still got the medley relay tomorrow night and I'm definitely excited about that! If that goes well for everyone, that will be a great way to finish the competition for everyone. I hope this doesn't get in the way of that and I can do a good swim then."
Fourteen of the 25 British swimmers competing at Tokyo 2020 have been making their Paralympic debut. Mullooly was one of those, with her Northampton SC training partner Will Perry another.
The S6 athlete ended his campaign in the Men's S6 100m Freestyle, finishing 18th overall at the end of a busy set of heats for the event.
Having only made his senior international bow for GB at June's World Para Swimming European Open Championships in Funchal, Perry admits it was a tough yet enjoyable end to his Tokyo 2020 experience – and he is relishing what lies ahead as attentions begin turning to Paris 2024.
"I'm knackered. That was the hardest 100m Freestyle I've ever done. It was a lot of fun. I never want to say I'm getting tired because of fatigue – we've had a day's rest, we're used to long competitions so it's not a surprise. But it can catch up to you a little bit," he said.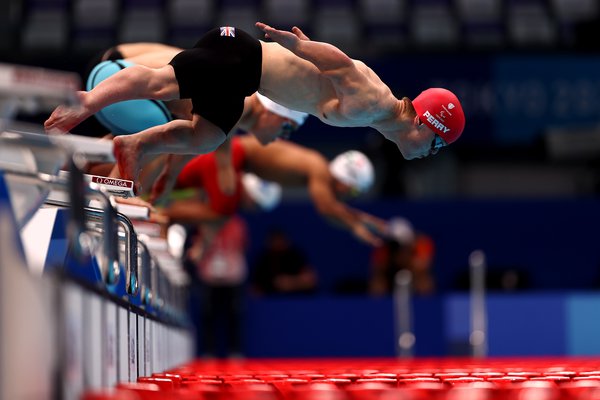 "The best part of this experience is seeing my team succeed. I'm here with some of my best mates, I'm here with people I've never met before but who have become really good friends. Seeing everyone succeed has made me so happy. I wasn't supposed to be here, so it's just a huge learning experience for me. Especially my team, seeing Maisie Summers-Newton, she's my training partner, we work together every day. Seeing what she has done is incredible, Zara, what she's doing, and then making some new friends as well, my roommate Jordan Catchpole, my flatmates, I'm just so pleased for everyone.
"This has given me the motivation, the courage to do even better. I am going to train more, I am going to sleep more, I am going to eat more, I am going to lift more, I am going to recover more, I am going to do everything as hard as I can – and you're going to hear my name a lot more in Paris, I can tell you that."
City of Glasgow SC man Andrew Mullen's final Tokyo 2020 involvement in the pool came in the Men's S5 50m Freestyle heats.
Mullen – who is coached by Ian Wright – was close to being pleased with his time of 36.01 in heat one, placing him 13th in the world. Given his time away from competition in the lead-up to his third Games and the disruption of the pandemic, the eight-time European champion reflected with pride on his journey to the Tokyo Aquatics Centre and the performances he put in on the sport's biggest stage.
"That was not too bad. It's the second-fastest time I've done this year, I'm happy with how I put the race together in terms of the process and execution – it's probably a fraction slower than I would've liked, but if I get to the wall 0.2 seconds faster and go a 35.8, then it's a great day! So I'm not too unhappy with that," he said.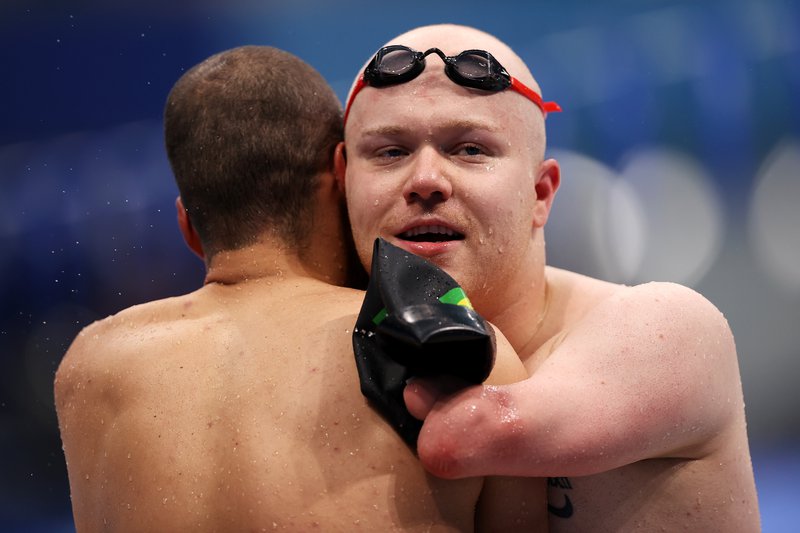 "This Paralympic Games and this cycle, I've learned a lot about perseverance and the importance of consistency. If you want to do anything well, you have to consistently apply yourself to it – and if you do anything that breaks that, whether like me having a bit of time away from the sport, then it's going to impact performances. That being said, I'm really proud with how I turned that around. Eighteen months ago, there's no way I'd have gone 36.0 on the freestyle. It's all part of the process, I'm happy with how this meet has gone for me, I'm sure I'll be able to build on this year and hopefully be swimming even faster in the years to come.
"This has been a hard meet for everyone, but the attitude and mood within the team has always been incredibly upbeat and positive. We've been meeting challenges face on and rolling with them, and I think that's credit to the team, both staff and athletes. They've really gelled together as a unit. After this challenge, the team is going to be better for it."
Stay on track of all the action across the Tokyo 2020 Paralympic Games by visiting our 'What's On?' page.