Following on from the British Para-Swimming visually impaired (VI) and lower classifications camp earlier this month, we caught up with Matthew Redfern to get an insight into the four days of activity at Bath University as he builds towards Manchester 2023.
The start of the Manchester 2023 Para Swimming World Championships is now less than 100 days away, with Redfern last month named among the 28-strong British team. Joining up with six fellow World Championship-bound swimmers and 10 further Podium Potential athletes from across the lower-class physical impairment (S1-S6) and visually impaired (S11-S13) classifications, Matthew took the opportunity to get in a few concentrated days of training at the Team Bath Sports Training Village.
"It was a good experience down in Bath. On the camp, there was group of swimmers that on the whole I hadn't really met before, so it was good to actually get to know them and see the next generation coming through - a lot of them were younger swimmers so it was definitely one starting to build towards Los Angeles 2028 and I think the future of the VI relay is in safe hands," he said.
"The training we were doing was really tough, I did my first ever 11km day so that really took a toll on the body, especially when you are doing two sessions a day at a high level of training intensity. It definitely wasn't an easy camp at all, I was exhausted by the end of it, but I thought the camp itself was great because we had stuff outside the pool which meant we could mingle as a team to integrate and build bonds."
Having swum the second leg of Great Britain's Mixed 49pts 4x100m Freestyle Relay World Championship bronze medal effort in Madeira last June, Matthew explained how the time spent together at the pool in Bath also included a focus on takeovers and relay dynamics, with a focus on further success in relay events.
"We put aside 10-15 minutes at the end of every session to make sure we had plenty of time to practice those relays. For the S11s especially, it was more about training the coach because they have to be grabbing the ankle - so that was a learning curve for a lot of the coaches there for whom it might have been their first time working with an S11's closely," he added.
"As an S13, I was just making sure that my relay takeovers were on point. I can see where the swimmer is coming in but unfortunately I can't see them once they go past a certain point with my peripherals, so as soon as they get to the 'T' I know that I need to start my routine.
"I then just have to adjust my routine to the swimmer, so for example if I've got Stephen Clegg (S12) coming in then I know I can start my routine a little bit earlier, whereas on camp we even trialled mixing in takeovers with some of the lower class athletes so that was very interesting to work out and a fun challenge."
With the camp specifically targeted at a group of VI and lower class athletes, Matthew spoke further on the camaraderie of spending time around athletes with similar experiences and challenges, referencing the guiding of S11 and S12 athletes in the more impaired VI classes round at mealtimes and in supporting their navigation around an unfamiliar training environment.
"It was nice to be a senior member of the group, as a lot of the time I've been fairly new - so even though I'm one of the older ones I'm not senior in terms of that [depth of international competition] experience. However, at a camp like this I was actually one of the most senior there because of my experience and not just my age, so that added a level of responsibility to support the younger swimmers."
Responsibility is not something Matthew shies away from, and the progress seen in his swimming over the last year has been all whilst working full-time as a Senior Operations Analyst for a hotel benchmarking company in his hometown of Worcester.
"The work-swim balance is tough, because normally people have a work=life balance but I've not got a lot of room for the 'life' so mine is predominantly a work, swim, gym repeat. There are times my mates are like, 'let's go out this night and that night' and I'll be tempted, but I'm very much focussed on my goals and what I need to do to achieve what I want to do," said the Worcester Swimming Club competitor.
"That's in work as well as swimming – I've been promoted recently and have a whole new level of responsibility at work and I know that they value me here. It's not something I take lightly, I know it's a lot of hard work but I know that I need to be disciplined in myself to complete both to a really high standard."
Matthew has previously spoken of how his younger sister, Becky Redfern – a world champion and Paralympic silver medallist - has provided support and encouragement in swimming on the international stage, but emphasised how huge the influence his parents backing is first and foremost in enabling him to manage the balance of life in and out of the water in order to pursue his goals.
"I wouldn't be able to cope without them, I don't think, because I'm still living at home and getting lifts to training every day. The time that they save me and support that they offer enables me to be able to do all these things at once, otherwise something would definitely have to give.
"They're super supportive and proud of us, and we both try to make them proud."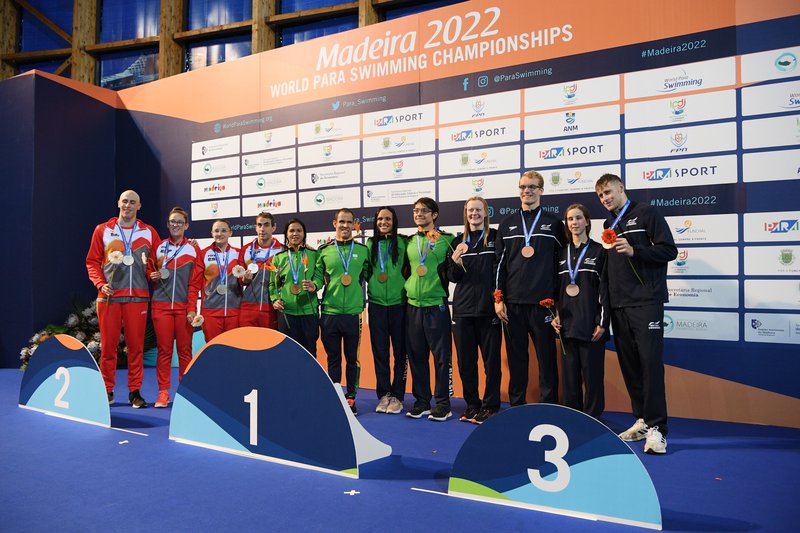 At the end of April, the Redfern siblings will be heading to Turkey on a warm-weather camp with a cohort of 20 para-swimmers preparing for a combination of the aforementioned Manchester 2023 World Champs (31st July-6th August) and the Berlin leg of the Citi Para Swimming World Series (11-14th May).
"Going away on camps with British Swimming means I get a lot more time - I don't have the usual 9-5 working, so I've got a lot more capacity to be able to push out harder sets and push myself further in my swimming than I'd normally be able to. I'll definitely be using Turkey as an opportunity to get myself to the next level in preparation for Manchester this summer," added Matthew.
"Heading on into the Berlin World Series [after the camp] I'm doing a couple of races I wouldn't normally do, the 400m Freestyle and the 100m Breaststroke, and both of those are to try and achieve individual times for Manchester. At the moment I'm selected as a relay swimmer and my next goal is to be offered the opportunity to swim individually and in the relay at the Championships."
Adding to his race programme would be a bonus for Matthew who, after experiencing his Worlds debut in Madeira, is looking forward to the 'energy' such occasions bring.
"With the home crowd, it'll be an electric atmosphere this summer. Last year [in Madeira], particularly on my second relay when the whole British team were down at the pool to support, I was on the blocks with goosebumps so it was great to be able to dive off and have that energy flowing through me – I expect Manchester will be twice as good!"
General sale tickets for the Manchester 2023 Para Swimming World Championships go on sale soon. For more information about the event visit www.britishswimming.org/mcr2023