Great Britain's Mixed S14 4x100m Freestyle Relay and Maisie Summers-Newton headlined what was another scintillating night of swimming for the British Para-Swimming team on day four of the World Para Swimming Championships.
After double Paralympic champion Summers-Newton made it two world titles in as many days with Women's S6 400m Freestyle victory, the mixed relay group produced a brilliant comeback to ultimately come home more than four seconds clear of Australia and Brazil in second and third to defend their World Championship gold from 2019. There was also a second medal of the meet for Ellie Challis, while Alice Tai secured an emotional silver medal in the S8 100m Freestyle, nearly three years on from her unforgettable Worlds display at London 2019.
Bringing the curtain down on Wednesday's action, the victorious quartet of Tom Hamer, Bethany Firth, Jessica-Jane Applegate and Reece Dunn were led off by Hamer, who was particularly proud to be back in the team, as well as delivering some praise for the anchorman Dunn.
"I think the victory was nice, but it was nice to be here again too. From winning it in 2019, it means a lot. Out of everyone, I had the most faith in Reece. Coming home, he is the best anchor man we could have," said Tom.
The race was brought home by Reece, the Plymouth Leander swimmer chasing down the anchor legs of several other nations to take the gold by what ended up being a comfortable margin. The emotion was clear as he spoke after the race.
"That was a good relay, the three other guys did most of the work for me and all I had to do was just catch-up and bring it home. I was focused on how I was going to do it."
It was veterans Firth and Applegate who swam the second and third legs of the relay respectively. Commenting on the race, Jessica was happy with what was ultimately a comprehensive victory for the team.
"It was really good, it's so amazing to be a part of such a great team. No matter how much of a hard time one of us has, we always seem to bring it back," she said.
Bethany, who has enjoyed a lot of individual success so far this week with two solo golds, added: "It's so different doing relays than racing individually. It has a different dynamic coming together and it's so much fun when we can do it."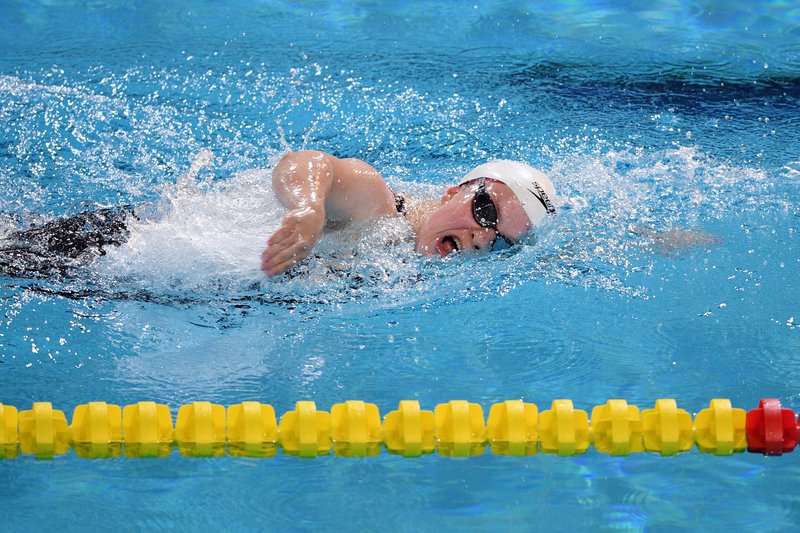 Elsewhere on the night, Summers-Newton had another memorable night for the British team. In the first event of the finals session, the Northampton swimmer played her part in a tense battle for the win with Brazilian Suzigan Abate on the Women's S6 400m Freestyle.
The pair broke away from the field early on, trading the lead a number of times, before Summers-Newton built a body-length lead off the final turn and never looked back. Touching in a time of 5:27.97, faster than her heats marker earlier in the day, she was particularly happy with the way she managed the race.
"I definitely wanted to try to stay up with the girls for as long as I can and then see where I could go. I haven't really trained the 400m Free so I'm happy to come away with the gold and a fast heat to final, which is all I can ask for," said the now-five-time Worlds medallist.
Having already won medals at these Championships, including a show-stopping gold medal winning performance in the Women's S6 200m Individual Medley, she also highlighted how hard it was at times to monitor the competition. "I had no time to check where anyone was, I just had to keep my head down and know that every length is a new length. Trying to remember the lengths when you're out of breath too is tough but it was a really good race."
With races still to come, Summers-Newton was keen to turn her attention to the breaststroke later in the program. "I absolutely love the 100m Breaststroke, it's been my favourite stroke ever since I was a little girl. I can't wait to get out there, have fun and enjoy it as it's my last one here."
Adding to the medal tally for Great Britain on day four was Alice Tai, the Ealing swimmer powering through the field after a naturally-delayed start, making up ground to touch second at the halfway point.
In what was a fierce battle between Tai, Palazzo of Italy and Araujo of Brazil, she was ultimately touched out by the Italian who had an amazing final 15m of the race, with Alice ultimately finishing in a time of 1:07.16 to take the silver.
Despite narrowly missing out on the top spot of the S8 100m Freestyle podium, Tai was visibly emotional after the swim, on the back of a long-awaited return to competition.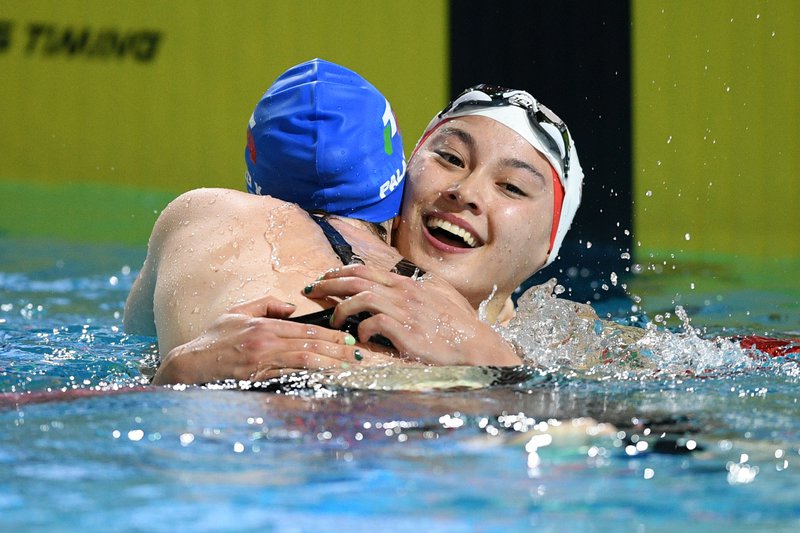 "I've never been on the brink of tears before following a medal but that one means a lot. It's so nice to be back racing and seeing everyone, I'm so happy with that," she said.
"I messed up my turn, which I also did in the heats, so I still need to figure out my race pace stroke count into the wall. Someone mentioned to me today that it's not even been a year since I pulled out of Tokyo, so in that time I've had three surgeries and the amputation. I'm really proud of myself, I can't wait to get back into training and have never been happier with a silver."
Meanwhile, National Performance Centre's Ellie Challis took to the pool in the Women's S3 50m Backstroke Final as she continued her busy world championships programme. Challis made a superb start out of the blocks, powering out of the transition into the stroke to sit alongside Leanne Smith for much of the race before the American edged clear to win out.
"I'm very pleased with that, I would have liked a faster time definitely but I've got such a packed racing schedule I can't expect PB's every race. This is like my fourth or fifth event and I've still got two more to go so it been very tiring." said Challis
"I tried to stay with [Leanne] Smith (USA) as much as possible but she pulled away a bit at the end - it was a really good race for me, I enjoyed it and racing her is fun."
This was her second medal of the competition - the first time she has achieved the feat in a major international championships - and with further freestyle events later in the competition, there's much still to play for as the 18-year-old tries to add to her success.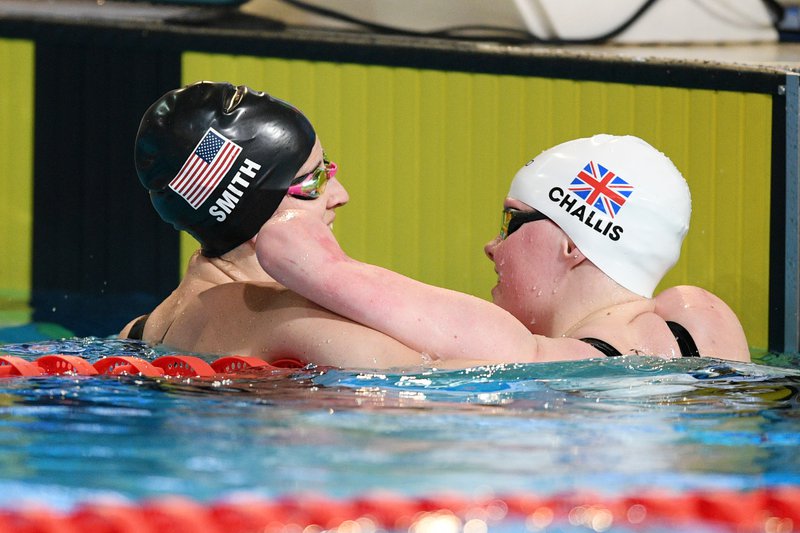 The University of Stirling's Toni Shaw predicted a close race after her morning heat and the Women's s9 100m Freestyle delivered just that. With five separate athletes all in with a medal shout in the last five metres of the race, Shaw was unfortunate to miss out, touching in on a time of 1:03.52, a tenth off bronze and half a second off the win.
"Obviously to come fourth by 0.1 is quite difficult but I've got another race tomorrow, so I've just got to put it out of my mind and focus on that. It's a really competitive class, which is a really good thing as it'll mean better races in Paris. I'll keep working so I don't come fourth again!"
As day 4 in Madeira drew to a close, it was the turn of the Mixed 4x100m Medley Relay 49pts to take centre stage. This is the first time the event has been included at the World Championships, making the quartet of Mathew Redfern, Becky Redfern, Stephen Clegg and Scarlett Humphrey the first ever Great Britain team to contest the event.
Finishing fourth after a close battle with the Japanese team for bronze, Matthew Redfern, who led off the team on his World Championships debut, said of the experience:
"I was really nervous last night going into this morning, with it out of the way now on my debut I was really happy with how it went. For the team, I thought we did admirably and it was a really good effort from everyone."
On swimming with her older sibling, Becky added: "It's the most excited I've been all week! Just to be in a relay was amazing but to be taking over my brother was unreal as well. We all did amazing and I'm really proud of everyone."
The third leg was swum by Stephen Clegg, whose butterfly proved a big weapon in bringing the team into medal contention, and the Edinburgh University man spoke of seeing huge potential for this team:
"This is the first time we've been together, there's loads of room for improvement for Paris. It's a shame to miss out on a medal but we can't curse ourselves too much, relays take time to build and it's a really good start."
Scarlett Humphrey had additionally been in action earlier in the night alongside her sister Eliza in the Women's SM11 200m Individual Medley. With the event being a straight final, the twins were keen to make an impression, with Scarlett in particular pleased to have performed well on her weaker opening strokes.
"I usually struggle at the start because I haven't got very good butterfly but it was good to see that I could compete. I know I've given my best and that I can give it a little bit more when I've improved certain elements." she said.
After finishing in fourth, with Eliza close behind in fifth, Scarlett also had praise for the tappers among the British Para-Swimming support staff that were helping them identify the wall ends this week.
"They did a really good job, I was really nervous coming into it [this week] with this new change implemented because much of the tapping I've been used to is reliant on my parents and teammates. The British team really stepped up though and I have every confidence in them to execute the turns and the finishes for me."
Find full schedules and results on from Madeira 2022 here, with details of all the British athletes in action and where to watch on our 'What's On?' page.