Ellie Robinson is valuing every second of race experience after her second event of the week at the World Para Swimming European Open Championships in Madeira.
The Northampton Swimming Club athlete came agonisingly close to winning Women's S6 50m Freestyle bronze for the third successive Europeans, having placed third at Funchal 2016 and Dublin two years later. 
On this occasion, she touched just a quarter of a second behind Ireland's Nicole Turner for that final spot on the podium. Yelyzaveta Mereshko of the Ukraine took the title.
Like her rivals, Robinson is building back into competition at her first major meet since the 2019 World Championships in London - and she is in positive spirits ahead of her main event, the S6 50m Butterfly, at the weekend.
"This competition is about the process. It's good to get back into racing, I've got my best event on Saturday so I'm looking forward to that," she said after her fourth-placed finish in the 50m Freestyle.
"For me, this is just about adapting and seeing how I can turn this year around, learning how to overcome that and implement that in my racing. This is a competition of experience and practice.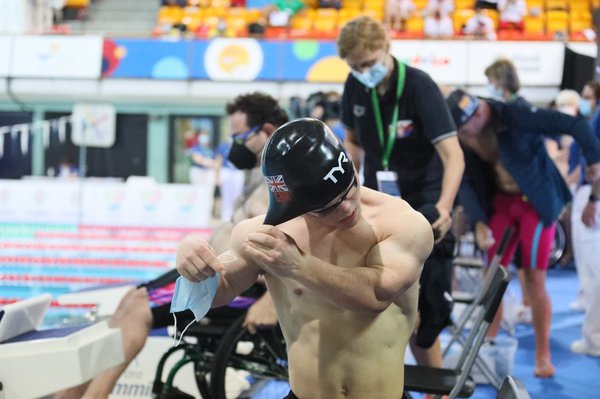 "It's good to get back into racing again, and seeing people again. It's been quite an isolating past year for most people, so I'm very much appreciating being able to see people again, particularly people from across the world. The COVID protocols at this competition are really quite strict, so it's nice to know we can feel happy but also relaxed at the same time."
Straight before Robinson's final, clubmate Will Perry went in the Men's S6 50m Freestyle showpiece after qualifying with a brilliant swim from an outside lane in the morning. 
Perry knocked two tenths off his heat time to place eighth in the final, a fine achievement at his first senior international.
"It's amazing, it's all been very quick, I didn't even expect to be here - so to make a final is unbelievable, I can't believe it," he said.
"It's all about racing well here. I've not tapered for this meet, so I'm not expecting personal bests. It's just I want to have a good race, experience what it's like to have new competitors and have fun."
Earlier in the day, Abby Kane raced her fourth event in as many days, missing out on the Women's S13 50m Freestyle final - but she is still not done for the meet. 
Check out the full results and the schedule for British athletes across the rest of the meet HERE.