Ahead of this month's Para-Swimming Winter National Meet at Tollcross ISC, Scottish Para-Swimmer Sam Downie sat down to tell us about his success across the past year, and how that has fuelled both his preparation for the upcoming meet, and his hunger for even greater success next year.
Sam has enjoyed a tremendous 2022 in the pool, receiving senior call-ups to both the squad for the Para-Swimming World Championships in Madeira, and Team Scotland for the Commonwealth Games, also as their youngest member! As attention now turns to the upcoming Winter Meet, Sam has set his sights firmly on progress in the pool, to provide a benchmark ahead of next season. See what he had to say below…
Looking at the World Championships this year in Madeira, what was that experience like being selected to compete on the World stage?
"So for me, it all started when my whole team was away on a training camp, and I was down at trials in Aberdeen so it was a big difference in terms of where I was. Originally I was quite down, but then I had a rough idea of what the times where that I needed, so I just focused on that and went in and swam. I was just off in the heats which made me have to kind of rethink everything, so I went into the finals and just gave it everything I had and hoped for the best. When I got the news it was just a dream come true, and then being out there was just surreal – being surrounded by all these great names that I sat and watched in Tokyo the year before, so it was nice to have those familiar faces as well."
Moving onto the Commonwealth Games, how did it feel being the youngest member of Team Scotland at this years' Games?
"It's something that I took with pride, because when you look at the Commonwealth Games it's not just swimming, there's a whole range of sports, so being the youngest out of all of them is quite surreal. You know, there's not many 16 year olds out there in the world making these major teams, so again just a really proud moment. One thing that Team Scotland do well is that they integrate the para-swimmers with the more mainstream swimmers, so it allowed me to create loads of new bonds in addition to those I'd already made a few weeks before in Madeira."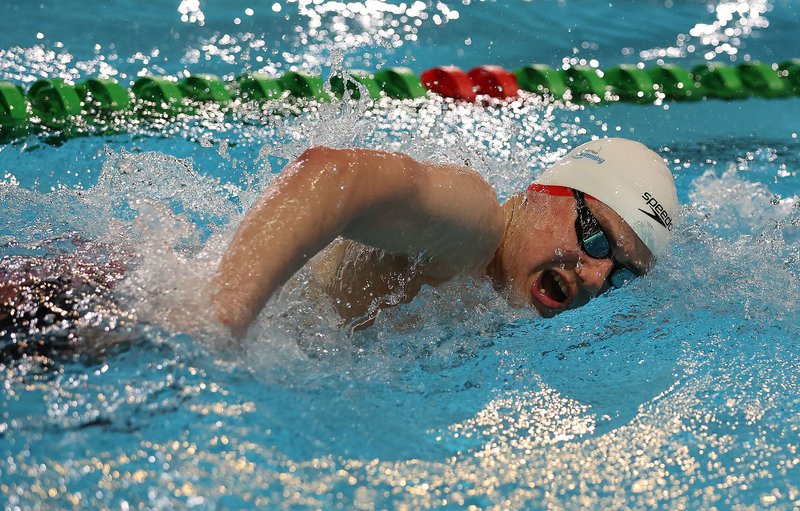 Is there anyone you look up to from the squads you've been a part of this year, and anything you feel you've learnt from doing so?
"From a young age I've always looked up to Stephen Clegg, he came through the same club and pathway as I have. I remember I met him when I was really young, even before I'd made any National teams which was amazing, so to then go and be on a team and share a room with him [at Birmingham 2022], it's crazy to think that I was watching him on TV for years, and now I'm alongside him!"
So, looking ahead to the Para-Swimming Winter National Meet later this month, what events will you be competing in?
"So far I'm doing the 400m Freestyle, 100m Freestyle, 50m Freestyle and 100m Backstroke."
What are your aims going into the competition?
"I think a lot of it is seeing where I am in terms of the 50m and 100m Freestyle, as I've not really competed in them much this season.
"I'm hoping to drop time on the 400m Freestyle and 100m Backstroke, as they're the events I've been competing Internationally in, so to see a bit of progression with them would be great."
What are your opinions on short course compared to long course? Does it affect your preparation at all?
"For me, I'm always better at long course. I don't have that underwater phase with the fly kick as mine isn't as strong as everyone else's, so when it's long course I'm able to get more excited as I know I've got this advantage in being able to keep going, whilst some people might tire out. So yeah I do generally get more excited about long course compared to short course competition."
How do you feel the competition will contribute to your preparation going into the 2023 season?
"As I said, I think it's all about seeing where I'm at and hopefully knocking down some of my times, and then being able to look at my races and seeing where I can improve and what I might need to correct, to hopefully allow me to get the times I need at trials."
Keep an eye on British Swimming social channels for news surrounding the meet and a round-up of results, as well as more detailed results here at the start of the event.