Maisie Summers-Newton lit up the London Aquatics Centre on day three of the London 2019 World Para Swimming Allianz Championships as Great British athletes secured another six medals, including three golds.
Maisie Summers-Newton raised the roof with her World Record breaking performance in the Women's SM6 200m Individual Medley final. The 17 year old, coached by Jacquie Marshall at Northampton, timed her charge on the breaststroke leg, moving up the field from fourth into first. With the crowd cheering her home on every stroke, there was no stopping her as she powered down the final 50m to take the touch in 2:57.25, shaving over 0.7 off her existing record.
Yelyzaveta Mereshko (UKR) won the silver medal in 3:00.83, while the silver medallist from the Rio Paralympic Games, Lingling Song (CHN) took the bronze in 3:03.01. Britain's Ellie Simmonds came home in fourth, matching her season's best time of 3:03.23.
A thrilled Summers-Newton said of her performance:
"I wanted to go out and do the best I could. I wanted that gold medal, and to get the world record as well is amazing. I am so happy with the race. I turned in fourth place at the half way mark and I just thought I need to max out this last 50 and try to touch the wall first."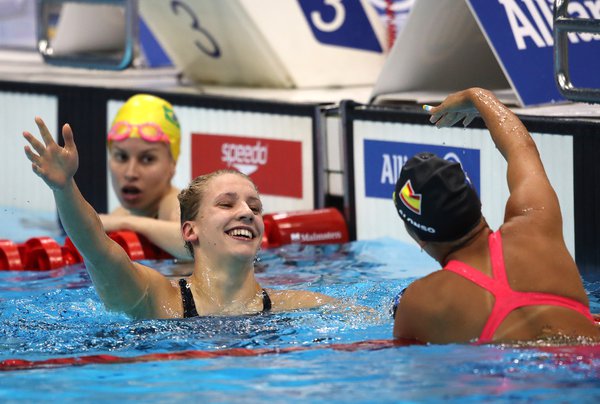 Louise Fiddes timed her Women's SB14 100m Breaststroke final to perfection, securing the gold medal in another new Championship Record of 1:13.20. Turning in second place behind the World Record holder and gold medallist from Rio, Michelle Alonso Morales (ESP), Fiddes changed up a gear and powered down the second 50m. Shoulder to shoulder with only 10m to go, it was Fiddes who finished the stronger of the two to take the World Championship crown.
Morales won silver in 1:13.49 with Debora Carneiro (BRA) winning bronze in 1:17.52.
Talking about her race, Fiddes said:
"It's not quite how I expected the race to go. I took it out a bit too easy on the first 50 but at least I had it in the tank at the end. Being an S14 athlete I've struggled a bit with pacing in the past. I find it hard to judge how much I have left in the tank. I'm absolutely ecstatic."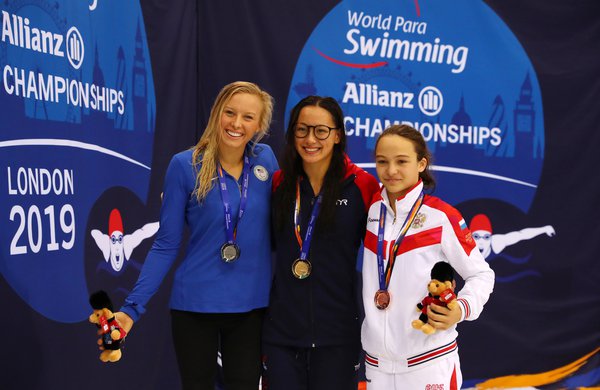 Alice Tai secured her hat-trick of gold medals from the event following a hard fought Women's S8 100m Butterfly final. Tai, who won gold in the event at last year's European Championships in Dublin, was pushed all the way by Jess Long (USA). The finish could not have been tighter and Tai took the touch in 1:09.76 to claim her third title. Long finished just 0.02 behind in 1:09.78 with Viktoriia Ishchiulova (RUS) taking the bronze in 1:13.00.
Tai said of her race:
"The back end of my fly is always super painful. The goal this morning was to cruise the heat, but it got to the last 15 and I probably died just as much as I did there. That finish was very lucky for me. I could see Jess on the second 50 and I know she's super strong on the back end of the race. I saw her glide into the finish and I added a stroke and I was freaking out as I thought she was going to touch first. I'm a bit stunned I managed to get that one."
It took a World Record breaking performance to push Scott Quin into silver and Naohide Yamaguchi (JPN) did just that in the Men's SB14 100m Breaststroke.
Yamaguchi showed his intent from the start and had a healthy lead at the half way point. Quin narrowed the gap considerably but Yamaguchi had done enough to take the title, breaking Quin's record with a new World's best time of 1:04.95.
Quin won silver in 1:05.46 while Marc Evers (NED) took the bronze in 1:07.03. Quin said of his race:
"I would have liked to have executed things a bit better. I came into the final a bit more relaxed than the heat and it's the fourth time this season I've gone 65 for the event."
Speaking about Yamaguchi taking his World Record, Quin said:
"Sometimes you have to accept someone goes quicker than you, and it's good to see the youngsters coming through and making improvements and you have to applaud that."
Toni Shaw may have predicted Sophie Pascoe's (NZL) dominance ahead of the Women's S9 Butterfly final, but she certainly wasn't expecting to come away with the silver medal and enjoy her second trip to the podium.
Pascoe's victory never looked in doubt with the World Record holder for the event touching home in 1:04.35, a new Championship Record. Shaw didn't let Pascoe's pace affect her own race and the 16-year old held her nerve to power home to take the silver medal in a new British Record time of 1:07.83. Elizabeth Smith (USA) won bronze in 1:08.12.
Shaw said of her performance:
"My first 50 was definitely a lot quicker. I could feel myself dying in the last 15 metres but I just told myself to just keep going as it was almost done. I'm so happy, it's really special seeing all my family looking on; they've done so much for me with all the early mornings and all the travel to the competitions far away. This is the biggest achievement of my life so far, I can't really believe it."
Zara Mullooly ensured that her 17th birthday would be one to remember, winning bronze in the Women's S10 400m Freestyle. Having smashed through her personal best in the morning heats, Mullooly went faster again in the final to win her second World Championships medal in a time of 4:34.91.
Gold went to Oliwia Jablonska (POL) in a new Championship Record time of 4:29.66 with Aurelie Rivard, the gold medallist from the Rio 2016 Games, winning silver in 4:30.42. Mullooly struggled to find the words to sum up her day. She said:
"I'm speechless. The 400 coming into this competition wasn't really my focus at all. I kind of stopped doing distance so to come and get a bronze in the 400m free is incredible. This morning was really positive. I know I usually progress from heat to final, so knowing there was a possibility to go even quicker tonight was amazing, but I wasn't expecting a whole three seconds. I shut my eyes on the back 50 and just went for it."
Stephen Clegg broke the British Record for Men's S12 50m Freestyle lowering his best to 24.78 to finish fifth, while Ellie Challis showed good progress from heat to final, finishing strongly in her Women's SM4 150m Individual Medley to come home in eighth place in a time of 3:33.46. She said of her performance:
"The final went better than the heat this morning, but there's still a lot of room for improvement and lots to take back to training."
Live results and the event schedule can be found here and you can catch all the action on Channel 4 here.