Alice Tai and Rebecca Redfern each reclaimed world titles they respectively last achieved at London 2019, whilst a second scintillating British 1-2-3 in as many nights was led by Bethany Firth as she clocked championship record in the Women's S14 100m Backstroke.
After a headlining seven golds at the London 2019 World Championships, Tai has endured a number of hurdles in recent years with her return to the top level last year yielding one silver medal in Madeira.

It was clear that this time around that the 24 year-old was in a hurry to rectify that record, as she came storming off the start at the Manchester Aquatics Centre to take what was a body length lead before the end of the first length.
Not only did she double this lead during the second half of the race, she extended her lead by several seconds as she took the win in dominant fashion – over seven seconds ahead of Italy's Palazzo in second.
It was an achievement which Tai was extremely happy with as she continues to build back up experiences of competing on the world stage following her amputation.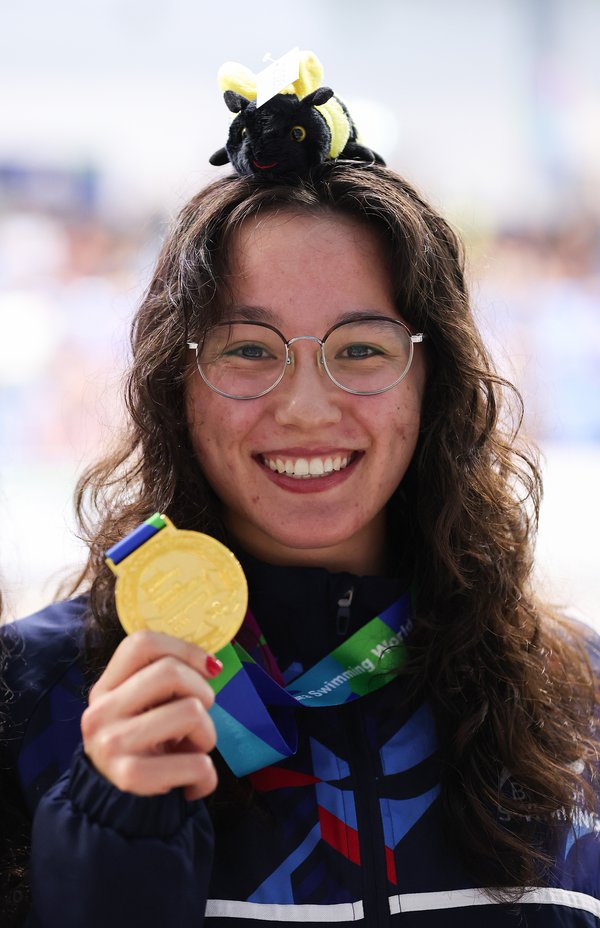 "I came here just to work on my race process as I've not had that many opportunities to race since my amputation, so yeah I went way faster than I thought I would and I'm super happy with the gold." said Tai.
"The backstroke has been the easiest for me to adapt to [post amputation] as my main stroke and I train it more than freestyle but overall I'm getting there, getting faster and it's reflected in the times. It's still a process but I'll be ready for Paris and that's the main goal. I might still have two events this week but I'm already so excited for next season and motivated to keep pushing my times back down."
Bethany Firth bounced back from her silver medal in the Women's S14 200m Freestyle last night as she returned on the second day of the competition to top the podium in what was a Great Britain 1-2-3 in the Women's S14 100m Backstroke, with Poppy Maskill and Georgia Sheffield taking silver and bronze respectively.
After Maskill took the top seed and lined up in lane four for the final following a great swim of her own in the heats, Firth meant business from the off as she took the race out from lane five - turning nearly a whole second ahead of the field at the 50 metre mark. Maskill and Sheffield (who went in lane three) fought back to firmly get themselves back into the race with 25 metres to go. Maskill in particular gaining in on the lead with each passing stroke, but Paralympic Champion Firth held strong and her experienced showed as she took gold in a new Championship record in a time of 1:05.80.
Maskill came in just behind the five-time Paralympic champion setting a new personal best of 1:05.87, with compatriot Georgia Sheffield making it a full British podium with an impressive performance of her own to take the bronze.
Firth gave some inspiring words following what was an understandably emotional victory for the athlete, as she gave some insight into her feelings surrounding the event and the quality of competition in the event in Great Britain.
"These girls are so young and so up and coming that it's great to have the here pushing me on. Despite being one of the 'older ones' I still get so nervous but I just decided tonight that I really wanted to go out there and have fun. I've held the backstroke record for so long I have at times felt a lot of pressure in this event but coming into this I just wanted realise why I wanted to swim and that was to enjoy it.
"Every medal is amazing - I knew going in it was going to be a really tough race because the two alongside me are amazing and it really is great to touch in 1-2-3. These two days of podium clean sweeps just shows how well the British team is doing and the talent coming through."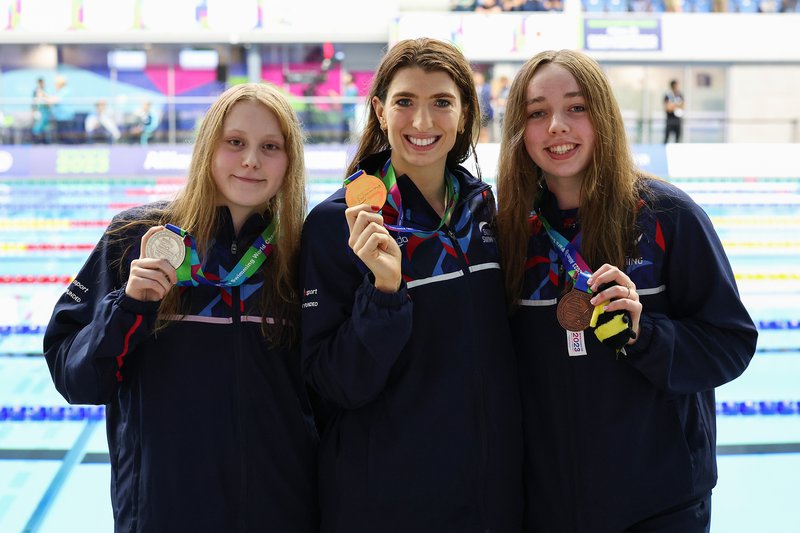 Taking the third gold medal for Great Britain on the second night was now three-time World Championship medallist Rebecca Redfern, as she produced an intelligent swim to take the win in the Women's SB13 100m Breaststroke.
Having taken the title in the event back in 2019, before a bronze medal in 2022, she returned to the summit in the event after getting the better of USA's Colleen Young after a good battle between the pair to round-off the British medals for the day.
After just edging in-front of the competition once the first few stroke cycles took place following the pullouts, Redfern never really looked like she was realistically going to cede her lead, as she went stroke for stroke with her rival from across the pond.
Always keeping half a body length ahead, they both broke away from the rest of the field to take respective gold and silver – an achievement which filled the 23 year-old with joy when she found out her result.
"I couldn't see the scoreboard so it was only as I came round the corner into media I was told I'd won - what a feeling!", explained Redfern when in the mixed zone after the race.
"I had no idea it was so close so it'll be a fun race to watch back. My Mum, Dad and coach are in the crowd tonight so I'll be looking up and dedicating this to them on the podium. It's been a long day and was actually really tough after not having a heats swim to build into this final the usual way, so be able to win gold is really exciting even if I think I have a faster time in me.
"I'm not the same person I was four years ago when I won my last world title, I think I've shown you can go off and live your life and still smash it in the pool. My little boy will be here watching later this week so I'll be sharing this moment with him and no doubt he'll be wearing this medal as he's sat in the crowd."
Stephen Clegg took his second medal of the competition so far with silver off the back of a tight Men's S12 100m Backstroke final.
Following a spectacular victory in the Men's S12 100m Backstroke the previous day, he looked sharp coming out of the blocks – settling into his stroke and touching in third at the turn, ready for a charge for the gold as the finish came into sight.
Going with him as he made the charge was Brazil's Douglas Matera, with the pair both pulling away from the rest of the field with 25 metres to go. It was unfortunately not enough for Clegg as he put his head down for the finish – just getting touched out at the wall. After winning the event at Madeira's 2022 edition of the Championships, it was still an achievement to be proud of for the 27 year-old, who now has two medals from each competition.
Reflecting on some of the challenges he's faced in the lead-up to the event, Clegg said:
"I think on the whole I'm just a bit disappointed with the time, I've had a challenging season all round with illness and injury and I've not really been able to get a clean cycle of training until the last four weeks which have been good. With what I've been showing I was expecting a lot more from tonight, but I gave it my all and I can't take anything away from Douglas - it's amazing to see him do so well.
"I was definitely feeling a lot of fatigue from yesterday, it was a challenging evening with delays and getting back late. Some emotional management was needed in terms of that. In the end of the day it's in me as an athlete to perform at my best and I gave it my all out there."
Faye Rogers took her first medal on the world stage at her maiden World Championships as she came off the better of a scrap for the medals by taking bronze in the Women's SM10 200m Individual Medley final.
After the athletes in the middle two lanes sped away, she was forced to battle with athletes to both sides over the course of the four lengths – being right with them all the way before a small breakaway on the freestyle leg saw her get her hand to the wall in third place.
After breaking the British record in the heats, she lowered it once again in the final – an achievement which will surely encourage the 20 year-old as she continues her breakthrough year with the senior team.
Speaking after lowering the record yet again, Rogers told of her surprise in how effective the event has been for her following the changes she has made to how she approaches the event.
"I definitely wasn't expecting to lower it that much - the 200 IM is probably the event I was most nervous for but I'm really happy with that as I did not expect to be PB'ing by that much.
"I've been working particularly on my breaststroke leg, there's been a lot of work on that this season but I think it's paid off. The focus this week is just to PB as this is the biggest thing I've ever done swimming wise and so just to be competing at this level and setting new best times is amazing."
"The 100m Fly on Friday is my main event but I just want to see what time I can go - the aim is just to enjoy it and do what I can but I'll still be so nervous as I always am."
Ellie Challis took Great Britain's first medal of the second day as she took a hard-fought bronze in the final of the Women's SB3 150m Individual Medley.
Emerging into second place behind Germany's Tanja Scholz down the backstroke leg, she was able to hold her position among the podium places as the race unfolded. Coming home in bronze, Challis recorded a new personal best and moved on her own British record in the process.
"I'm massively delighted with that", said Challis when speaking after the race.
"I knew the times the other girls were going in with and knew I probably needed about a 3:13 and I did that.
"I kept an eye out for everyone both sides of me and I felt my breaststroke leg was pretty good and I knew that put me in a great position in the middle of the race and from there I just had to get to the finish and get that bronze medal.
"I've worked massively on my breaststroke as a lot of these girls are an SB3 which is a class above me in Breaststroke so I've really got to be on it and it's worked today."
Sam Downie kept the British momentum going on the second night with a bronze medal of his own in the Men's S8 100m Backstroke final.
Up against stiff opposition from lane two, he was one of the only athletes to lower his seeded time and put himself in a clear third place throughout the two lengths.
It's the first medal at a World Championships for the athlete, as he continues to improve following his debut at a major international championships in Madeira one year ago.
"I was hoping for a wee bit quicker but I just can't complain with a bronze medal!" said Downie.
"Coming into the race I thought bronze was anyone's really. The guys in first and second [Inigo Llopis Sanz and Kuta Kubota] are veterans and they're well ahead so it's a pleasure to share a podium with them."

Jordan Catchpole and Louis Lawlor both went well in the final of the Men's S14 100m Backstroke final – placing in fourth and sixth respectively and producing spirited displays at key moments in the race on their way to their results. Earlier in the day, Cameron Vearncombe placed 13th overall in the event.
Meanwhile both Brock Whiston and Toni Shaw produced strong swims in what was a strong Women's SM9 200m Individual Medley final – taking respective fifth and seventh place finishes in the final individual event of the session.
Tully Kearney put in a valiant effort of her own in the Women's S6 100m Freestyle final. Going out of lane seven, the 26 year-old had a lightning-fast start and kept the pace going down the first length to see her turn in third place at the halfway stage, before surges from a number of swimmers to her left hand side down the final length pushed her down the order as she had to settle for a sixth-place finish.