Home nations swimmers have earned six medals, and two world records on day one of the British Para-Swimming International Meet 2018/World Para Swimming World Series in Sheffield.
First to medal was Alice Tai (S8) in the Women's MC 100m Freestyle event with a World record-breaking time of 1:03.66 and score of 1,050 points. Canada's Aurelie Rivard (S10) picked up the silver with 982, followed by another Brit, Tully Kearney (S5), on 976 points.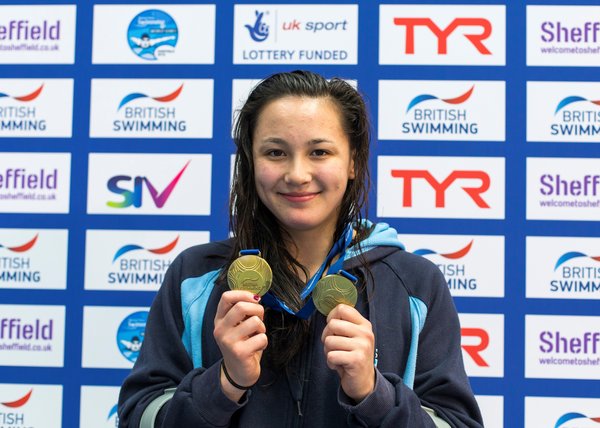 Ellie Robinson (S6) came in sixth place; Hannah Russel (S12) in eighth. Toni Shaw (S9), Grace Harvey (S6), Zara Mullooly (S10) and Stephanie Millward (S9) all competed in the race coming in joint 14th, 16th and 29th respectively.
Britain completed their second gold and bronze finish of the day in the Women's MC 100m Breaststroke where Maisie Summers-Newton (S6) broke the World record, posting a new time of 1:33.92 and amassing a total of 1033 points. Louise Fiddes (S14) scored 980 for the third place podium position, only Uzbekistan's Fotimakhon Amilova (S13) could separate them.
Rebecca Redfern (S13) earned a 5th place spot; Ellie Simmonds (S6) finished in 7th; Bethany Firth (S14) in 12th; Danielle Hartin (S14) in 15th and Toni Shaw (S9) in 22nd.
It was two more medals for the Brits in the Men's MC 100m Breaststroke with Scott Quin (SB14) and Conner Morrison (SB14) winning silver and bronze. They were beaten by Nelson Crispin (SB6) of Colombia. Tyler Ioannou (SB14) came in 11th; Jack Milne (SB14) in 12th and Joseph Seage (SB14) in 18th.
In the Men's MC 100m Freestyle event Brazilian Daniel Dias (S5) - a multi-Paralympic champion- won with 940 points, just three ahead of Nelson Crispin (S6) of Colombia and Phelipe Rodrigues (S10) from Brazil in third.
The highest placed Brit was Stephen Clegg (S12) in sixth who totalled 809 points with Jonathan Booth (S9) in 18th; Josef Craig (S8) and Jacob Leach (S9) in joint 21st ; Oliver Hynd (S9) in 23rd; Jonathan Fox (S8) in 25th; Oliver Carter (s10) in 27th.
The Ponds Forge International Centre meet is also doubling up as the British leg of the World Para Swimming World Series, with some of the world's best athletes battling it out in the Sheffield pool.
In the Women's MC 100m freestyle Gloucester's  Harriet Dickinson (S10) took the national championship final scoring 608 points – she just beat over the Cockermouth based duo Ella Cooper-Holmes and Drew Stables into silver and bronze positions respectively.
In the Men's race, it was Bournemouth Collegiate's Leo McCrea ( S6) who won gold with 635 points, with the University of Stirling's Jon Law (S13) and Mt Kelly's William Perry (S6) with just two points separating second and third.
In the domestic Women's MC 100m Breaststroke Brock Whiston (S9) from Barking & Dagenham took the title comfortably, scoring 887, with Littlehampton's Georgia Howell (S6) in second with 631 and Derby's Megan Neave in third on 508.
In the men's event Glasgow's Gavin Roberts (SB14) took the national crown with a score of 787; with  George Kelman-Johns (SB14) from Clayesmore second with 657 and Rhys Davies in third with 655.
Other events contested on day one included the Women's 50m Breaststroke won by P Pereira Dos Santos (SB3) from Brazil; the women's 50m national breaststroke title which was won by Ellie Challis of Colchester and the men's 50m breaststroke which was won by Japan's Takayuki Suzuki.
Earlier in the day, Tom Hamer set a new European record in the Men's S14 100m Freestyle of 53.53 beating his own record and earning 998 points, with Zara Mullooly (S10) also setting a British record in the100m Freestyle with a time 1:03.01 and 828 points.
You can see a full list of the results here.
And you can tune into all of tomorrow's action here.