Alice Tai once again lit up the London Aquatics Centre as she claimed her fifth and sixth gold medals at the 2019 London World Para Swimming Allianz Championships, the latter in the Women's 34pts 4x100m Medley Relay.
The final event of the night saw a Great Britain quartet of Tai, Brock Whiston, Toni Shaw and Stephanie Millward bring the house down as they obliterated the World Record to take Britain's gold medal count to 14 for the meet so far.
Tai swam the lead-off backstroke leg and handed over to Whiston, for whom this was her first race of the Championships, in the lead. Whiston was dominant in the breaststroke leg and passed onto Toni Shaw with a healthy lead, which was only increased further by a brilliant anchor leg from Stephanie Millward to bring home the gold.
There was no going go easy down the final 50m though, as she reached for the wall to touch in 4:36.31, knocking almost nine seconds off the previous world record, with a 4.36.31 swim.
Afterwards Brock Whiston said of the experience:
"Every day I've been there, heats and finals, cheering my teammates on. Then to race with three amazing girls you couldn't ask for anything more. To swim in front of this many people, I just can't thank everyone enough."
Shaw said of her leg:
"Being in the relay with these girls makes it much easier. Today has been amazing, so special, it means a lot. When I took over from Brock I just didn't want to let them down."
Millward finished and said:
"I feel so, so proud. I knew that we were going to be good, I even told people that I'd thought we'd break the world record tonight and to make sure they were here to cheer us on. I didn't think we'd break it by that much but the team is wonderful and watch out for us in Tokyo."
Earlier in the evening Alice Tai once again demonstrated why she's number one in the world with another faultless performance, this time in the S8 50m Freestyle final. Tai powered down the pool to the delight of the capacity crowd to claim her fifth world crown in a new Championship Record time of 29.55. Cecilia Jeronimo de Araujo (BRA) won silver in 30.45 while Claire Supiot (FRA) took the bronze in 30.54.
Afterwards Tai struggled to put it into words:
"I don't really know how I'm feeling right now, I'm equally as tired as I am happy, it's like I'm dreaming. I think today, after the 400 yesterday, I was really hit with fatigue. I've the IM tomorrow, which is probably one of the hardest events for me and I'll be happy to finish that race!"
When asked about inspiring the next generation, Tai added:
"There's a little girl in the crowd who wished me good luck as I was walking to the venue and she was like, 'it worked', so that's awesome. Not so long ago I was one of those kids looking up to people so to think that I can now motivate and inspire the next generation, and maybe in Paris we'll see them come through."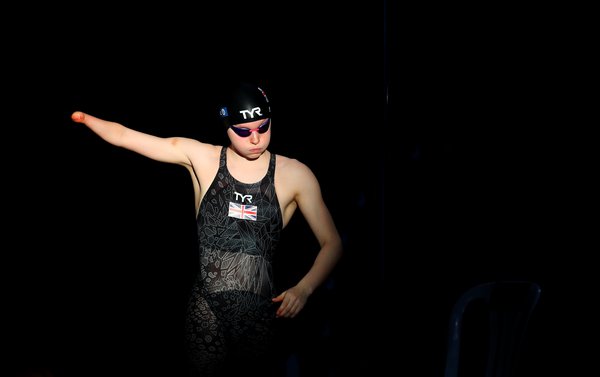 Toni Shaw had earlier predicted it would be a race for the silver and bronze medals in the S9 400m Freestyle final and the 16-year old was spot on. Lakeisha Patterson (AUS) was the runaway winner in the event, coming home to take the World Championship crown in a time of 4:38.29, but behind her, a great race between her teammate, Ellie Cole and Shaw was unfolding.
Despite being on opposite sides of the pool, Cole and Shaw were well matched for pace, with Shaw maintaining a slight advantage until 100m to go. From there Shaw went for broke, powering home to secure silver in 4:43.20 while Cole bagged bronze in 4:45.56.
Afterwards it was clear that Shaw had enjoyed the final, as she said:
"That was crazy. It was such a great race. Obviously to have the likes of Lakeisha (Patterson), Ellie Cole, Nuria (Marques Soto) in the same race it was just really exciting. I could only see Ellie on a few turns but I was trying not to look too much as I knew that would slow me down. Having someone like Lakeisha there pushes you on to go faster and it motivates you."
Ellie Robinson and Maisie Summers-Newton just missed out on medals in the S6 50m Freestyle final, with Robinson finishing fourth in 33.94 and Summers-Newton fifth in 35.59. Robinson said of her performance:
"I know I've a little bit of catching up to do, but I can see some positives from this race and hopefully I can pull something together before Tokyo. The thing about the 50 is that everything has to go right. I'll look at the race analysis and see the where the margins for improvement can come from."
Stephen Clegg swam close to his personal best on his way to a seventh place finish in the S12 100m Freestyle final, a very solid swim, of which he said:
"I'm pretty happy with the time. I wasn't thrilled with this morning, it was a bit too slow, so tonight I wanted to take it out harder, which I think I did, and the result was close to my personal best."
The British team will be back in action on Saturday morning for the penultimate day of the Championships, with Ellie Robinson and Brock Whiston both aiming for individual medals.
Live results and the event schedule can be found here and you can catch all the action on Channel 4 here.