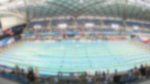 #BPSIM17 - Start sheets and live results
#BPSIM17
27 Apr 2017 — 30 Apr 2017
The British Para-Swimming International Meet is the highlight of the domestic para-swimming events calendar. The event is one of the largest open competitions for para-swimming and will attract teams from all over the world. As British Swimming enters a new Paralympic cycle, athletes will be taking to the pool again for the title of British Champion. Races will take place over four days with heat sessions taking place in the morning and finals in the evening.
The British Para-Swimming International Meet is a fantastic event to engage both the swimming community and sports enthusiast.
Training will be available in the competition pool on 25th and 26th April 2017.
Athletes, please keep your biogs page up-to-date to ensure that your entry into the Championships is complete.
Start lists and live scoreboard can be viewed here
Upcoming events
Tickets currently unavailable
Ticket information for this event is not available yet, check back soon for more information.