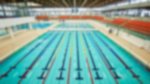 Edinburgh International Swim Meet 2018 - inc. British Swimming Championships
1 Mar 2018 — 4 Mar 2018
The British Swimming Championships is the highlight of the national events calendar. As British Swimming reaches the mid way point of the Tokyo 2020 cycle, swimmers will be taking to the pool again for the title of British Champion, as well as there being a new focus on the next group of athletes to rise to the challenge and take the top performances.
Watch British Champs LIVE
Next live stream:
1 Mar 2018
The epitome of high performance swimming, the British Championships creates a platform for outstanding results including personal bests and new records. Over 500 competitors will be travelling from all corners of the UK to swim to win this prestigious event. Races will take place over four days in conjunction with the Edinburgh International Swim Meet 2018.
Tickets are now available to purchase through The Ticket Factory here. Please note session 8, 9 and 11 are now sold out. 

Entries are now closed! Click here to view Draft Programme

Please see the Meet Information Pack under the Coaches tab for all information on the event, including Qualifying and Consideration Times.

Upcoming events
Get your tickets
Tickets on-sale now!
Buy now