Learn more about the artistic swimming nominees across the 'Athlete of the Year' and 'Coach of the Year' categories at British Swimming: The Awards 2023.
Artistic Swimming Athlete of the Year
2023 Shortlist: Kate Shortman, Isabelle Thorpe and Ranjuo Tomblin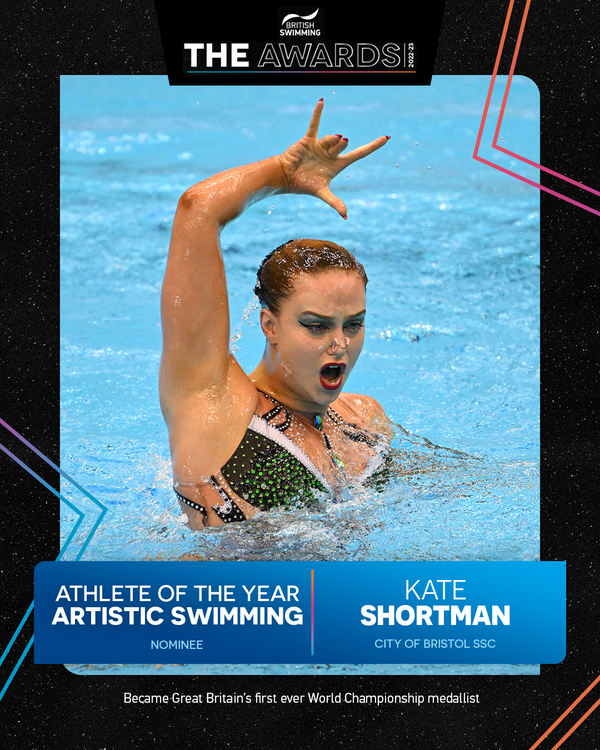 Kate Shortman
City of Bristol SSC
In a year that shone with triumph, Kate, alongside her partner Izzy Thorpe, has etched an indelible mark in the histories of Artistic Swimming. Their performances led them to clinch two prestigious bronze medals at both the World Cup and European Games, and they soared to a commendable fifth place at the World Championships in the free duet event.
Kate then produced a breath-taking Free Solo final performance at the World Championships in Fukuoka, with her bronze medal marking a moment of history as she became Britain's first-ever world medallist in artistic swimming. In achieving this, Kate has not only etched her name in the sport but has eternally cemented her status as Great Britain's pioneering World medallist in the sport.
---
Isabelle Thorpe
City of Bristol SSC
In a sport where precision meets passion, Izzy, alongside her duet partner Kate Shortman, produced a year of exceptional triumph. Together, the pair celebrated two bronze medals at the World Cup and European Games and set a British record in the sport with a creditable fifth-place finish at the World Championships in Fukuoka in the Free Duet event. 

With a heart rooted in integrity and an unyielding commitment to her sport, she approaches challenges with solutions, with an impeccable work ethic, and exemplifies tireless dedication. She's not just an inspiration; she's a benchmark of excellence for her contemporaries. Her remarkable resilience and unwavering spirit this year stand as a testament to her exemplary character, making her an unparalleled credit to the world of artistic swimming.
---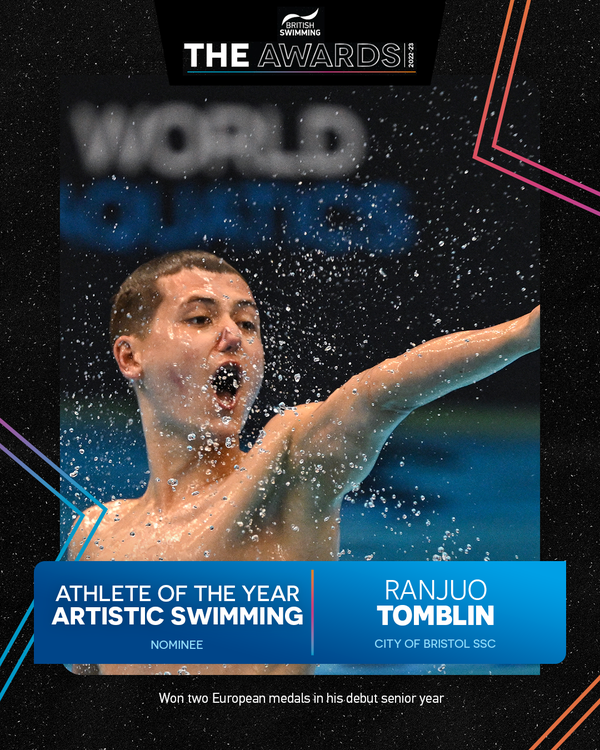 Ranjuo Tomblin
City of Bristol SSC
Ranjuo's performance across his debut year at senior level were nothing short of sensational. At the World Championships in Fukuoka, he soared to four remarkable fifth-place finishes: two as a soloist and two alongside his duet partner, Beatrice Crass. The pair also dazzled at the European Games, achieving two bronze medals in duet events. 
These results continued with a silver in duet and two solo bronze accolades at the Junior Europeans. Ranjuo's trajectory in the sport has already gained attention on a global scale. The mixed duet stands among the elite, being one of only two worldwide recipients of the World Aquatics Scholarship, priming them for another trailblazing season. With a horizon beaming with opportunity, Ranjuo's dedication, paired with the unwavering support from his family, makes him a beacon of potential. 
---
---
Artistic Swimming Coach of the Year
2023 Shortlist: Paola Basso, Karen Thorpe and Yumiko Tomomatsu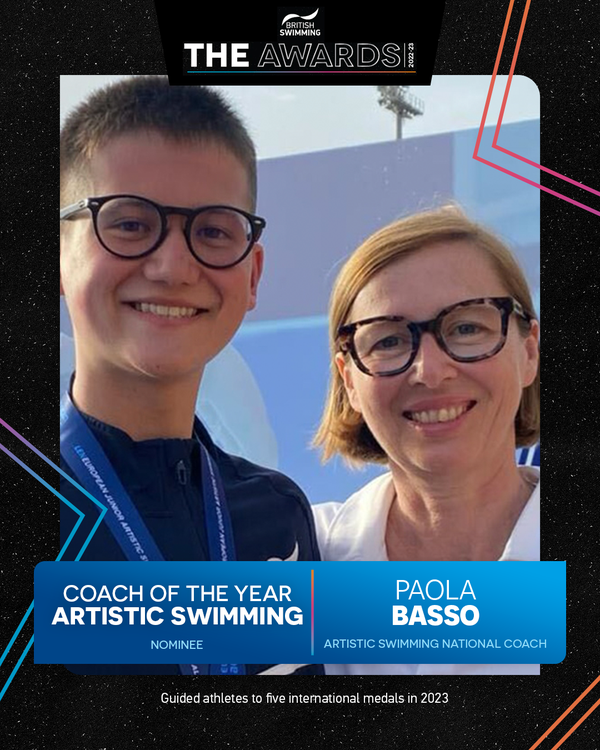 Paola Basso
Artistic Swimming National Coach
Paola Basso's exceptional commitment to the mixed duet, Ranjuo Tomblin & Beatrice Crass, along with male soloist Ranjuo is evident in her tireless hours at the poolside, meticulously working all hours of the day (and night) to fit in around school and university schedules. 
Under her expert guidance, both the male solo and mixed duet have not only represented the nation at both senior and junior level but also achieved outstanding results in all five competitions this season, achieving a haul of five medals. Paola's training has remarkably enhanced the athletes' technical prowess, self-confidence, and routine mastery.
 Her faith and dedication towards these athletes, coupled with an effective training regime, demonstrates her desire to see them thrive and attain greater success in future endeavours.
---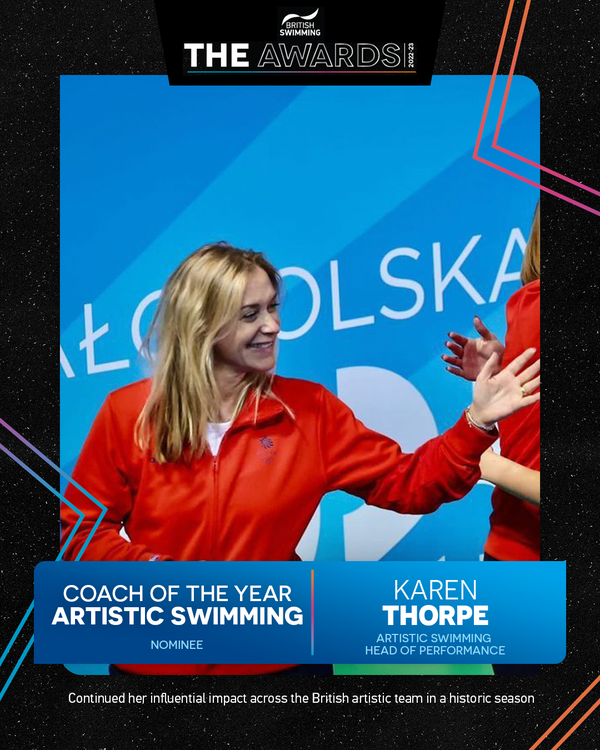 Karen Thorpe
Artistic Swimming Head of Performance
While Karen's primary role as the lead of the national programme and pathway might traditionally tether her to a desk, an enduring staff shortage saw Karen back on the poolside. Over the past two years, she has been a constant presence at the pool, primarily working with the duet, but also seamlessly coaching teams, solos, and duets across all squads. Karen's ability to quickly grasp the new rules, implemented in January this year, with careful strategic planning played a pivotal role in the triumph of the senior duet and solo, working harmoniously alongside Yumiko. Though she's never one to take undue credit, it's undeniable that without Karen, the overarching vision and elite national programmes would remain a dream. The accolades achieved this year are a tangible testament to her exceptional coaching and steadfast love for the sport.

---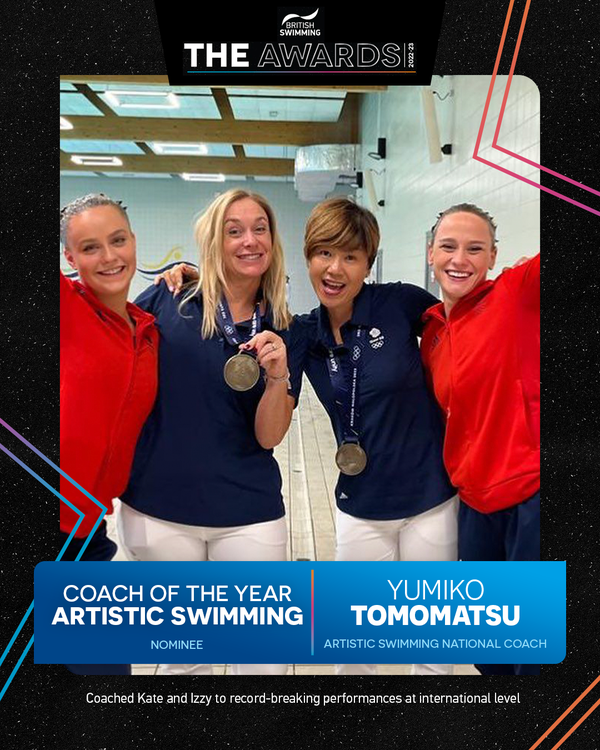 Yumiko Tomomatsu
Artistic Swimming National Coach
Since May 2022, Yumiko has been the guiding force behind the senior duet, Isabelle Thorpe & Kate Shortman, infusing them with inspiration and fostering a belief in their potential for greatness. Under her guidance, the duet clinched two bronze medals at the World Cup and European Games and an impressive fifth place at the World Championships in the highly competitive free duet event. 
Yumiko's exceptional training ethos was also evident in Kate's solo performance, which led to a remarkable medal win at the World Championships. Yumiko's passion and drive for the sport shine through every move she makes and every standard she sets. Her dedication remains unwavering, always seeking, and demands perfection. With her guidance, the athletes are well on their way to achieve their goals in 2024.
---