Learn more about the diving nominees across the 'Athlete of the Year', 'Emerging Athlete of the Year' and 'Coach of the Year' categories at British Swimming: The Awards 2023.

Diving Athlete of the Year
2023 Shortlist: Anthony Harding, Andrea Spendolini-Sirieix and Lois Toulson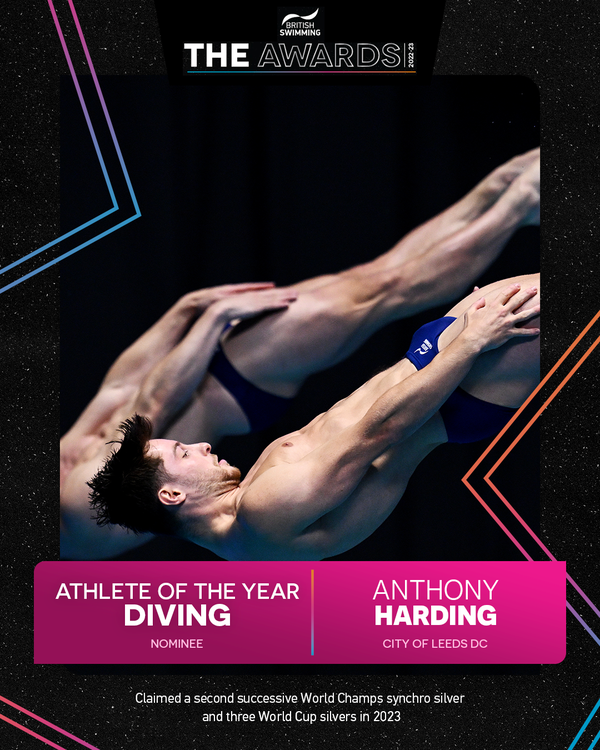 Anthony Harding
City of Leeds Diving Club

Anthony has made international podiums a second home for himself since kick-starting his springboard synchro partnership with Jack Laugher last year. This season featured a second successive World Championship silver for the City of Leeds, Adam Smallwood-coached pair after a brilliant display in the Men's 3m Synchro final in Fukuoka, following on from Worlds silver and European and Commonwealth golds in 2022. 

On top of that, Anthony and Jack also claimed silvers in the first two legs of the Diving World Cup, with Harding's class and versatility clear when he partnered up with Jordan Houlden in the World Cup Super Final – when Jack was ruled out with injury – and again took to the second step of the podium. 
---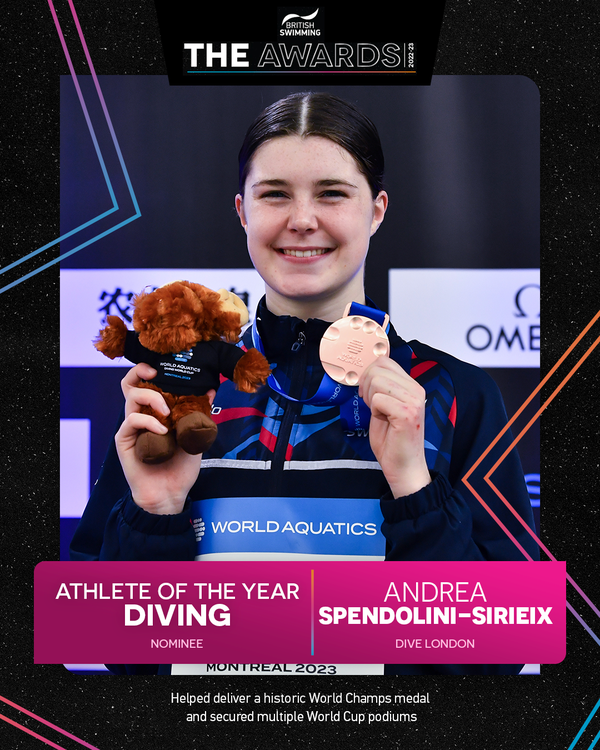 Andrea Spendolini-Sirieix
Dive London Aquatics

Winner of the 2022 Emerging Diver of the Year, Andrea's continued success on the senior stage sees her again nominated for this award after more sustained medal moments in 2023. 

Andrea's platform synchro partnership with Lois Toulson has quickly flourished on the biggest stages, and the duo delivered a moment of British Diving history when they claimed Britain's first-ever World Championship medal in a women's event by soaring to Women's 10m Synchro silver – and a Team GB Paris 2024 quota spot – in Fukuoka, showing great composure throughout. 
They also won two synchro silvers and a bronze across the three World Cup events this year, while Andrea – coached by Alex Rochas – also made it a clean sweep of World Cup podiums in the individual Women's 10m event as well across a memorable season.
---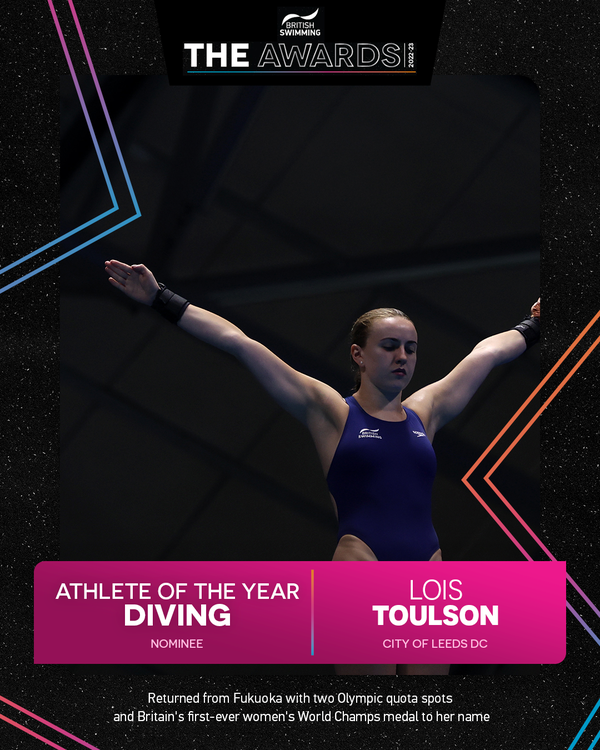 Lois Toulson
City of Leeds Diving Club

Two-time Olympian Lois continues to thrive alongside Andrea Spendolini-Sirieix in their new platform synchro pairing, with the historic World Champs silver served up in Fukuoka providing one of the highlights of the entire season in British aquatics, following on from the European title they won together in 2022. 

As well as that result – which saw them deliver their highest-scoring dive in clutch style in round five – Lois was in strong individual form at the World Championships, the Adam Smallwood-coached athlete progressing through the rounds to finish fifth in the world in the Women's 10m Platform, her highest-ever placing in that contest and a result that also secured a valuable Olympic quota spot for Team GB. 
---
---
Diving Emerging Athlete of the Year
2023 Shortlist: Jorden Fisher-Eames, Oliver Heath and Robbie Lee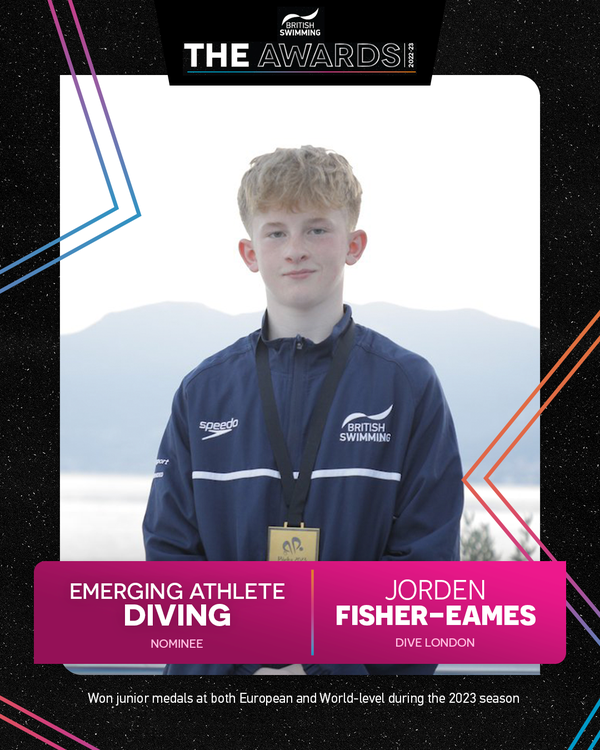 Jorden Fisher-Eames
Dive London Aquatics

Fifteen-year-old Jorden enjoyed a brilliant 2023 season on the junior international circuit, securing platform medals at both the 2022 World Junior Championships and last month's European Junior Championships.
The Dive London competitor impressed in taking Boys B World Junior silver in Montreal in December, before heading to Croatia for the recent European Junior contest and superbly defending the gold he won last year in the same event, as well as partnering Noah Penman to Boys A/B Platform Synchro silver as his exciting diving journey continues.
---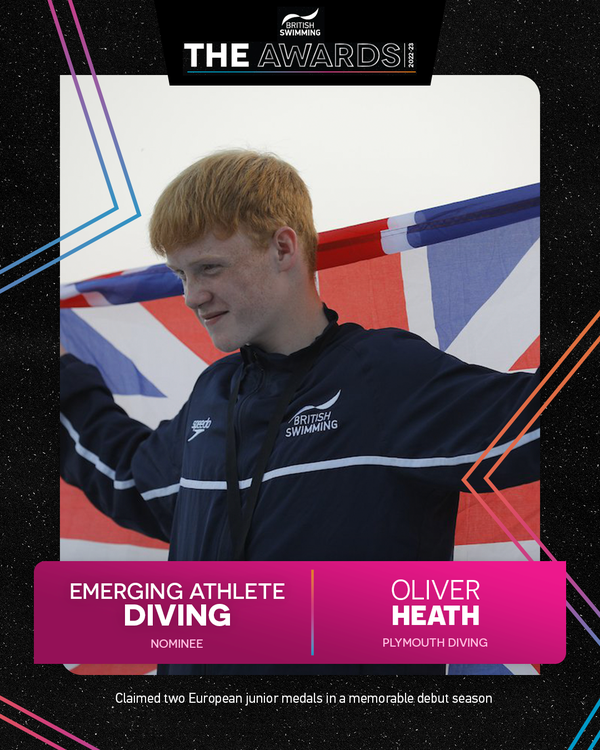 Oliver Heath
Plymouth Diving Club

Oliver made a memorable debut in junior British Diving colours as he claimed a pair of medals at the recent European Junior Championships in Croatia – including his maiden international title. 
Oliver, who trains at Plymouth Diving Club, started the British medal rush in Rijeka by diving to Boys B 1m Springboard gold – courtesy of a clutch final dive that saw him leapfrog his nearest rival into top spot. That result was followed by silver in the Boys B 3m Springboard contest, as Heath again showed his class and composure on debut. 
---
Robbie Lee
Southampton Diving Academy

Robbie was a presence on both senior and junior international podiums in 2022 and 2023 as the latest sign of his impressive progress in the diving world. 
Among the highlights was his maiden senior medal as part of the Team GB cohort at June's European Games in Poland, where Robbie secured a stunning Men's 10m Platform silver, nailing a Forward 4 ½ Somersaults Tuck for the highest-scoring dive of the entire competition on his way to the silverware.
Either side of that success, the Southampton Diving Academy athlete won two medals at the World Junior Champs and then backed it up by claiming Boys A Platform silver at the European Juniors in Croatia. 
---
---
Diving Coach of the Year
2023 Shortlist: Jane Figueiredo, Alex Rochas and Adam Smallwood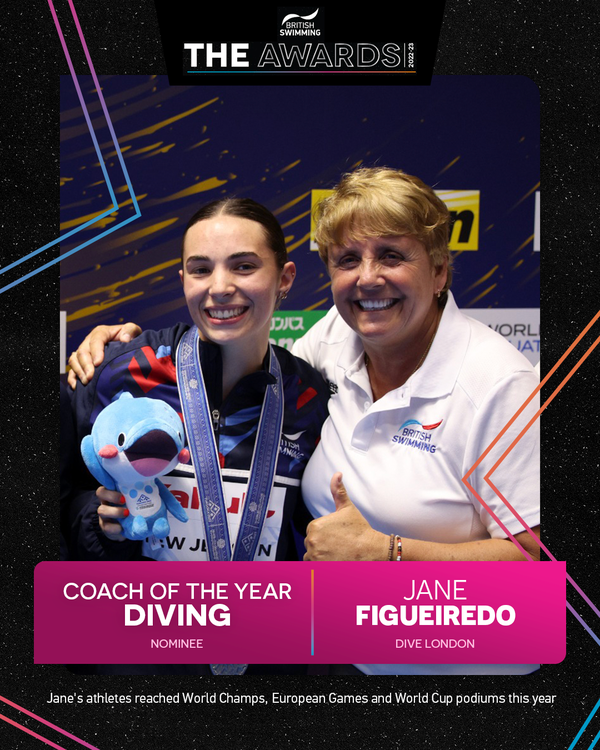 Jane Figueiredo
Dive London Aquatics
Across another busy year in 2023, Jane's cohort of athletes stepped on to podiums at World Championship, European Games and World Cup level after some impressive performances.
Two standout moments for Jane's divers came in women's springboard synchro events, with Scarlett Mew Jensen picking up an unforgettable silver alongside Yasmin Harper at the World Champs – and also securing a British quota spot in the individual event – just weeks after Desharne Bent-Ashmeil's golden triumph with Amy Rollinson at the European Games, a competition where Ben Cutmore also won a synchro medal.
Meanwhile, Matty Lee and Noah Williams won two World Cup medals in the Men's 10m Synchro in 2023, with Williams ending the season as the Super Cup bronze medallist individually.
---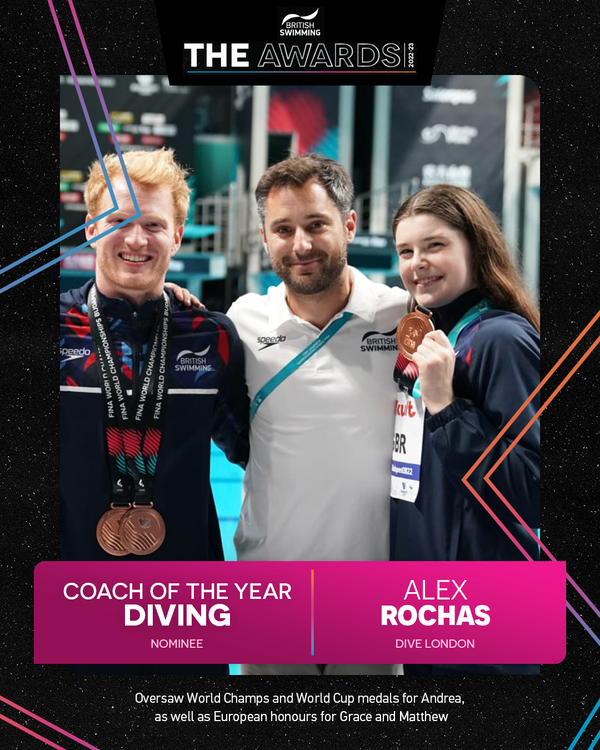 Alex Rochas
Dive London Aquatics
Alex guided his group of athletes to a staggering 21 international medals in 2022 – and things were busy once again this season for the Dive London man.
He oversaw Andrea Spendolini-Sirieix's continued progress as part of the historic Women's 10m Synchro silver-medal-winning partnership with Lois Toulson in Fukuoka, as well as her individual and synchro successes across a fantastic and consistent Diving World Cup campaign.
On top of that, there was European Games medals for Matthew Dixon (10m Synchro) and Grace Reid (1m Springboard), while Kyle Kothari played his part in a quite thrilling Men's 10m Platform finale on his World Championship debut, finishing fifth overall and pushing all the way for a medal against world-class opposition.
---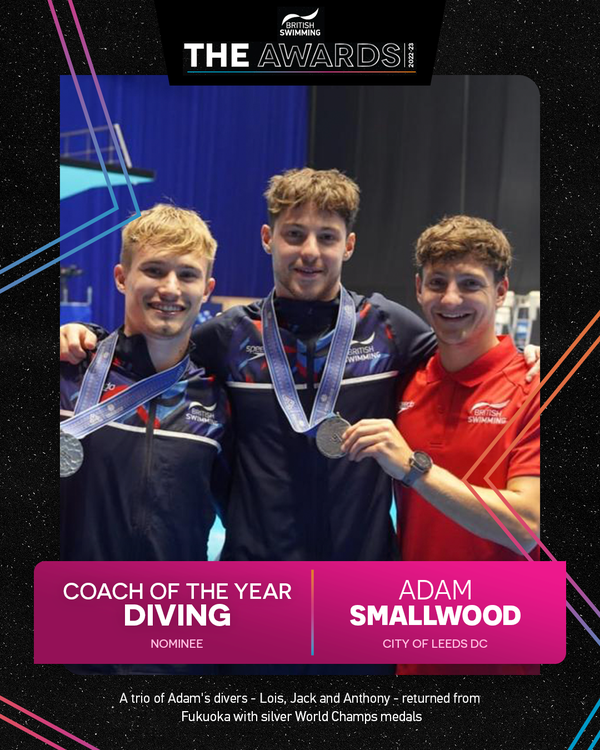 Adam Smallwood
City of Leeds Diving Club

Adam's City of Leeds divers returned from the World Championships with multiple medals and Olympic quota spots in their hand luggage, after a superb campaign in Fukuoka.
The pairing of Jack Laugher and Anthony Harding is one that Adam has guided to uninterrupted international success since they began competing together last year, as shown again with their outstanding World Champs silver and two World Cup finishes of the same result.
Likewise, Lois Toulson was also on the second step of the World Champs and World Cup podiums this year, with Dan Goodfellow's first-ever World Championships as an individual springboard diver seeing him place sixth and secure yet another Olympic quota spot.
---