Kate Shortman made British sporting history at the World Aquatics Championships in Fukuoka, as she secured the first World Championship medal for Britain in artistic swimming with a stunning bronze in the Solo Free final. 
Shortman built on an impressive prelims display that scored her 213.8417, leaving her ranked second heading into the final. 
And with a historic medal up for grabs, the Tokyo Olympian - who won a European Games bronze, alongside Izzy Thorpe, in the Tech Duet last month - delivered a nerveless solo routine in the Marine Messe Fukuoka pool, with the difficulty score upped slightly on the prelims (from 32.0000 to 32.9000), an artistic impression mark of 86.8000 and the execution absolutely outstanding with a mark of 133.1542 - and, crucially, no base marks under the new artistic swimming judging system. That left her on 219.9542 overall, more than 12 points clear of the athlete in fourth. Japan's Yukiko Inui won gold, with Vasiliki Alexandri of Austria taking silver. 
After such an eye-catching prelims performance, Kate was focused on making sure she did not get carried away with her finals performance in an event that she admits was the one she felt least prepared for on a busy personal programme coming into the World Championships. 
But while she kept her cool in the pool, there was no hiding the emotion and delight for the 21-year-old as she stepped on to a world podium for the first time. 
"I can't even put it into words, I am so excited. This is just a crazy step in the right direction for Great Britain, hopefully putting us on the map a bit more," she said.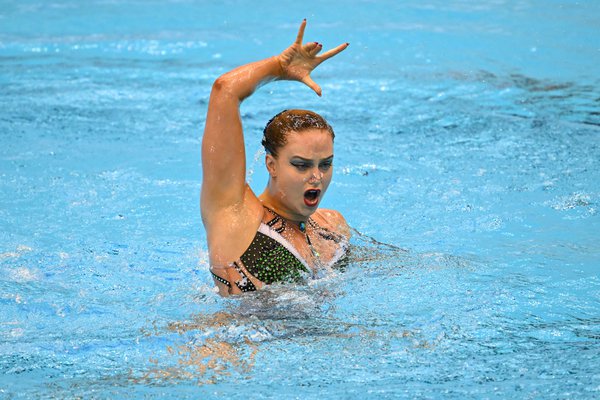 "I just swam my heart out and was really thinking about staying precise, staying controlled and not getting too excited with the prelims score - because I did well in that, I didn't want to run away with it, I just wanted to control it and I did the best I could.
"I didn't want to go too high risk, I know a few of the other soloists did and unfortunately it didn't pay off. They've been really strict at this competition with base marks - I wanted to do the best I could and that meant a no-base-mark swim."
As for making history as the first British athlete to win an artistic medal on the world stage, Kate is still processing just what it means.
"I can't, I'll start crying! It hasn't set in yet. When it sets in tonight, I don't think I'll sleep tonight, I'll just be so excited," added Shortman, who is back in competition tomorrow (Thursday 20th July) for the Duet Free final with Thorpe. 
"It's always something I've dreamed of. This is my fourth World Championships, I did my first Worlds when I was 15 and I always looked up to the medallists and was in awe of them. So to think today that I'm stood on the podium, it's just crazy."
Earlier in the session, Ranjuo Tomblin - a history-maker himself as the first male athlete to compete in artistic swimming at a World Championships for GB - placed fifth in the Men's Solo Free final, mirroring his results from the Solo Tech final and the Mixed Tech Duet, alongside partner Beatrice Crass. 
In the Solo Free finale, Ranjuo scored 166.1792, just down on his prelims score but still keeping within the world's top five on the day and pushing for the podium. 
That follows on from himself and Beatrice winning two bronze medals at the European Games last month, so it has been a busy period for the 17-year-old. 
"It's definitely been a bit crazy this year, because it's been like competition, two days off, competition, two days off. But it's a good experience for both of us, particularly because we are starting out on the senior stage, to get all the experience we are getting," he said. 
In reference to the history that was made in the Men's Solo Tech earlier in the competition, which saw a men's-only event at a World Championships for the first time, he added: "We all felt the emotions from that, and we just all want to thank the males before us, opening the doors and letting us have this opportunity. I'm really appreciative to everyone who allowed us to have this opportunity." 
For full updates on the artistic team's performances and results in Fukuoka, check out the 'Artistic Swimming news' section of our website for upcoming reports, while the 'What's On?' section has schedules and results across the full World Aquatics Championships programme. 
"WE'VE FINALLY DONE IT ON THE BIGGEST STAGE," says Kate Shortman after her historic World 🥉

"Artistic swimming in 🇬🇧 is coming up, we're coming through. We need some funding because we're going for the Olympics & WE WANT A MEDAL IN THAT TOO!"

Our @WorldAquatics interview👇 pic.twitter.com/5Wz3n6bVCo

— Nick Hope - the athlete's journalist (@NickHopeTV) July 19, 2023