Kate Shortman and Izzy Thorpe affirm motivations for an Olympic podium challenge after delivering a first European medal for 30 years by a British pairing in the Women's Duet, while a historic week continued for Beatrice Crass and Ranjuo Tomblin who added a Mixed Free bronze to their haul. 
Kate Shortman and Izzy Thorpe secured the first major international medal of their careers to date with bronze in the Artistic Swimming Duet Free final. The pair set the standard with three nations left to swim by posting an improvement of over fifteen points on their preliminaries score, receiving no base marks on their degree of difficulty of 34.500. 
"We're just literally over the moon," said Thorpe 

"For us this is everything we've been working towards achieving since we were younger and every time until now we've missed out on that medal by margins so this [bronze medal] is amazing"  

Already looking ahead to further ambitions in the sport, Shortman added: 

"Yeah we've started here, next we want that Olympic medal and we're going to fight for it and absolutely train our socks off to try and get there. We've got a taste of it today and I can tell that we're both so motivated. We have a new coach, we have the new rule changes and they suit us perfectly so we're really excited for the future."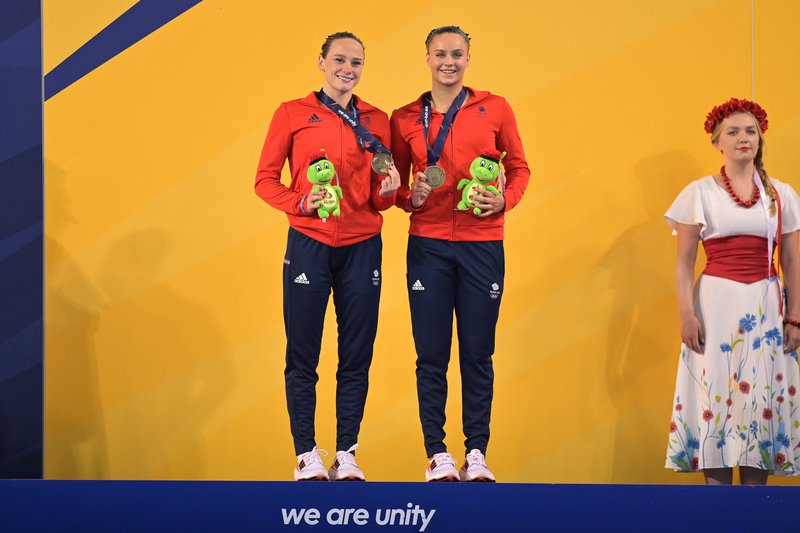 Further success followed in the Kryta Plywalnia pool in Oswiecim, as Beatrice Crass and Ranjuo Tomblin added a second bronze to their collection in the Mixed Duet Free. 
Performing last on the starting order the pair produced a clean routine to impress the judging panel to a total of 163.9688 and land themselves a spot on the podium. 
Reacting to their second medal winning routine of the Games, Crass said: 
"We're really pleased, so grateful all the training paid off and to get two routines through this competition with no base marks is just a dream that we really wanted to achieve. 

"It was definitely a very inspiring moment [to see Kate and Izzy perform before us], we went upstairs to watch them from the balcony with all our teammates and felt the energy for them." 
Tomblin echoed his partner's sentiment, praising the influence of their British teammates in aspiring them to raise the bar, commenting: 

"Watching them do such an amazing swim was really motivating as we always look up to them in training, and think to ourselves 'wow that's so cool, we want to be able to perform like them'. Definitely really inspiring to be able to train with them and for us to witness them do so well. 

"It's been honestly unbelievable this week – I don't think we came to this competition thinking we would medal." 
Team GB was further represented across the team events of Acrobatic Routine (5th) and Team Technical (8th) as the Artistic Swimming Programme came a close on Sunday morning with the Team Free final placing 5th overall.
Looking for live streaming, schedules and results? Find out how to follow the European Games here.