Beatrice Crass and Ranjuo Tomblin secured Team GB's first medal of the European Games, creating a slice of history in the process a the first British Mixed Duet to win a major senior medal in artistic swimming.
The first two days of Artistic swimming events were capped by Crass and Tomblin's Mixed Duet Tech podium performance, with Tokyo Olympians Kate Shortman and Izzy Thorpe, plus the British Free Team also diving into competitive action.
Team GB's first medal of the European Games came as Crass and Tomblin combined to earn a brilliant bronze in Poland – the duo executing a stunning mixed duet technical performance which additionally saw Tomblin become the first-ever British male to win a major medal in artistic swimming.
The pair performed to an upbeat Charleston number setting a score of 203.4916 to secure their spot on the podium.
"We've been wanting to represent Team GB, get in that kit and looking down at the rings, it is really an honour and we are really happy that we are able to do that." Said Tomblin
"We never thought this would happen and I'm just so proud to be one of the first Team GB medallists."
Crass adding: "Getting onto the podium, being able to stand there after all the training we've done, and when we're maybe going through hard days of training, it really does make it all worthwhile – especially doing it together."
Having already written his name into the history books as the first male to represent Team GB in the sport, trailblazing Tomblin hoped his medal winning performance with Crass would further ignite interest from all quarters in the sport.
"I just honestly can't believe it, still shaking a bit but I hope that by winning this medal I can encourage other boys into the sport and show it's for everyone." Said Tomblin
"It's not a sport just for females, it's a sport for anyone. Just look how many males there are, there's eight mixed duets here and it's growing and growing – the ultimate goal is to see more boys join the sport."
Day one of the Artistic Swimming programme at the Games got underway in Kryta Plywalnia, Oswiecim, with Tokyo 2020 Olympians Kate Shortman and Isabelle Thorpe producing an eye-catching performance to progress in fifth place from the Women's Duet Free Preliminaries. Securing a spot inside the top six container confirms gives the duo will receive a preferred position in the swim order for Saturday's final.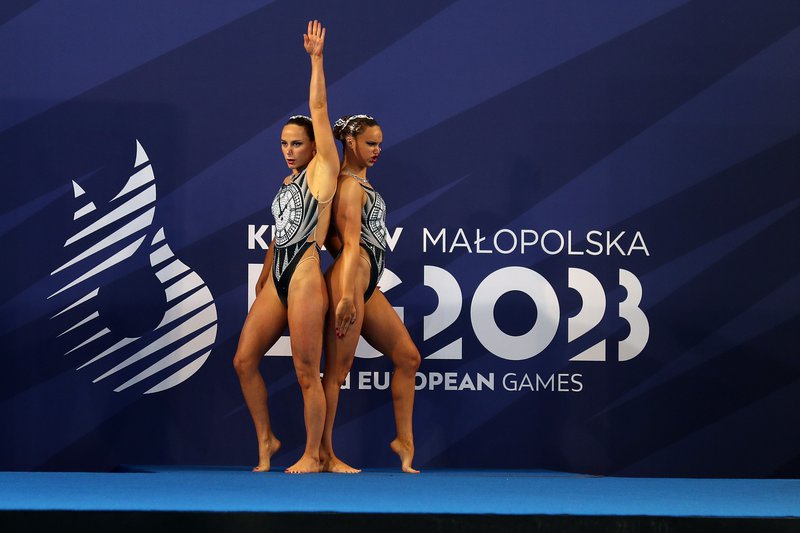 Reacting to their opening swim, Shortman said:
"It's an amazing feeling to get going - it's the first event for Team GB here at the Games and we're just really excited to represent our country, be the first ones out there and smash it with the artistic swimming."
Thorpe adding:
"We've been training really hard and I think with the new rules [set by World Aquatics] they really suit us, so we've come up with some new elements for our routine I think are really cool."
Back in the competition pool for a second consecutive day, Shortman and Thorpe contested the Women's Duet Tech final with a routine inspired by the London landmark, Big Ben. The pair employed a 'high risk, high reward' strategy with a number of the elements contained and after a shaky start on a difficult land pose recovered to produce a high quality swim for fifth overall – less than three points off the medals.

"I feel like the rest of it was a good swim and we brought it back together which is a good experience for both of us. We didn't quite get the score or the result we wanted to but we've still got the Free Duet final on Saturday to get ourselves back out there again." said Thorpe
"We did go for high risk and we're happy we didn't get a base mark today which was really good for us as that was a main focus of the swim."
Team Free preliminaries took place during the Wednesday afternoon session, with the British octet of Eleanor Blinkhorn, Isobel Blinkhorn, Millicent Costello, Beatrice Crass, Isobel Davies, Aimee Lawrence, Daniella Lloyd and Robyn Swatman delivering a chess themed routine, creatively showcasing artistic elements linked to the square chequerboard and chess pieces.
Team GB has not been represented in any such Artistic Swimming Team event since the 2015 European Games in Baku and so this was a proud moment for team captain, Davies, to get their busy programme for the next week underway with seventh in the preliminaries.
"We're all really proud and really honoured to be representing Team GB, for a lot of us this is our first competition this season and so we're happy it can be at such a big event and we're looking forward to competing for the rest of the week." Said Davies
"We've been training part-time while we study up until about April and then since then we've been training full-time, so that's six days a week, usually training from eight until five - it's pretty intense, with each other all the time just to trying to make sure that we're getting that synchronisation right."
Looking for live streaming, schedules and results? Find out how to follow the European Games here.