In the first of our Diary from the Deck series with world-class coaches from across our aquatic disciplines, Adam Smallwood - Performance Coach at the British Diving Performance Centre, Leeds - sheds some light on how the lessons he and his athletes learned in 2022 will play their part on their 2023 season journey...
The group at our training base in Leeds are definitely looking forward to the season ahead. Things are even more vital this year with the World Championships, when we can qualify those Olympic spots for Paris.
Looking back, 2022 was a successful year, but it came with its challenges too. It was a season like no other in the way the competitions fell and therefore how the preparation was done. From our perspective, it was very hard to prepare for three back-to-back competitions, and the order made it even more difficult, with the major (the World Aquatics Championships in Budapest in June and early July) being the first one.
There were some really good things in there. Obviously being the first year for the new synchro pairing of Anthony (Harding) and Jack (Laugher), that couldn't have really got off any better than it did at Worlds with the silver - plus two more individual medals for Jack - and then there were good learning opportunities from the two competitions that followed, because they weren't at their best, so it was good for them to experience how to grind out a competition and get through when you're not diving at your best or feeling at your best.
In terms of the preparations, we did everything we wanted to do, and that's a good template to go off for this year, going into another World Champs.
For Lois (Toulson), it was a really good year. It's a bit of a turning point in her career at the moment and she showed glimpses of what she's done in the past and what she's capable of doing. More importantly for her, she's happy in her diving and enjoying herself again, so hopefully she can push on this season and add to that.
There was also the individual breakthrough for Dan (Goodfellow) on the 3m springboard at Commonwealths, he was brilliant. He made sure he made the most of his chance when he got there, and for him now, it's about consistency, he's got to build on that. First things first is national Championships later in the year and qualifying for the events at Worlds, and then kick on from there. He's in a good position to do that.
There are certainly learnings for me to take forward into this year. I've coached Jack and Anthony for quite a long time now, so it's not necessarily learning about them as individuals, but more how best to utilise them as a team.
One thing I've definitely learned collectively across our group of divers is that everyone needs an individual, tailored approach in terms of how you work with them - and not just in terms of the programmes they do.
With Lois, it was my first full year with her in 2022 so I'm still getting to know her. It was nice for me to coach platform again, as I've just done springboard the last five or six years, and also working with female athletes, with her and Kat Torrance off 3m.
That's my first real experience of working with female athletes at the elite, top end, and that has made me adapt my style, just step outside the box a bit and become a bit more adaptable.
Staying still and doing the same thing over and over again isn't always the healthiest thing. It's a new challenge for me, I've really enjoyed seeing how we can work best together, and I think especially towards the back end of 2022 and into this year, we're getting to that point and have really kicked on.
Coaching both springboard and platform in the same session is busy, but I prefer it that way! I don't know what I'd do if I just had one person in the pool - and also, it's better for the athletes, because otherwise, I know personally I would sit there and overthink things, and then that could feed across to them.
Whereas if I'm constantly on the move, it keeps my mind a bit more active and it also allows them to switch off as well and have conversations with each other in between dives. The difficult thing for Lois is probably the fact that she's normally the only one ever up on the platforms while the rest of the divers are at the other end of the pool on the springboards - but she's got a new synchro partnership with Andrea Spendolini-Sirieix, so Andrea will be coming up here every so often and Lois will be heading down to London, so that's good for her to have somebody to train alongside.
But even though she trains on her own up there the bulk of the time, she deals with it like a trooper, gets her head down and gets on with it, so I couldn't ask any more from her.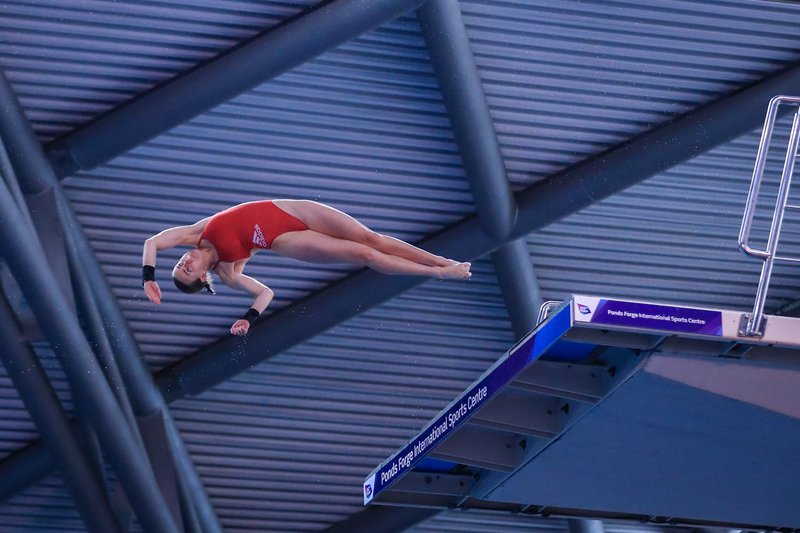 We had a really long off season after that packed summer last year, and that was quite good, as it's allowed everyone to gradually rebuild, rather than having to panic and get ready for the first event of the year.
There isn't as much pressure on this National Diving Cup, I don't feel, so it seems a little bit more relaxed than it normally would. It's always a good competition opportunity, and it's a first step for the season.
I think everyone has their eyes on summer nationals - the British Diving Championships - that is where everyone heads are at. So even though we have this to tackle in Edinburgh next week, it's the first step towards it. It's eyes on this first up, and then after the National Diving Cup, I think we'll start to see more of difference as the season goes on.
Tickets are still available for next week's British National Diving Cup at the Royal Commonwealth Pool in Edinburgh (2nd-5th February). You can get yours here.