Great Britain's divers were in phenomenal form on day two of the FINA Diving World Cup in Tokyo, securing a further gold and silver on Sunday night.
After Tom Daley and Matty Lee took gold in the Men's 10m Synchro on the opening day, Olympic medallists Jack Laugher and Dan Goodfellow matched their compatriots' achievements, the City of Leeds pair climbing on to the top step of the podium thanks to a 440.94 personal best points haul.
After a pair of very solid required dives in the opening two rounds, the Adam Smallwood and Marc Holdsworth coached duo turned up the ante, changing through the gears after taking the lead in round three, and never looking back.
Whilst their Reverse 3 ½ Somersaults Tuck (307C) in round four was memorable, they saved their best points score until last, a delightful 90.09-marked Forward 2½ Somersaults 3 Twists Pike (5156B) ensuring they'd take home the title, in what was a perfect dress rehearsal ahead of Tokyo 2020.
On their efforts, Laugher said:
"It was really good today – we were pretty consistent overall over the two competitions. We made a couple of mistakes this morning, but this afternoon, we're really happy with our performance.
"Being able to dive in the Olympic pool for Tokyo 2020, it meant a lot to us to go out there and do a good performance – in fact today was a PB! There was a load of nerves – we haven't competed together for over a year, so for us it was kind of scary, but like I said I'm really happy we went out there today, got a PB with a great performance and with our new dive list as well.
"Our final dive, the 5156 is new, in the sense that it's a different order in our list, and that's hopefully the list we'll be using in Tokyo. We're just really happy with the performance and can't believe we got the gold medal."
Perhaps more important, though, was the performance of Eden Cheng and Lois Toulson in the Women's 10m Platform, as their efforts were rewarded with a welcome silver lining – their silver medals securing Great Britain a spot in the event at the rearranged Tokyo Olympics in less than three months' time.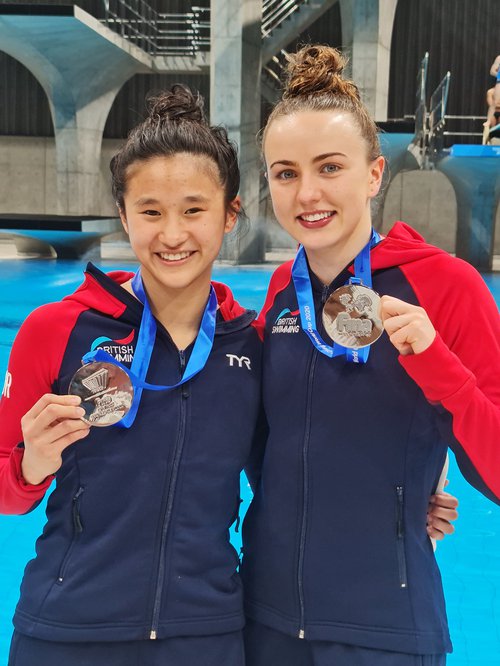 Seventh after their opening two dives, but never out of contention, Cheng (Crystal Palace) and Toulson (Leeds) delivered an exquisite Front 3 ½ Somersaults Pike(107B) in round three, the 72.00 score elevating them to third on the leader board, just 1.80 shy of the lead.
At this point it was clearly all to play for, but the young pairing drew on all of their experience to stay composed and secure a World Cup podium and Olympic spot. Going into the lead on round four, they produced another strong dive with their fifth and final effort to nail qualification for the Games, a silver medal just rewards for their efforts, as they finished just 3.06 points shy of the Canadians.
Monday will see the action continue in the Japanese capital, with day three serving up both the prelims and semi-finals in the Women's 3m Springboard and the Men's 10m Platform.