Jack Laugher won his third consecutive Commonwealth Men's 1m Springboard title and Andrea Spendolini-Sirieix enjoyed a stunning Games debut with Women's 10m Platform victory on an unforgettable opening night of diving at the Sandwell Aquatics Centre.
With Lois Toulson joining Spendolini-Sirieix on the podium after claiming silver, and Jordan Houlden winning bronze to accompany Laugher on to the rostrum, British divers representing Team England claimed four of the six medals on offer.
There was representation from both Team England and Team Scotland in the first final of the competition. England had the World Championship silver medallist in the event, Laugher, and City of Sheffield man Houlden, the pair having qualified fourth and third for the final respectively. Scotland, meanwhile, had three athletes in action, as second seed James Heatly was joined by Ross Beattie and Danny Mabbott in the showpiece.
It was Houlden who took the initiative after the first round of dives, his Inward 2 ½ Somersaults Pike giving him his highest score of 81.60 as he started with his hardest dive first, with Laugher just behind him in third and Heatly fourth.
The top positions were maintained after the second round, before the third round saw Heatly slip to sixth, with Mabbott and Beattie ninth and 10th respectively at the halfway point.
There was a changing of the guard at the top in the fourth round, with Laugher – looking to defend the 1m crown he first won at Glasgow 2014 and retained on the Gold Coast four years later - taking first place following a big Inward 2 ½ Somersaults Pike dive which gave him a score of 79.90. Houlden did enough to hold on to second, with Heatly upping his position by one to sit fifth.
Laugher's experience on the big stage saw him maintain his lead after round five, with Houlden's list keeping him in the top three. Meanwhile, Heatly – who trains at Edinburgh Diving Club – then put in his best scoring dive of the competition as his Inward 2 ½ Somersaults Pike scored him 74.80 to bump him up a further place to fourth after the penultimate round of dives. 
And so to the final round, where Jack sealed his golden victory, rounding off the event with his highest-scoring dive, a Forward 3 ½ Somersaults Pike, which scored him a massive 80.85 to give him a total score of 447.05 and an unassailable lead, to the delight of a packed home crowd.
On the verge of his maiden international medal, Houlden showed brilliant composure to seal the bronze medal with a score of 429.30 after his closing dive. Heatly finished fourth, his highest scoring dive of Inward 2 ½ Somersaults Pike coming in the fifth round, scoring him 74.80 points and 401.00 overall.
Mabbott came in ninth position as he scored 318.45, with Beattie scoring 300.60 to place 10th.
Speaking on his performance and delivering his sixth Commonwealth title, Laugher said: "There was loads of pressure coming into here, trying to defend that title that I've had for eight years now. It was a great performance, very steady, a few mistakes here and there but I'm really, really happy with everything and to do it in front of a home crowd makes it a little sweeter.
"This morning I got it wrong, I was trying to indulge with the crowd a bit too much. I'm quite introverted with the way I compete and that way I am usually so this afternoon I tried to listen to the familiarities of my own team and try not to get too involved with the crowd, until that sixth dive went in.
"I knew that Jordan's first two dives were amazing but they are high difficulty dives when executed well, which he did, put a lot of points on the board. Whereas I do my list in a different order; I do the easy ones first and then ramp up the difficulty as it goes along. I knew that I still had it fairly under control, I knew that I could still attain a good score, it was just about doing a dive at a time and not getting too ahead of myself and not reminiscing on misses.
"It's probably the highest scoring podium we've ever had at the Commonwealth Games. Some great performances by everybody and I'm really happy to share the podium with Jordan."
Jordan added: "I'm speechless, really, because I wasn't expecting to get a bronze medal. It was definitely a bit overwhelming in the prelim but I was able to work on that and graft."
"To start off, I didn't really have any nerves, I felt really ready for it. I went out thinking, 'what have I got to lose?' I'd got into a final, that's what I came here to do. I went in there to give my all and have fun. That's what I did."
There was also heavy home interest in the Women's 10m Platform final, with Team England's Eden Cheng, Lois Toulson and Andrea Spendolini-Sirieix lining up alongside Team Scotland's Gemma McArthur and Team Wales' Lucy Hawkins. It turned out to be a hugely successful showpiece.
There were multiple changes of position throughout the first couple of dives, with Toulson claiming top spot after the first round, before Spendolini-Sirieix took the honour following round two with a breath-taking Inward 3 ½ Somersaults Tuck (78.40) to send her to the top of the standings.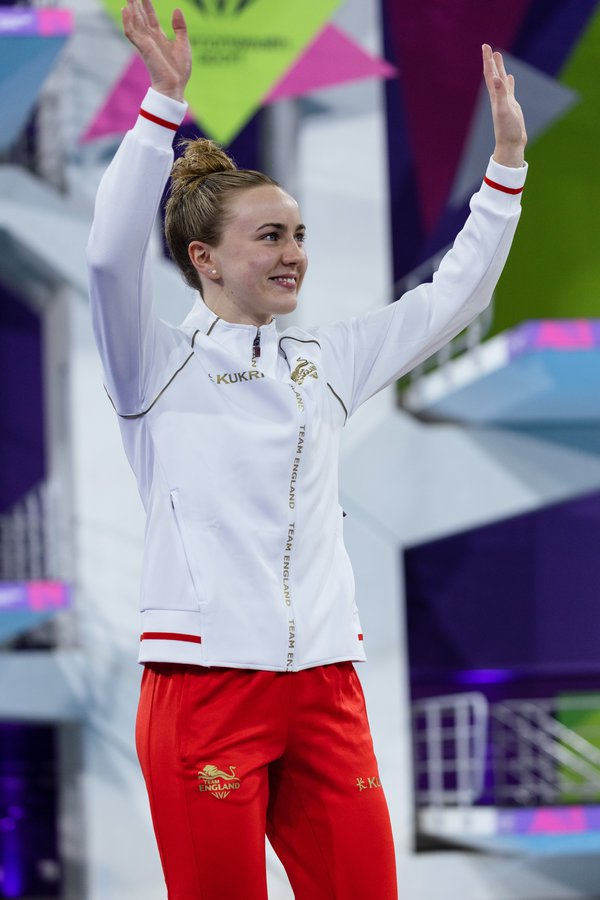 The halfway point saw all three Team England athletes in the top five, Spendolini-Sirieix holding first place – just as she had after a dominant prelims performance – with second seed Toulson in third and Cheng fifth. Scotland's Gemma McArthur was ninth after a consistent first three dives, with Team Wales' Lucy Hawkins in 12th.
The penultimate round provided a move up to the silver-medal slot for City of Leeds athlete Toulson, in behind Spendolini-Sirieix, setting up a final-dive shootout for all three medals.
It was in that final round where the big dives came out. Up first of the final two, Lois produced a stunning Back 2 ½ Somersaults 1 ½ Twists Pike to score her 81.60 points, her execution and entry heaping the pressure on leader Andrea. At 17 years of age, Spendolini-Sirieix was not bowed, showing impressive composure to deliver the same dive with an even higher tally of 86.40 to secure herself her first ever major international medal on 357.50, with Toulson taking silver on 337.30.
Cheng just missed out on the medals in fourth place after a brilliant finish to her competition, with McArthur ninth and Hawkins closing out her maiden Commonwealth appearance in 12th.
"I don't have many words in English but I'm very happy. It's amazing, especially for it to be on home soil, a home Games. It's the first time I've actually had a crowd because I didn't have one at Tokyo and the other internationals I've done, I didn't have a big crowd," she said.
"But it's been incredible, I've had so much fun. I wasn't really scared, I was so peaceful so I'm just really happy with how it went.
"I was peaceful throughout but on the last dive I had quite shaky calves. Overall though, I've had so much fun, I've never had that much fun in a competition."
Toulson added: "I'm really happy with my dives and my performance and it's really nice to be back on that podium. 
"I don't follow the standings as I'm going through so I didn't know where I was but my dives were going alright so I knew I was maybe in with a chance of a medal. I put that dive last because it's usually my safest one so I'm glad that it paid off."
"It's been really good, in the prelim for the first few dives, I was really nervous and hearing such a loud crowd is quite daunting but I think towards the end of that and in the final, I managed to use it and feel the support of everyone which was amazing."
Click here for full results and schedules. 
For full information on how to follow every big moment from the diving in Birmingham, visit our Birmingham 2022 guide here.