Gareth Ziyambi's role as British Diving Senior Physiotherapist has seen him play a vital role in supporting athletes to be in the best physical shape for their moments on the sport's biggest stages over the past decade and beyond. 
Taking a look back on his journey in sport and physiotherapy from the very beginning, Gareth offers a fascinating perspective on his work with the British Diving team, right up to a record-equalling performance at Tokyo 2020, as well as why and how diversity and inclusion should be celebrated in sport.
Growing up in Zimbabwe as a talented athlete himself – both in track and field and as an international age-group hockey player – Gareth admits physiotherapy had not been at the forefront of his medical career plans, prior to an administrative error that would prove to have a telling impact on his future career.  
"To be honest, when I started studying I was either going to do medicine, pharmacy or something like that. I trained in Zimbabwe, and back then we only had the one medical school at the time - applications were paper-based in those days and I remember they lost my application," he said. 
"So I had to submit another one, they said it was very tight and they recommended physio, occupational therapy, or a BSc general. I was like, 'what on earth is this?' – but once I started finding more out about physio, I thought, 'actually, this might be pretty good!' I was already in sport, and even though we didn't really have physios for the age-group national hockey teams then, I heard about it at that stage.
"I had the option to switch to medicine after a year on the physio programme but I turned that down, and I never gave it another thought afterwards as physiotherapy really fitted in with what I wanted to do – developing relationships with people, doing something which had an art to it but with a science base to it as well. I stopped playing hockey to really get into the physio side of things, and I did my research project on hockey injuries at the time so it was a nice bridge into sport."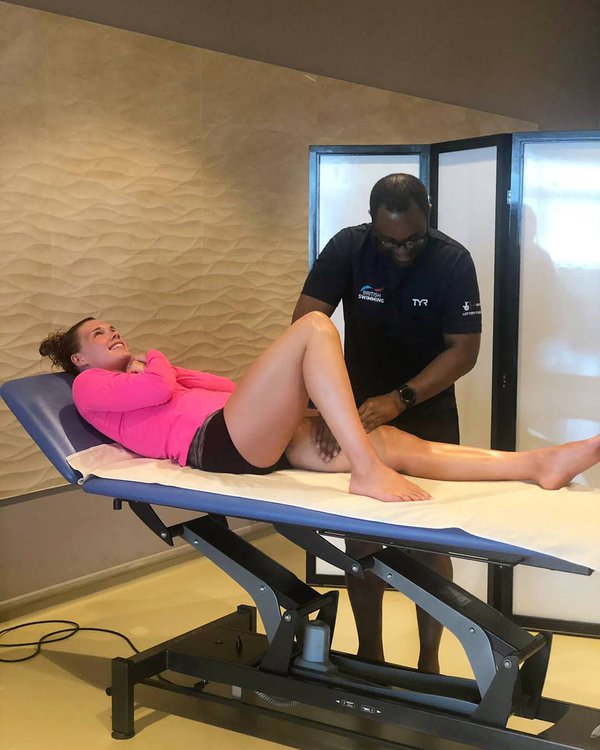 After completing his qualification, Gareth spent several years travelling with hockey teams and then attended his first Olympic Games with the Zimbabwean Olympic Committee, working with their tennis, gymnastics, athletics and swimming teams. After Athens 2004, he moved to the UK to work as a community-based physiotherapist for a couple of years. That was a role he enjoyed – but the interest of returning to sports physio always remained.
"I'd started doing a little bit of locum private practice work, and then there was an advert for a multi-sport role with the EIS (English Institute of Sport) in Sheffield, so I thought I'd at least go for it and try to get interview practice. I wasn't necessarily expecting that I would even get in for that, but in the end I got the job!
"Funnily enough, the first person I saw in that role was a diver, Jodie McGroarty, who also happened to come from Zimbabwe, as her family lived there a while, so that was a funny coincidence. You treated any athlete that came in through the doors, so long as they were on a [performance] programme, but as the main centre of the diving programme was based in Sheffield in 2006, there were a lot of divers there."
The 2006 European Championships in Budapest was Gareth's first competition involved with the British Diving team. Over the following years, as sports began to formalise specialist sports medicine and sport science resources, a few options from across different Olympic disciplines presented themselves. But by now, his fascination for diving had grown and he began working more closely with British Diving's performance setup, improving the monitoring of training and injury reporting.
Then, after a brief stint in private practice in 2010, Gareth was persuaded by British Diving Performance Director Alexei Evangulov to return to pooldeck, initially in a consultation role for diving.
"The FINA Diving World Series was in Sheffield and Alexei said, 'we need you to come back' and I said 'no problem'. Up until London 2012, I was basically more like the travelling physio going to all the competitions, and then after the Olympics I took over as head physio again.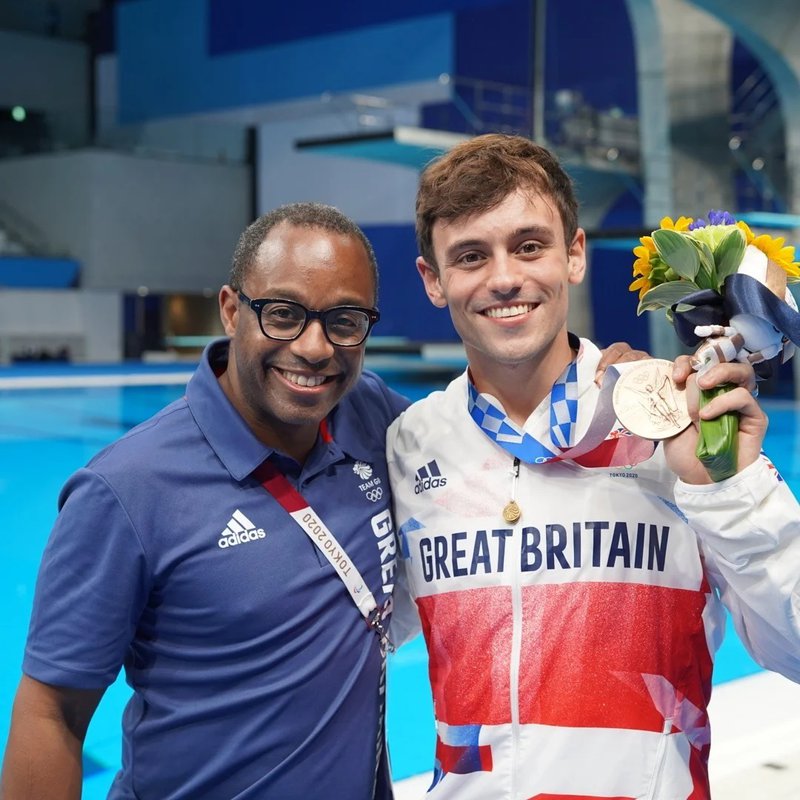 "From 2017 onwards, I've just been looking after the London-based divers and travelling to the main 'Team A' competitions – everything with the top 12 in the world for individuals and top 6 for synchronised. I attended the very first World Series event in 2007, and I think out of all of them, of which there have been 70 odd, I've only missed about four or five, so I've done quite a lot of travelling!
"Alexei brought training camps into it, too. They have been instrumental as part of the preparations in getting everybody together, training specifically, but for me as a physio, it's also fantastic because being there all day, every day, you can really work on a lot of issues, whether they're performance ones or injuries, and we can do a lot of testing and monitoring as well."
Unforgettable moments and shared accomplishments are something Gareth has enjoyed many of with the diving athletes, coaches and wider sport science team throughout his time in the sport, including medal hauls of three apiece at the last two Olympic Games, as Britain's divers have excelled on the biggest stages. 
"It's always a great satisfaction if we can get to a competition and everybody's in one piece. It doesn't seem like a big thing, but you know the amount of training that they're doing nowadays, the number of dives has increased exponentially compared to what they used to do, the difficulty of the dives has increased and so has our knowledge of the sport. So really, just trying to keep them training is the biggest challenge and I shifted my focus a lot from just trying to be good in competitions, to trying to get them to train without breaking down.
"What's been very rewarding is the people that I've worked with in the sports over the years, the physios, the strength coaches, nutritionists - I've learned so much from all of those and just being around the diving coaches and specialists like Jane [Figueiredo], Adam [Sotheran] or Lin [Chen], appreciating their different backgrounds and how they view diving in a very different way – it's just been amazing to get that insight."
That inquisitive nature spans out into another of Gareth's poolside hobbies. His pictures often crop up on athletes Instagram pages and even in Tom Daley's recent book, with a regular sight at international competitions being the physio capturing each dive on camera from deck.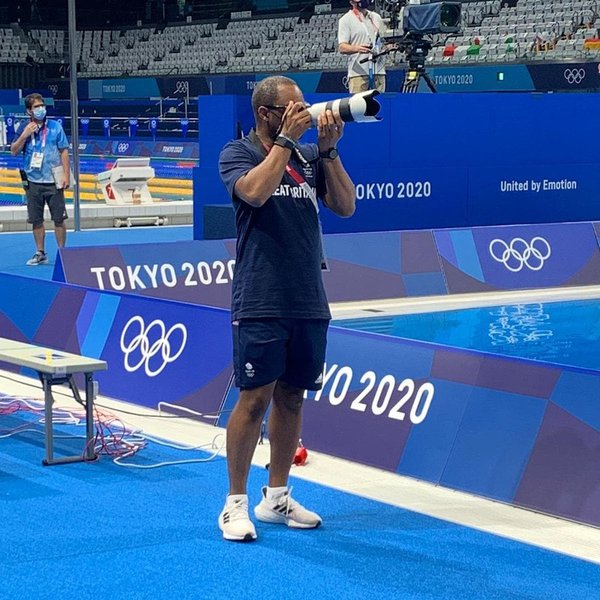 "When I first started in diving, one of the first things I did was get hold of a lot of footage to study it. That was from the World Championships in 2005, I'd study it and then speak with coaches to look at the footage together, so they could explain things to me and help analyse it.

"This was because I needed to get like a schema in my head. What is this sport? What does it do? What are the key challenges - and how I could help, both from a performance and injury prevention perspective? It meant spending a lot of time on that aspect. So initially, when I did go to competitions, I was taking the pictures because I couldn't see what the coaches were seeing in that split-second moment.
"It started off a little bit like that, but after a time I realized diving is one of those really amazing sports to photograph, so I'd be trying to get the perfect picture as they're just going through the water. It also became a way for me to pass the time when I'm at poolside, while still watching and engaging with what's going on from behind the lens of the camera."
Speaking at the end of Black History Month in October, Gareth eloquently addresses the value of diversity in sport and society by reflecting on observations from his career, what the month-long event means to him and how he hopes its purpose can evolve in the future. 
"I think, almost certainly, I've come up against challenges, when you look at the number of sports science and medicine professionals from ethnic minorities, you're not going to see very many. There certainly is some disparity in terms of the opportunities that are available, for whatever the reasons are," he said. 
"Obviously I got my role with the EIS, and I always put that down to the head physio at the time, an Australian guy named Mike Plush. I really owe him a lot in terms of giving me that opportunity because ultimately that's what we want.
"Diving has been at the forefront of that too in some of their appointments over the years, and I've always had great support from Alexei, Kim White [Performance Manager] and British Diving. The road hasn't always been easy, but you know in the end that's never stopped me from saying 'these are the goals that I have, and these are the things I would like for future generations', that what they're afforded is the opportunity - after that they must prove themselves, that's clear, but it is about just getting the opportunities.
"It can only improve organizations if you are diverse. In the end, the reason we come together in elite sport is a very simple one – you want to win medals and you want to continue to learn. In management and in leadership, there is always talk about having different opinions, because if everyone has the same opinion and the exact same way of seeing things, then you're going to come a cropper at some stage, and so that diversity just adds to the richness.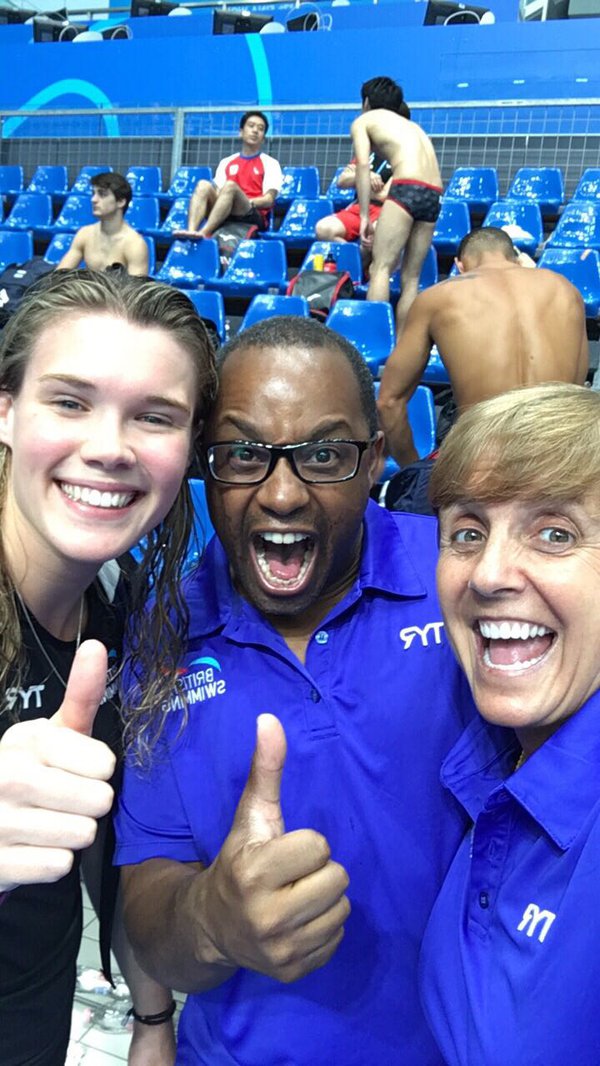 "But if I'm honest, I'm looking forward to a time when we don't need Black History Month for the reasons we do. Right now, we need it because it's about education, and it's about learning to equate Black people with excellence. I'm hoping that we'll get to a time where we can use it in culture to celebrate and remember, but in terms of its purpose in educating people and helping people to equate in their minds what Black people are doing and achieving with excellence, I hope that part disappears because that should be something that's already able to be equated with anyone.
"So yes, that space is needed for now, and it's an encouragement for me in a lot of ways, particularly when I've gone through difficult times, that there are people who have been there and they've been through it and they've done it. It's an excellent initiative, and once that education takes place, which it is, what we'll be doing is celebrating all forms of excellence and achievement."
To read more on the world of physiotherapy in elite aquatics, check out an in-depth Hot Topic from British Para-Swimming Physiotherapy and Athlete Lead Ritchie Barber HERE