Dan Goodfellow may be taking a more individual approach to his diving for 2022 - but the Olympic medallist is looking forward to a reunion of the diving family in Plymouth this week. 
Across his career in the sport to date, Goodfellow has picked up medals in synchronised events at Olympic, World Championship, European, Commonwealth and World Cup level - including a superb FINA Diving World Cup gold alongside Jack Laugher in the Men's 3m Synchro last year. 
But following the Tokyo 2020 Games, where Dan and Jack finished seventh in the final, the City of Leeds man made the decision to step away from his synchro work to focus on his individual efforts. 
Goodfellow has been pleased with the transition thus far, with his training work under coach Adam Smallwood going well ahead of the British National Diving Cup, which gets underway at the Plymouth Life Centre on Friday (11th February). 
And after years of synchro competition from both the 10m platform and 3m springboard, the 25-year-old believes this new solo approach is the best way for him to kick on in the next years of his career. 
"I started focusing on my individual after the doing the Men's 3m Synchro at Tokyo. For me, it was just about trying to be the best diver I can be individually, and I think concentrating on my individual was the best way to do that," he explains.
"I've been a synchro diver for so long now - I've done 10m synchro and I've done 3m synchro, so I felt like those chapters had closed, and I think it's time for me to really concentrate on my individual and be the best diver I can be. 
"I'm feeling really good at the minute. My preparation has been pretty decent going into this Nationals. My elbow is feeling a lot better - I had an operation on that after Tokyo, which all went fine. It's taken a little longer than I thought to get back into it, and I just had to stay off my hands for a little while.
"In terms of training volume, it's been really good, I feel my dives are looking really decent. This is obviously the first competition since the Olympics, so it'll be about brushing the cobwebs off and trying to put a good performance together." 
The British National Diving Cup in Plymouth is the first senior domestic competition in the UK in two years, following on from October's Elite Junior Diving Championships In Memory of David Jenkins - a meet that truly encapsulated the importance and camaraderie of the entire diving community. 
Ahead of this week's event, Goodfellow is excited for those athletes who have seen competition opportunities so limited being able to do what they love again in an arena environment, at the Plymouth centre where he used to train. 
"I'm really excited to get back into competition again. For a lot of clubs and a lot of divers, they haven't done a domestic competition for a long time - so it'll be really nice to see everyone again and to see where everyone who hasn't had a chance to dive in the last couple of years is at now," he says.
"I think it's going to be good for the diving community and the whole diving family." 
As for Dan himself, the immediate focus is on Saturday's Men's 3m Springboard competition, where Laugher - now a double Olympic medallist in that event - World Cup and European medallist James Heatly and Jamaica's double Olympian Yona Knight-Wisdom are all set to compete.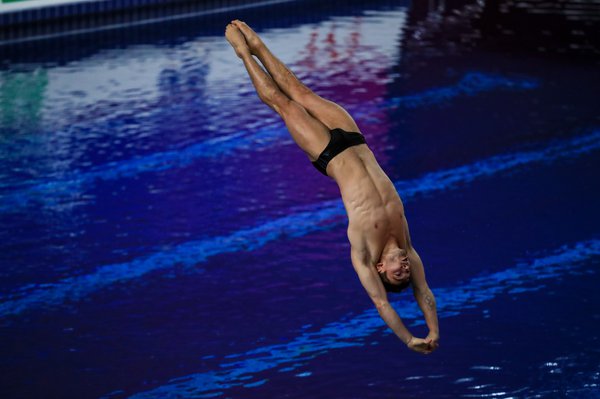 From there, Goodfellow hopes to lay a positive platform for the busy aquatics calendar ahead in 2022.
"In terms of what I'm hoping for this year, things are still a little cloudy in terms of competition schedules - I'm sure it won't be the last time that competitions are rescheduled or cancelled," he adds.
"It's just about getting my head down, getting a good performance in at National Cup, carry on training throughout the season and then hopefully, towards the end of the year when we come to the major competitions, I get selected and can start putting in some really solid performances on my individual."
The British National Diving Cup 2022 is being streamed live across the British Swimming YouTube and Facebook channels. The event is behind closed doors and there will be no spectator access.