Dan Goodfellow clinched his first individual international title as Britain's divers delivered a sublime lockout of the Men's 3m Springboard podium, before the Women's 10m Synchro served up two more medals on a memorable night at the Commonwealth Games.
Goodfellow nailed his closing Back 3 1/2 Somersaults Tuck (207C) to hold Team England compatriots Jordan Houlden and Jack Laugher at bay, Jordan following up his bronze from the 1m board with 3m silver and Jack adding a 3m bronze to his two golds from the first two days of competition. 
With James Heatly climbing through the rounds to finish in a hard-earned fourth, it meant British Diving athletes were in the top four places of what was a competitive showpiece. 
That was then followed up by a synchronised silver for Eden Cheng and Andrea Spendolini-Sirieix from the 10m platform, with Robyn Birch and Emily Martin taking bronze. 
From the springboard, the plaudits ultimately belonged to City of Leeds man Dan, whose consistency was unmatched across the six dives. While he sat fourth at the halfway stage, each of his three highest-tariff dives remained - and he made his move in round four, an excellently-executed Forward 2 1/2 Somersaults 3 Twists Pike (5156B) scoring a massive 91.65 points and pushing him up to second.
A solid Forward 4 1/2 Somersaults Tuck (109C) in round five kept him right in that gold-medal contention, before a clutch attempt with his final dive, a Back 3 1/2 Somersaults Tuck (207C) worth 86.40 - scoring eights from the judges - was the moment that lifted him to the summit and that maiden individual title on the international stage, courtesy of a final tally of 484.45.
"It's amazing. I can't remember the last time there was an England 1-2-3 in diving at the Commonwealth Games. Last time at the Commonwealths, I won gold in the 10m synchro so it's a completely different event and completely different board. To come and perform well under pressure in front of a home crowd, I couldn't ask for any more," said Goodfellow. 
"We are all Yorkshire-based lads, Jack and I are from Leeds and Jordan from Sheffield, and we've been synchro partners. Both our coaches are best friends, so it's a good feeling up there. English and British diving is looking really strong at the moment.
"I was a synchro diver for a long time and won plenty of medals doing that but it does feel extra special when you win it by yourself. It proves where I'm at in my diving at the minute."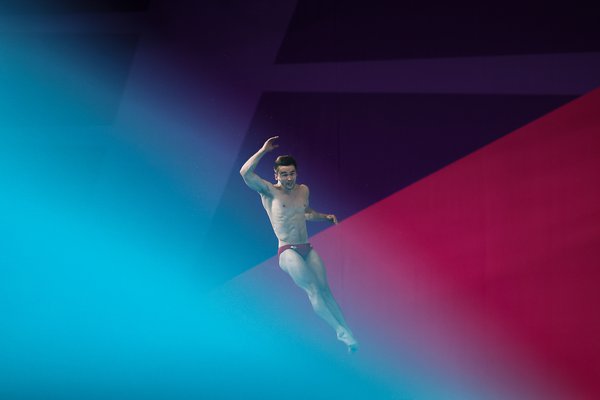 Behind him, Houlden - who trains at the City of Sheffield - was belying any lack of experience at this level with his dives, dropping out of the medal positions only once in the final and sitting first after five rounds, thanks in part to a superb 88.20-score for his Back 3 1/2 Somersaults Tuck (207). 
While he could not quite find the entry in his closing Forward 4 1/2 Somersaults Tuck, a final score of 465.15 was surpassed only by Dan. The bronze, meanwhile, became a battle between Laugher and Australia's Li Shixin. Jack was in control of the entire contest with a series of classy, well-executed dives until round five, when a drop saw him fall to fourth.
That put the pressure on for his closing Forward 2 1/2 Somersaults 3 Twists, but the three-time Olympic medallist duly stepped up and scored 7.5s from the judges to close on 462.30 after his top score of the final. Australian Li could not match that quality, dropping to fifth as Laugher closed out the all-English podium. Heatly, meanwhile, quietly went about his business, climbing from eighth after two dives to ultimately place fourth, less than two points shy of Jack after a 93.10 closing dive - the highest score of the entire event. 
Reflecting on his silver, Houlden said: "Overall, I couldn't be happier with my performance. Coming up to the front four and a half, it was potentially a gold as well if I nailed that. But that's diving.
"It's really special, especially with the team we've got out there. They've got very high calibre of dives. A 1-2-3, you just can't believe it."
Finally, Laugher looked back on winning his ninth Commonwealth medal from nine attempts.
"Going from scraping through and failing my first dive [in the prelims] to a bronze medal is a fantastic achievement for me. Even though there were some negatives today, overall the experience has been extremely positive," he said. 
"Nine medals out of the last three Commonwealth Games is obviously unbelievable. To have a 100 per cent success rate in getting a medal - seven golds, one silver and a bronze - is obviously pretty huge. I feel extremely honoured to be in the position I'm in. It's testament to all the people who've supported me along the way."
The British - and English - medal rush continued into the Women's 10m Synchro, in dramatic style. 
The two English duos, Robyn Birch and Emily Martin, and Eden Cheng and Andrea Spendolini-Sirieix, both sat outside the medal positions after three rounds in what was a nip-and-tuck final.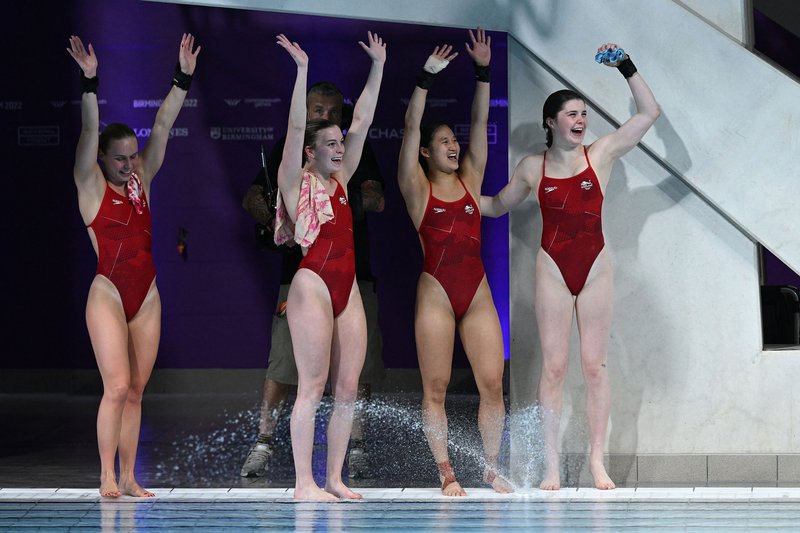 Birch and Martin made a telling move in round four, a score of 70.08 for their Inward 3 1/2 Somersaults Tuck (407C) moving them up to third and a shot at the medal with their final dive. With the same dive, Cheng and Spendolini-Sirieix scored 68.16 to move fourth and give themselves a shot at the podium too.
Both pairs knew they had to nail execution and synchronicity with their final effort. First up was Emily and Robyn, who duly did what they needed, a score of 62.40 for their Back 2 1/2 Somersaults 1 1/2 Twists Pike (5253B) moving them second and guaranteeing them a medal before the final English pair were up.
Again following suit with the same dive, Eden and Andrea went one better, sealing silver with the best dive of the competition by some distance, tallying 76.80 for their fifth dive to finish on 298.86.
"I feel really proud of us as a team. I'm so overwhelmed by how incredibly loud and supportive the crowd are. We did a really good job," said Spendolini-Sirieix.
"I was quite nervous with the last dive. It was the same as my individuals, the same dive I needed to land. To have a celebration with Eden, then see Robyn and Emily come over and celebrate with us, it's a really special moment. Sport is so beautiful, you compete against each other but ultimately you're one big family. I'm really proud of everyone."
Cheng added: "I feel we are quite used to these situations, especially in this event. We just put our heads down, tell each other how confident we are and perform a dive we have done for years in a way we know we can.
"I'm very proud of Robyn and Emily, to have them on the podium with us, we're speechless. To see our teammates on the podium really gives us motivation to show the country and a home crowd what we are capable of."
On their bronze medal experience, Robyn said: "When we did our last dive, we weren't sure. I don't normally look at the scores but looking at the scoreboard and realising that we got a medal was just amazing. It's like a dream really.
"The crowd is so uplifting. Beforehand, we were worried we would get more nervous but the crowd was there for you. It motivated us and supported us."
Emily concluded: "We went in there just looking to enjoy it so to come out with a medal is even better. We really enjoyed the experience. The fans were amazing. You can't recreate that feeling.
"Standing next to anyone makes it even better, but standing next to your best friend tops it off."
Day three's first final came in the morning session, as 1m Springboard medallist Amy Rollinson teamed up with Desharne Bent-Ashmeil in the Women's 3m Synchro.
The pair have shown their class with senior and junior British titles together over the past year, and they are now gaining invaluable experience on the international stage, having competed at last month's World Championships too.
In front of a packed home crowd, Amy and Desharne sat fifth after their requireds and first optional, before moving up to fourth in round four with a well-executed Forward 2 1/2 Somersaults 1 Twist Pike (5152B), worth 61.20.
They saved their best dive for last, scoring 63.90 points for a Back 2 1/2 Somersaults Pike (205B) but had too much to do to break on to the podium, finishing fourth on a total of 278.10 points. 
"I think it went quite well. We've not had huge amounts of preparation for it, so just to have got our dives down, do them all and get them down, we were both happy," said Amy. 
"I don't know about Desharne but I wasn't looking at what everyone else was doing, I don't like doing that so I couldn't tell you (if we had a chance at getting a medal).
"It was funny, on our first dive everybody cheered and Desharne turned around to me and said, 'it's so loud' and I was like, 'yeah'. It's so cool having everyone there. I definitely found that yesterday helped, even today I found it helped. It sounded like everyone was there trying to get you to do well."
Desharne added: "I enjoyed it quite a lot. This is my first Commonwealth Games, my first event out of two more with tomorrow and Monday so I feel like it was good experience for me. It's a really good way to get me used to the crowd and everyone, all the other stuff that's happening.
"I didn't know it was going to be that loud and when you're in the crowd you can't really hear it as much as when you're the person they are cheering for.
"I've never experienced anything like that before. Usually we just have our parents there."
Click here for full results and schedules. 
For full information on how to follow every big moment from the diving in Birmingham, visit our Birmingham 2022 guide here.