Jordan Houlden claimed a pair of national titles as the British Diving Championships got underway with a packed first day of action in Plymouth.

City of Sheffield athlete Houlden produced a consistent performance throughout the Men's 1m Springboard Final, having qualified third in the Preliminary round, to secure the first of his golds on the day. 
When it came to the showpiece, he took the lead and held it, with a brilliant Inward 2 1/2 Somersaults Tuck (405C) among the highlights as he produced a winning score of 379.70 points.

Houlden's 3m Synchro partner Anthony Harding - with whom he would secure a second crown later in the day - took the British Championships silver medal by scoring 354.15, a total that saw him 9.95 points behind Yona Knight-Wisdom, from Jamaica, who wasn't eligible for the medals. Leon Baker of Southampton Diving Academy impressed to claim bronze with a score of 334.

For Houlden, individual victory was all down to holding his nerve in the final:
"It felt brilliant! There was so much adrenaline going through my body, but I was able to maintain it so I didn't go too high or too low when I needed to.

"I was diving third from last, so I just went in with nothing to lose and dived my best. That's all you can do. Being national champion definitely feels good." 
Yasmin Harper also enjoyed a memorable day by winning her first British title in the Women's 1m Springboard.
The City of Sheffield athlete backed up an impressive performance in the prelims - when she qualified top - by registering a score of 254.10 in the final, a tally that saw her take gold by 10.90 points,  Emma Gullstrand, a guest diver from Sweden, second.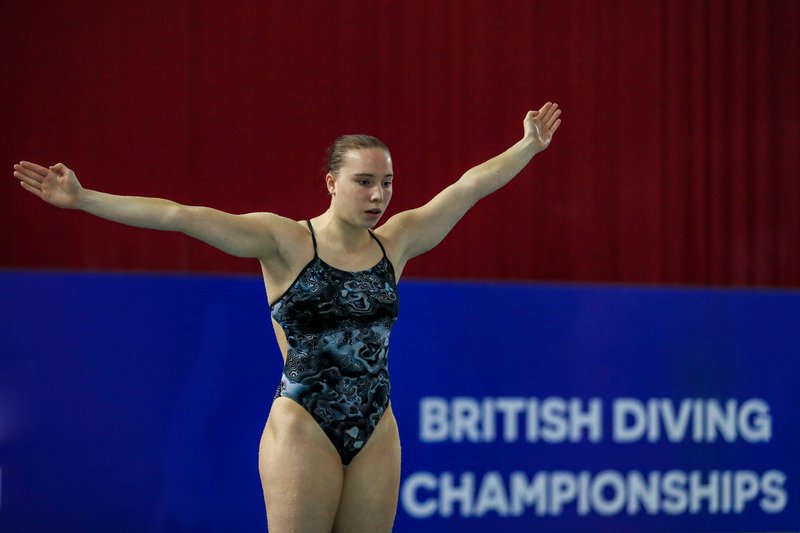 Millie Fowler (Edinburgh Diving Club) was the second-placed Brit however after scoring 235.90, with Harper's clubmate Richelle Houlden third on the national podium with 225.90. Guest Lauren Hallaselka from Diving Team Tiirat was third overall. 
Harper saved her best until last by registering a 54.60 with her Forward 2 1/2 Somersaults Pike (105B) final dive - although it was the levels she produced across the entire competition that most pleased the new British champion, who is back in action in the 3m Springboard event on Sunday.
"I'm really happy with how it went. I'm just pleased to get my 1m off for the weekend with consistent dives throughout.
"It feels nice to be able to dive last, so you know what you've got to do. But qualifying top does add a bit more pressure - you know you have to do well because you've done well in the prelims."
The Women's 10m Synchro threw up a thrilling two-way contest that ended with Lois Toulson and Eden Cheng claiming the British crown by less than a point.
With reigning champions Emily Martin and Phoebe Banks forced to pull out shortly before the competition, it came down to the pairing of Cheng and Toulson against Crystal Palace Diving Club duo Andrea Spendolini-Sirieix and Josie Zillig.
The contest would ultimately be decided by the final dive, with Toulson and Cheng earning a score of 71.04 for their Back 2 1/2 Somersaults 1 1/2 Twists Pike (5253B) to finish on 277.80 in their first major outing of 2020.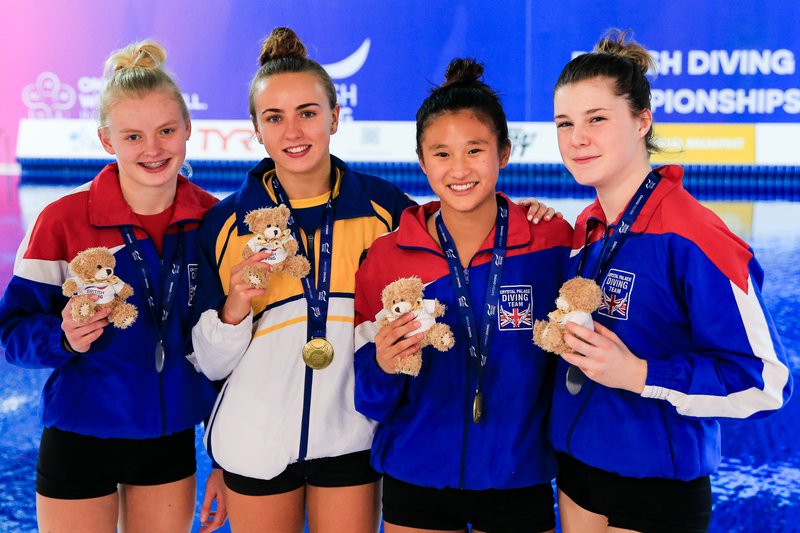 Spendolini-Sirieix and Zillig took silver, a mere 0.96 points back on 276.84. 
"It was really tense. We don't follow the scores as they are going through, so we didn't know how close it was," said Toulson. 
"It was good competition. There's a lot to work on, but our synchro is getting a lot better, which I'm pleased with - so there's some good things to take away."
Cheng added: "It's just nice to get back into things; we're ready for Saturday and the 10m Platform individual. It's good just to be up there in a competition environment." 
The day was rounded out with the Men's 3m Synchro Final where Jordan Houlden and Anthony Harding ensured it was back-to-back titles in that event. 
Fresh from claiming the top two British spots in the 1m Springboard event, the pair took charge with a strong opening dive and maintained a lead throughout - with a 79.56-point haul for the Forward 2 1/2 Somersaults 2 Twists (5154B) among their strongest moments.
Their overall score of 399.42 saw them home, with Southampton Diving Academy duo Cameron Gammage and Leon Baker taking silver with 351.24.
Italian guests Lorenzo Marsaglia and Giovanni Tocci (335.61) were third overall, while James Heatly and Ross Beattie of Edinburgh Diving Club took the British bronze with a total of 300.21. 
After the contest, Harding reflected on the victory.
"It was a great experience for me - I'm happy to make it back-to-back (British titles) with Jordan," he said.
What about Houlden, at the end of a day that brought two national golds?
"It feels amazing. I came first on the 1m and now with my synchro partner. It's definitely been an amazing day - I'm just speechless!" 
The action continues on Saturday, with the Men's 3m Springboard, Women's 10m Platform, Men's 10m Synchro and Women's 3m Synchro events. 
You can follow live coverage with Deep End Live HERE, plus all the reaction and interaction across British Swimming's social media channels.