Britain will have two divers in Tuesday's Men's 3m Springboard final after Jack Laugher and Jordan Houlden secured their spots - with Jordan doing so in his first event at a World Championships.

Laugher looked in excellent form throughout his two sessions of synchro diving with Anthony Harding on day one, the pair deservedly going on to win a superb silver medal - and Jack just carried that standard of performance into the individual event, easing through the prelims in second place with an assured display.
For Houlden, meanwhile, the World stage at the Duna Arena was a new one for him. But the City of Sheffield man stepped up, doing what he needed to and recovering from a couple of lower scores in the middle of his list to up the quality and qualify through 11th from a massive field of 55 divers, split over two separate sessions.
The semi-final was a much more concentrated affair. Eighteen athletes would be trimmed down to the final 12 - and Laugher immediately set his stall out, scoring 74.80 points on a solid opening Forward 2 1/2 Somersaults 2 Twists (5154B) and then following up with 82.00 points for his Reverse 3 1/2 Somersaults Tuck (307C). 
Houlden, too, started in composed fashion. Although his opening Forward 2 1/2 Somersaults 2 Twists was not up to his standard from the morning, a 74.80 score next up was backed up by 7s and 7.5s from the judges for his third-round Reverse 3 1/2 Somersaults Tuck (307C) to leave him well placed at the halfway stage.
Neither diver delivered their best in round four, Laugher's Back 3 1/2 Somersaults (207C) scoring 54.00 and Houlden's Forward 2½ Somersaults 3 Twists (5156B) - the toughest dive on his list - worth 56.55 from the judges. 
No issue for Jack, whose final two dives were just the latest insight into the class of a man who has individual medals at Olympic, World Championship, European and Commonwealth level. A score of 91.20 for his Forward 4 1/2 Somersaults was particularly eye-catching, contributing to his closing tally of 469.65 and a semi-final finish of third ahead of the key medal moments tomorrow.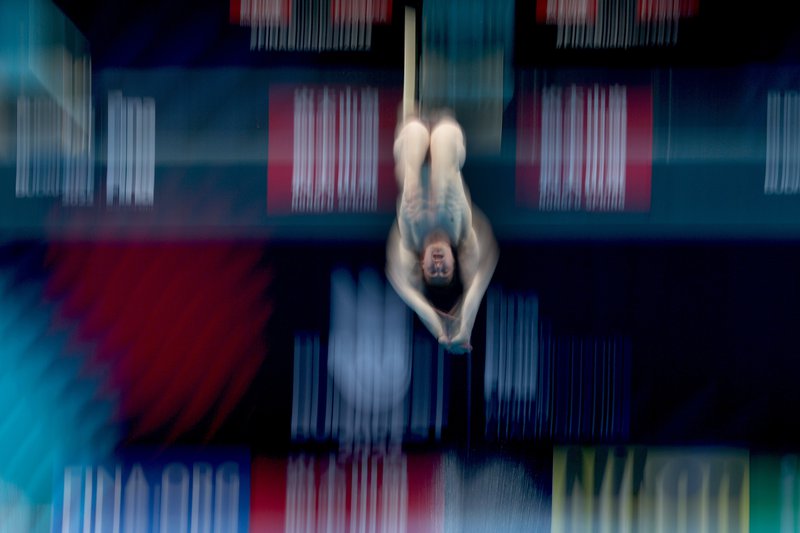 Things were less straightforward for Jordan, who sat 11th heading into the final round and knowing there was little margin for error to make that all-important top 12. Again, when it mattered most, the 23-year-old - coach by Tom Owen - delivered.
Finishing with a Forward 4 1/2 Somersault Tuck (109C), Houlden's technique was classy and his execution tight, resulting in an impressive 89.30 score that saw him shoot up the leaderboard. Ultimately, he finished seventh on 397.15, comfortably clinching that coveted spot in a World Championship final. It is a prospect he is already relishing.
"That was great. It's my first World Championships, to make a final here is a great achievement. I'm really excited for tomorrow, I can't wait. Jack obviously did well as well today, I'm looking forward to him competing too because that's when they bring the 9.5s and 10s out," he said.
"Before that last dive, I saw Lorenzo [Marsaglia, of Italy] do his Front 4 1/2 and I was like, 'okay, I've got to do a bit of a better one than that'. I just went in, focused, tried my best and did it!
"There are still things to work on throughout tomorrow's training session, so we'll work on those little tweaks and go from there in the final." 
The final will be live to watch on the BBC Sport website and BBC iPlayer from 3pm BST on Tuesday 28th June.
For all results from the World Aquatics Championships, click here. 
Visit our 'What's On?' page here for a full rundown on how you can watch every final from the diving in Budapest.