British Diving secured seven medals across the opening leg of the new-look World Aquatics Diving World Cup in China to kickstart their international season - with Jack Laugher and Andrea Spendolini-Sirieix claiming both individual and synchro successes. 
Following a quartet of synchro silvers on Friday - for Spendolini-Sirieix and Lois Toulson in the Women's 10m Synchro, Matty Lee and Noah Williams in the Men's 10m Synchro, Laugher and Anthony Harding in the Men's 3m Synchro and Yasmin Harper and Scarlett Mew-Jensen in the Women's 3m Synchro - the weekend's action brought further boosts to Britain's standing in the medal table, ensuring they ended the competition second in the standings, behind the hosts.
Saturday was springboard day, the highlight coming in the men's event as triple Olympic medallist Laugher secured his second silver of the weekend, courtesy of an overall points tally of 442.95. 
The City of Leeds man set his stall out early with a clinically consistent opening half of his list, including a Reverse 3 1/2 Somersaults Tuck (307C) worth 84.00 from the judges, before a similarly impressive inward version of the dive earned a further 81.60. 
Despite a slight drop with his closing dive, Jack had already done more than enough to move himself clear of the chasing pack to slot in behind China's Wang Zongyuan, who took gold. 
Just short of the podium was Dan Goodfellow, Laugher's teammate from the British Diving Performance Centre, Leeds. After a solid performance early on, Dan rocketed himself up to third, behind Jack, following a brilliant Forward 4 1/2 Somersaults Tuck (109C) that brought in 91.20 points. 
He could not quite close it out, though, a tally of 59.40 for his closing Back 3 1/2 Somersaults Tuck (207C) seeing him finish fourth overall. 
There was an even closer near-miss on the women's side, as Grace Reid came agonisingly close to a fine bronze in the 3m springboard contest. The Dive London Aquatics athlete began with an outstanding Forward 2 1/2 Somersaults 1 Twist Pike (5152B) to score 70.50 points, with her third-round Reverse 2 1/2 Somersaults Pike (305B) securing 63.00 points and keeping her in the top three.
Grace's fourth-round attempt saw her slip to fourth, behind Japan's Sayaka Mikami, and a slight drop in round five meant she could not claw back the difference, ending on 300.20 points for fourth - only 2.10 off the podium.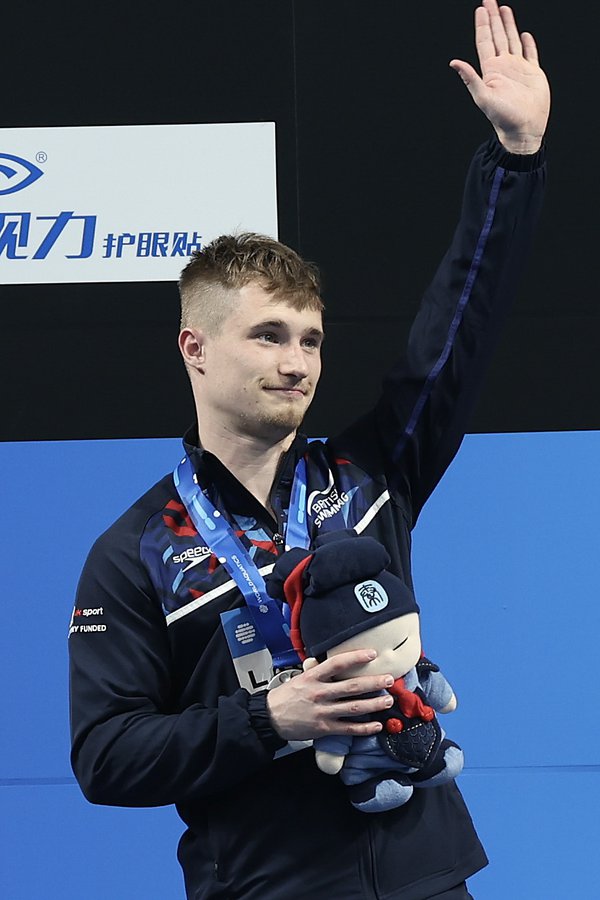 Behind her, Yasmin Harper (City of Sheffield) followed up her silver-medal performance alongside Mew-Jensen in the synchro competition by placing sixth in the individual event, a 67.50-point Forward 2 1/2 Somersaults 1 Twist Pike (5152B) the highlight of her list ahead of a closing score of 292.60. 
The medal successes returned on Sunday, with two trips to the podium for the British Diving cohort.
Both featured Spendolini-Sirieix, who began the day by claiming Women's 10m Platform bronze after a display of unerring consistency from the 18-year-old. 
The European champion never once wavered from her third-place position from dive one, a stunning Armstand Back 2 Somersaults 1 1/2 Twists (6243D) that secured her 76.80 points. The consistent nature of Andrea's performance is clear in the fact that her next three scores were 67.20, 67.50 and 67.20, before a competition-closing cracker, a Back 2 1/2 Somersaults 1 1/2 Twists Pike (5253B) that earned scoring 8.5s from the judges and picked her up 81.60, to close on an overall score of 360.30
That was more than 50 points clear of Italy's Sarah Jodoin Di Maria in fourth. Further back, Lois Toulson (City of Leeds) placed sixth on 299.40, with her Armstand Back 2 Somersaults 1 1/2 Twists (6243D) the standout of her list in securing 70.40 points. 
After taking Men's 10m Synchro silver alongside Matty Lee, Noah Williams followed up that performance by placing fifth in the individual event, tallying 415.80 across his six dives.
Williams sat in a podium position after the fifth round, thanks in part to his opening Back 2 1/2 Somersaults 2 1/2 Twists Pike (5255B) worth 81.00. But a drop in round five had seen his gap to fourth place shrink, and a tally of 62.90 for his closing Forward 4 1/2 Somersaults Tuck (109C) - the hardest dive on his list - was not enough to keep hold of bronze, as he ultimately finished fifth.
Fellow Dive London man Ben Cutmore - with both based at the British Diving Performance Centre, London - placed eighth on 371.35 points, the 20-year-old gaining valuable experience at his first World Cup event, with his Back 3 1/2 Somersaults Tuck (207C) the highlight for him, worth 74.25 points. 
Rounding out the competition was the Mixed 3m & 10m Team event, which brought with it a seventh medal of the weekend for the GB cohort. The British quartet competing were Laugher, Harper, Spendolini-Sirieix and Lee. 
After solid openings from Jack and Yasmin, the outstanding dives of the event came from the platform, Andrea serving up an armstand effort that ranked top of the entire round, scoring 76.80 points, before Matty's Forward 4 1/2 Somersaults Tuck (109C) garnered 88.80 points to strengthen the team's placing in bronze-medal position. 
Closing on 420.15 points overall following Matty and Andrea's sixth-round mixed synchro effort, the Brits came up just short of Germany in silver, but ensured there was a two-medal gap between themselves and the German team on the overall medal table after the first leg of the World Cup.
The team will be back in action at leg two in Montreal, Canada in early May. For more details on the new-look competition, check out our team announcement from February.