Jack Laugher showed admirable resilience and no shortage of world-class quality as he secured Men's 3m Springboard bronze to make it two medals in as many events at the World Aquatics Championships in Budapest.
After delivering a superb silver with new synchro partner Anthony Harding in Sunday's Men's 3m Synchro finale, the triple Olympian from the City of Leeds had to show fight and composure in his final two dives of the individual event to earn a deserved podium place - his sixth at a World Championships.
Alongside him in the final, fellow Brit Jordan Houlden (City of Sheffield) placed ninth in the world at his maiden Worlds, after moving impressively through the prelim and semi-final stages on Saturday. 
Both British finalists began the showpiece well with identical dives to open their lists, Houlden showing no nerves in his first major final to score 76.50 for his Forward 2 1/2 Somersaults 2 Twists Pike (5154B), before Laugher put himself second in the standings by nailing his attempt for 85.00 points from the judges. 
Jack could not quite follow that up with a flawless Reverse 3 1/2 Somersaults Tuck (307C), as he had done in the semis, sitting fourth after round two - but an eye-catching response with his Inward 3 1/2 Somersaults Tuck (407C) earned him all 8.5s and 9s from the judges to score 91.80 and move back into the top three.
In round four, an over-rotation on his Back 3 1/2 Somersaults Tuck (207C) saw him drop the dive and score 37.80, dropping him to sixth in the standings and requiring some class to get back among the medals. But class is exactly what Laugher has shown in every one of his major international successes, and after a glance at the scoreboard to work out the permutations, the 27-year-old stepped forward to nail his final two, most difficult dives.
The Forward 4 1/2 Somersaults Tuck (109C), with a 3.8 degree of difficulty, was up first. A stunning execution earned him 91.20 points from the judging panel to get back into third, albeit by less than three points, with Colombian Luis Felipe Uribe Bermudez breathing down his neck. 
Uribe proceeded to stick a strong, 84-point dive of his own last up, asking the question of Jack. The Brit duly delivered, the second-highest score of the entire competition coming from his Forward 2 1/2 Somersaults 3 Twist Pike (5156B) to earn 97.50 and that bronze medal on 473.30 points. 
"I'm at the stage now where I don't really care too much what the colour of the medal is - obviously I'd love for it to be gold. But I base my happiness with my performance off how the performance has gone itself," said Laugher, who is coached by Adam Smallwood.
"I think there are a lot of things I need to work on. There was a slight scare on my second dive where I kicked a bit earlier which set off a few memories of previous failures, I got a bit nervous on my fourth dive - but I fought back every single time, and the other four dives, I absolutely drilled.
"It's the first competition of the year, I'm shaking the cobwebs off a bit, it just so happens that the first competition of the year is the World Champs, but I think I've got a lot to learn from and I can utilise those lessons going forward.
"I feel so comfortable with my other dives, I love the other four dives, I practice them  in synchro. It's a bit weird because I used to hate them when I was younger, but now I really like them, I feel very confident and comfortable.
"After the fourth dive, to be honest, it was a case of looking in the mirror and being like, 'focus up Jack, you can still get this'. I like to look at the scoreboard, I saw after the fourth dive that I was only 22 points behind and I knew my last two dives were my big dives and if I did well, I could get there again. 
"But obviously the Colombian was holding me pretty well and there was a lot of fight there as well. There's lots of good things, lots of bad things, it's the first competition, we'll move on.
"If you'd have said to me at the start of the week that I'd have a silver and a bronze, I'd have been ecstatic. I'm really pleased with my performance in the synchro, there are some things to work on in the 3m, but I've still got that chance on the 1m. It's going to be a tough competition, it's a tough schedule here this week but I look forward to it."
Houlden, meanwhile, was looking for as high a finish as possible at the start of a busy summer for him. The Tom Owen-coached athlete started strongly, before an over-rotation on his second-round Inward 3 1/2 Somersaults Tuck (407C) meant a score of 42.50 and a drop down the leaderboard. 
The middle rounds were full of 'nearly' dives for Jordan, who was close to nailing rounds three, four and five, without quite perfecting the dive for the scores that would have had him near the top of the list.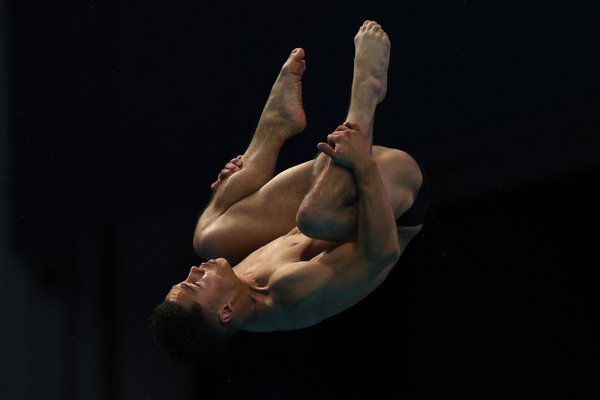 However, in a sign of what is to come from the 23-year-old, he closed with his best, flying into his Forward 4 1/2 Somersaults Tuck (109C) to score 77.90 and end on 390.60, to place ninth in the world.
Reflecting on his performance, Jordan said: "I felt a little disappointed at the end of that final, I know I can do things better than I did in there. But it's all about learning from my mistakes, this is my first World Championships so I need to get used to the experience, the adrenaline, how to approach a competition like this.
"I've got the 1m in two days time, I'm getting ready for that. I'll be training on my 1m list tomorrow." 
Still to come today (Tuesday 28th June) is the Men's 10m Synchro final, featuring Matty Lee and Noah Williams. That gets underway at 6pm BST, with live coverage on BBC Sport. 
For all results from the World Aquatics Championships, click here. 
Visit our 'What's On?' page here for a full rundown on how you can watch every final from the diving in Budapest.