Gemma McArthur earned herself three medals during a successful British team performance at the FINA Diving Grand Prix in Bolzano.
James Heatly and Lucas Thomson were Britain's first medalists, winning a silver in the platform synchro event.
Their total score of 362.16 came after a consistent performance, which saw their best dive in round three - an inward 3 1/2 somersault in tuck position -  which earned them 72.96 They went on to secure silver with their final dive - a back 2 1/2 somersault with 1 1/2 twists on 62.40.
They finished 37.11 behind Chinese pair Xiaohu Tai and Bowen Huang.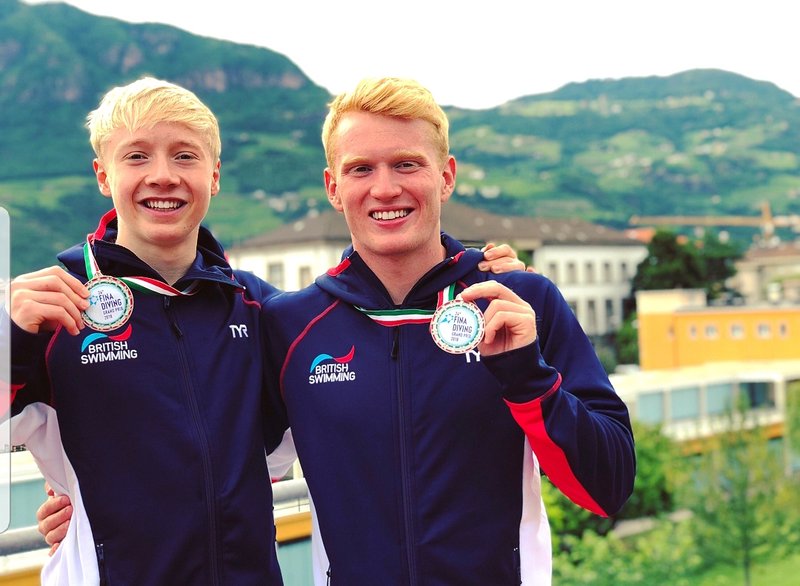 Gemma McArthur scored her best international result to date when she picked up the Brit's second platform medal of the meet - a bronze in the individual event, beating Japan and Italy's top divers. She scored 284.40, just 17.35 behind German Maria Kurjo and 22.60 behind the Chinese gold medalist Xiaotong Zhang. Her best dive happened in the second round - a forward 3 1/2 somersault which earned her 64.50.
McArthur then built on this by adding a platform synchro silver medal alongside Ruby Bower - again being thwarted to top spot by  Xiaotong Zhang, this time alongside Jingjing Jiao. They ended 47.76 points behind the Chinese overall. She then earned her third medal of the meet in the mixed synchro alongside Lucas Thomson, this time a silver, and only 1.86 points behind gold medal winners Noemi Batki and Maicol Verzotto.
Ross Haslam earned a silver in the 3m individual event after successfully executing his new highest degree of difficulty dive, the reverse 3 1/2 somersault for 77.00 points. It was a close fought competition between the Sheffield based diver and China's Chengming Liu, which was settled in the final round when Liu scored 96.90 for his forward 4½ somersault dive, leaving Haslam 29.70 points behind.
In the 3m synchro event James Heatly and Freddie Woodward were reunited, coming fifth overall. In the women's 3m event Alicia Blagg qualified in third place in both the preliminaries and her semi-final, but after a missed dive in the penultimate round in the final ended up fourth.