The final two days of the British Elite Junior Diving Championships In Memory of David Jenkins, showcased a number of stunning individual displays as young divers bid for titles and consideration to be selected for the upcoming World Junior Diving Championships.
Those in attendance on Friday delivered a fitting tribute in remembrance of the recent passing of much-loved diving coach, David Jenkins, as a minutes applause was observed across the venue whilst a short commemorative video played out on the big screen.
The diving action continued with the same high quality displayed over the opening two days, with twelve further finals contested and new British junior record tallies set by Dive London duo, Desharne Bent-Ashmeil and Hugo Thomas.
The impressive Bent-Ashmeil made two further visits to the top of the podium, following her earlier synchro gold, as she claimed victory in both the Girls A 1m Springboard and Girls A 3m Springboard - her score of 425.20 in the former of those individual events surpassing the previous British junior mark set by Alicia Blagg. Thomas' record came in an enthralling battle against Leon Baker (Southampton Diving Academy) in the Boys B 3m Springboard as his total of 494.45 exceeded a record formerly held by Jack Laugher. Consistent high marks for the Dive London athlete was what ultimately won out the dual, as Baker landed a forward 2½ somersaults 2 twists pike (5154B) for 81.60 points in the final round to close the gap to within just a few points and a deserved silver medal.
Repeat event winners were seen across a number of the age-groups springboard events as Tyler Humphreys (Dive London) added the Boys A 1m, Evie Smith (Crystal Palace Diving) claimed the Girls B 3m and Corin Burrows Mackley (Dive London) scored victory Girls C 3m meaning all three secured titles over both heights.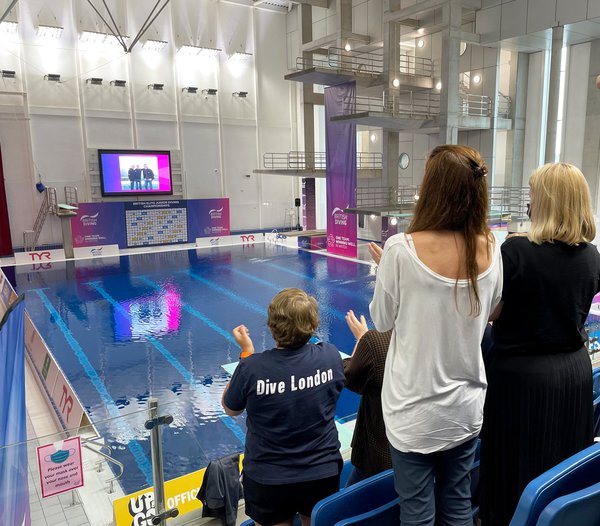 In the Boys C events Luton Diving produced a clean sweep as Jordan Fisher-Eames won his third event in the 3m Springboard, but had to settle for silver in the 1m Springboard as his club mate Oscar Kane got an individual gold to add to their earlier shared synchro success.
In the platform events, Skye Fisher-Eames (Luton Diving) won the battle for the Girls C Platform having set herself up with a solid prelims performance ahead of her three dives in the final, whilst Chloe Johnson (Leeds Diving) put in a strong display in Girls B Platform, closing out on a reverse 2½ somersaults tuck (305C) for 67.20 points to take the gold by a considerable margin.
There were two home soil victories for Plymouth Diving from the platform also, as Euan McCabe outscored his silver medal synchro partner, Robbie Lee (Southampton Diving Academy), in the Boys B Platform, whilst Aidan Heslop produced three dives over eighty points in his triumph in the Boys A Platform final to bring four days of quality diving at the Plymouth Life Centre to a close.
British Diving Talent and Development Manager, Julian Bellan said:
"The quality of competition here in Plymouth has been amazing, especially considering the journey these kids and clubs have endured. World Junior Diving Championship qualification has been secured by a number of divers, and it was particularly pleasing to see a number of new British Elite Junior records set.
The event team, volunteers and judges pulled together fantastically - demonstrating once again the resilience and unity that underpins this sport and drives our success."
Julian Egan, Contract Manager for Everyone Active commenting:
"We're delighted to have hosted the 2021 British Elite Junior Diving Championships here at Plymouth Life Centre. We take pride in that our centre provides some of the most excellent swimming and diving facilities in the country and always welcome its use for these types of events.
"We congratulate all those involved – it's fantastic to see so many young individuals excelling in this sport and we hope it encourages others to take up diving. Our doors are always open to new starters or pros!"
Full results from the event can be found on diverecorder.co.uk