Great Britain's Gary Hunt was at his imperious best as he saw off challenges from rivals to secure the 2018 Red Bull Cliff Diving World Series title in Polignano a Mare, Italy.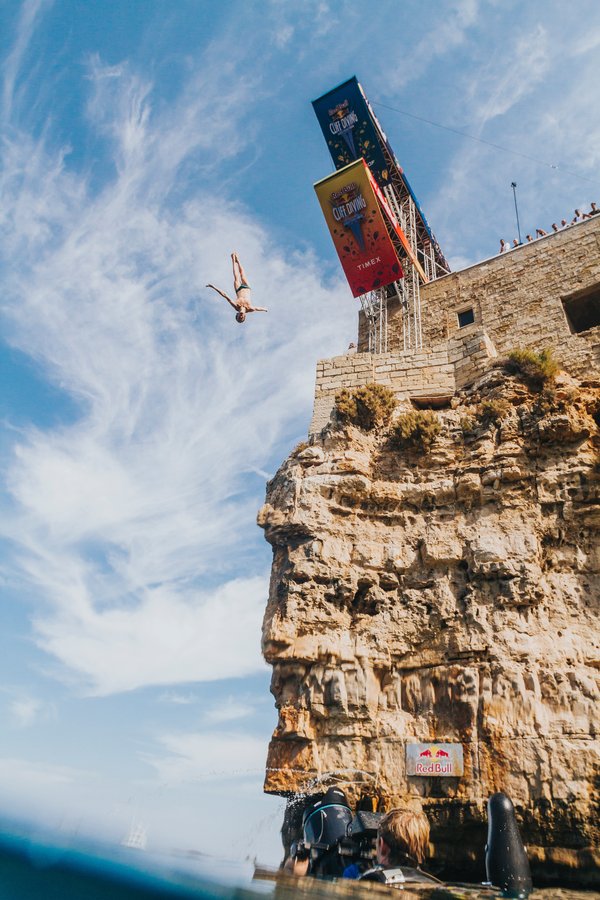 For Hunt, it was a record seventh King Kahekili Trophy in the 10th anniversary season of the international competition and after he had collected the silverware he explained, "It feels kind of strange, I forbid myself to imagine this moment. After what happened last year I said just take it as it comes if it comes and so to live this moment now I'm so, so happy. 

"This season has really reminded me how much I love the sport. This place was a great idea to have as a final, because this town loves this sport and it's a natural amphitheatre for this competition.

"This is absolutely my most special season win. It's just the road I went on this winter, it was a really tough one and made me question myself why I'm doing this and do I want to do this. A few tough results at the start. I learned a lot about myself this year and for that reason, it's very special."

---
Results - Stop #7, Polignano a Mare | ITAMEN
1- Gary Hunt GBR – 418.65pts
2- Steven LoBue USA – 406.056
3- Jonathan Paredes MEX – 391.35
4- Michal Navratil CZE – 385.40
5- Constantin Popovici (W) ROU – 375.20
6- Andy Jones USA – 374.75
7- Alessandro De Rose ITA – 365.65
8- Kris Kolanus POL – 360.35
9- Blake Aldridge GBR – 354.10
10- Sergio Guzman (W) MEX – 350.45
---
Final standings (after 7 of 7 stops)
MEN
1- Gary Hunt GBR – 1010pts
2- Steven LoBue USA – 950
3- Jonathan Paredes MEX – 790
4- Michal Navratil CZE – 680
5- Andy Jones USA – 570
6- Kris Kolanus POL – 520
7- Blake Aldridge GBR – 448
8- Alessandro De Rose ITA - 409
9- David Colturi USA - 330
10- Sergio Guzman (W) MEX – 300