Grace Reid produced a nerveless final dive to secure the Women's 1m Springboard title on a packed opening day of the British National Diving Cup 2022 – while James Heatly triumphed in dominant fashion in the men's contest. 
Friday's action at the Plymouth Life Centre also featured an exciting first sighting of the new Jack Laugher-Anthony Harding partnership, as the City of Leeds Diving Club pair took the Men's 3m Synchro crown.
In the first final of the three-day meet, Reid timed her best dive of the day perfectly, sealing victory in the Women's 1m Springboard final with her fifth and final dive. The Dive London Aquatics athlete was always in contention for top spot during a closely-contested showpiece – but the pressure was on as she strode forward to deliver her closing Forward 2 ½ Somersaults Pike (105B).
Reid duly delivered, the score of 62.40 – courtesy of straight 8s and 8.5s from the judges – contributing significantly to her overall 274.15 tally, enough for the top step of the podium ahead of synchro partner Kat Torrance.
Torrance (City of Leeds) took second with a score of 269.60 after a strong closing dive of her own, the Tokyo 2020 Olympian showing notable consistency across both prelims and final stages. Scarlett Mew Jensen (Dive London) completed the top three. The eye-catching Forward 2 ½ Somersaults Pike (105B) was again a key factor as her best-scoring dive in an overall tally of 264.10. Luton Diving Club's Amy Rollinson (262.00) narrowly missed out on the podium.
For winner Reid, it was a fine way to begin a busy meet – and she was highly encouraged by the clutch nature of her final dive.
"I'm really pleased. I haven't trained a lot of 1m recently, but I just tried to relax and enjoy the event, and it's the first time in a long time I've actually enjoyed my diving," she said.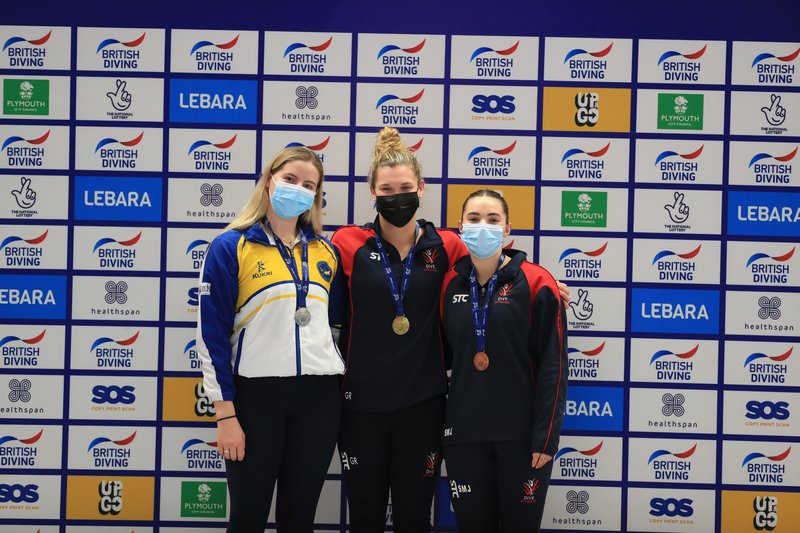 "Hitting the Commonwealth Games 1m qualifying mark is always great, it's a bit of a bonus. It's just about being consistent - and to put in a last dive like that, I'm super pleased to know I can step up and deliver under the pressure. It's been a while since I've done that.
"I'm straight on to 3m synchro tomorrow and then the individual 3m on Sunday, so it's a really busy weekend. But that's really nice to have more events, to get the ball rolling now and to get back to competing."
In the men's event, James Heatly showed that his impressive form of 2021 is not going anywhere in 2022, as the Edinburgh Diving Club man delivered an outstanding display to take the gold in a new personal best from the lowest board.
Trailing Jordan Houlden by 0.85 points after one dive, Heatly did not look back from the moment he took the lead, surging to the front and staying there, barely putting a foot wrong across his six dives and finishing with an eye-catching 422.00 points to his name – thanks in part to the brilliant execution of his toughest dive, an Inward 2 ½ Somersaults Pike (405B) that scored 78.20.
Houlden (City of Sheffield) produced a couple of stunning dives of his own on the way to breaking the 400-point mark, a total of 401.15. The best of the lot was a fine Reverse 2 ½ Somersaults Pike (305B) that earned solely 8s and 9s from the judges.
Third in this event was platform specialist Matthew Dixon (Dive London). He took well to the 1m competition, an impressively consistent showing seeing him finish on 397.00.
Speaking about his 1m Springboard victory, Heatly – who is coached by Jen Leeming in Edinburgh – said: "I'm actually quite ecstatic with today. There's no such thing as a perfect prep, and I certainly haven't had the nicest run-in to this event - so to come out with two over 400s in the 1m, and then a PB in the final, I'm ecstatic - and then the synchro was just another steady competition, so I'm really happy. 
"It's very special to see that I've got the highest DD (degree of difficulty dive) and all my hard work is paying off. For it all to come together was great - and I know that there's still a bit of room for improvement in there, which is quite exciting, so I don't think 422 is where I'll stop.
"The 3m is the most important competition for me at the moment, but it's very exciting having a busy season with more events than just the 3m, which has been my focus last two seasons ahead of the Olympics. It's a great setup, not only for building up to the 3m, it's good to have more events in a weekend and getting back that competition endurance."
Meanwhile, the new partnership of Laugher and Harding gave a hint of what is to come with an impressive showing to clinch the Men's 3m Synchro title in the final event of the day.
Laugher and Harding - who train under Adam Smallwood at their City of Leeds base - were competing together for the first time in an arena environment, and they were quickly into their stride with clean attempts in their required dives.
Their list got steadily more challenging in terms of degree of difficulty - but that did not stop them producing a brilliant Forward 2 1/2 Somersaults 3 Twists Pike (5156B), a 3.9DD earning them 91.26 points to close on 418.98.
Heatly - fresh from that Men's 1m Springboard victory - and Ross Beattie were second on 364.11, the Edinburgh Diving Club duo's best score coming with their Forward 3 1/2 Somersaults Pike (107B).
The event was completed by Leon Baker (Southampton Diving Academy) and Hugo Thomas (Dive London), who placed third with 348.39.
For Laugher and Harding, the exciting first steps and dives of their new combo have energised them for the weekend and the year ahead, with Rio 2016 Olympic Men's 3m Synchro champion Laugher saying: "I'm really happy with it. For me and Tony, we've been training really well at home and I think we had that expectation already there coming into this comp that we were hoping to do well. It's a really exciting partnership and I'm really looking forward to the future - but to go almost 420 on our first event together is a really big achievement.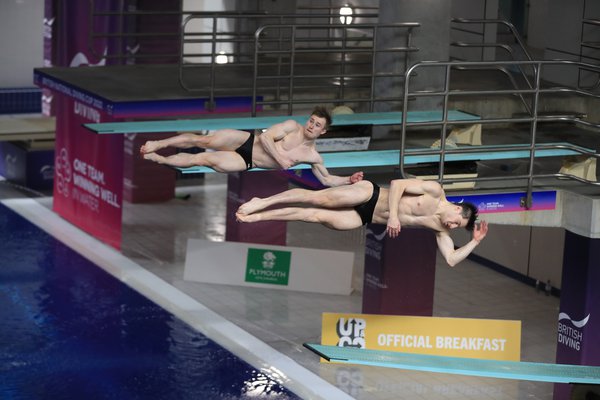 "When you're coming to Nationals, I'm sure Tony feels a bit nervous competing alongside me, obviously people know me as an Olympic champion and there's a lot of pressure on you to perform well - and I think today we've gone out there, done a really good job and we've done ourselves proud.
"I feel like I'm in a bit of a better position than Anthony because I had the Olympics, Europeans and the World Cup last year, but Anthony he hasn't done a competition in almost two years, so it's been really hard for us to prepare for this one.
"I think we've done a stellar job, and I think doing the 1m in the morning helped both of us to release some nerves. Unfortunately my back went in the morning on my fourth dive, it's a problem I've had before and as soon as I noticed that, I thought I should just probably play it safe and get the main competition of the meet done. My individual is important, but for me and Anthony, I really want to start the year off on a good note and focus on this event. I'm really proud with how I've done and I think both of us should be really excited about the future."
Harding added: "It's been good training together, but this is our first comp, so I was quite nervous. Seeing our names together, I felt quite proud and it made me feel more relaxed.
"I thought I did okay there. The first two optionals could've been better, but my harder ones were way better, so that's what I'd rather do!"
Gemma McArthur and Angus Menmuir finished top of the pile in a three-way Mixed 10m Synchro contest, the Edinburgh Diving Club duo trialling some tough dives across their list as they finished on 260.70 points.
Hannah Newbrook and Max Spencer of Dive London Aquatics combined to finish with 255.63 in their first major competition as a synchro pair, the top score from a partnership diving solely from the 10m platform in the contest.
Ruby Thorne and Aidan Heslop (of Dive London and Plymouth Diving Club respectively) were third on 244.83.
On their platform performance, Newbrook said: "We've only really practiced together since being here, so for us to be so in sync, we're thrilled with that. It could've gone a bit better, but I'm happy with how we did and how we coped."
Spencer added: "I'm really happy with that performance. We'd had a few hiccups in training, so it's good to do that, considering. This was our first time doing it, we've not had much competitive practice recently – there was Elite Juniors and that was it, so it's great to be competing here."
In the Women's 10m Synchro, Dive London pairing Robyn Birch and Emily Martin got valuable competition time under their belts.
They were virtually flawless with their opening required dives, while a score of 73.90 for their Inward 3 1/2 Somersaults Tuck (407C) was impressive. It helped them finish on 304.86 overall.
For all the full results from day one at the British National Diving Cup, click here.